A 25-year-old Baltimore man died Sunday a week after an encounter with police that left him with a severed spine, according to a lawyer for his family.
Freddie Gray was arrested for yet-undisclosed reasons April 12 after fleeing police on foot. It was unclear when Gray's injury occurred. His death was confirmed Sunday by the University of Maryland Medical Center.
William Murphy, a lawyer for Gray's family, said Gray was healthy before the encounter and that cops chased him "without any evidence he committed a crime."
"His take-down and arrest without probable cause occurred under a police video camera, which taped everything including the police dragging and throwing Freddy into a police vehicle while he screamed in pain," Murphy said in a statement, adding that Gray's spine was 80 percent severed at his neck while in police custody.
He said Gray "lapsed into a coma, died, was resuscitated, stayed in a coma and on Monday, underwent extensive surgery at Shock Trauma [a Baltimore hospital] to save his life." Gray "clung to life for seven days" before his death Sunday morning, Murphy added.
"We believe the police are keeping the circumstances of Freddie's death secret until they develop a version of events that will absolve them of all responsibility," Murphy said. "However, his family and the citizens of Baltimore deserve to know the real truth; and we will not stop until we get justice for Freddie."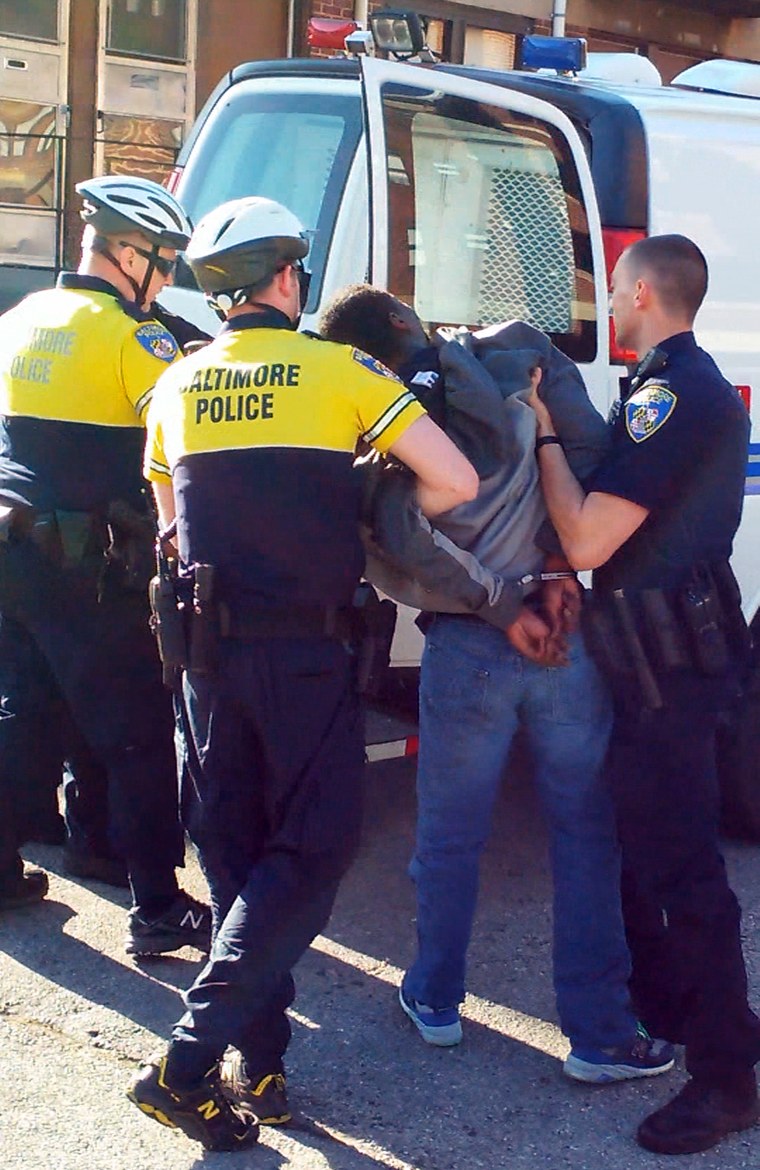 Baltimore police promised a full investigation and officials vowed to get answers about what happened to Gray.
Police could be seen on video restraining a handcuffed Gray face down on the sidewalk.
"They had him in a crab-like position, where his legs were bent back and his arms," a witness told NBC station WBAL. "He was handcuffed, and at this point, they had knees in his back and his head."
The video shows police dragging Gray, who can be heard screaming about his wrists, and then placing him face down in the back of a police van. Gray was taken from the van several blocks away so cops could "place additional restraints on the suspect," according to a Baltimore police timeline.
"They threw him in the paddy wagon face first, you know, face down, and mind you, his arms and legs are locked up," a second witness told WBAL. "He was face down as he was on his stomach. They just threw him in the paddy wagon face down, head first, ankles bound, arms bound."
Gray was then driven a few blocks to the Western District station house, where police called an ambulance about a half-hour later, according to the timeline.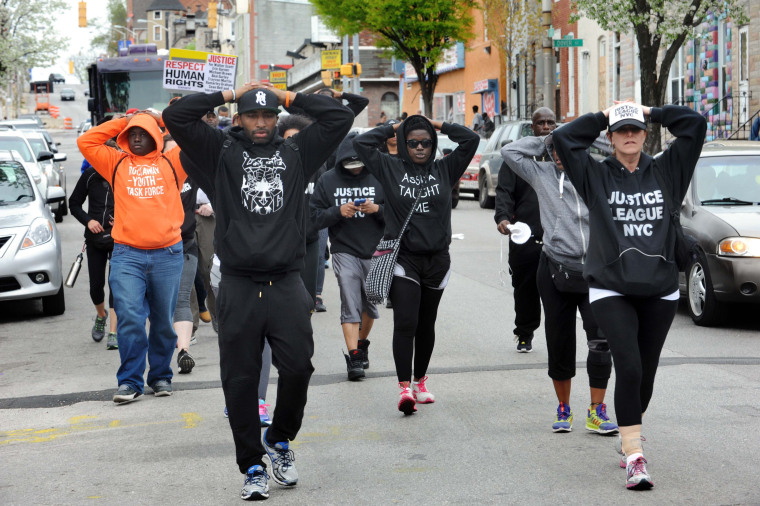 Baltimore Mayor Stephanie Rawlings-Blake had questions and promised to get answers for the community.
"How was Mr. Gray injured? Were our proper protocols and procedures actually followed? What are the next steps?" she asked at a Sunday press conference. "Right now we're still collecting details surrounding the incident, but I want our residents to know that we will get the answers."
Rawlings-Blake told MSNBC on Monday that she was in the process of setting up a meeting with the Gray family.
The encounter between Gray and police touches on a sometimes strained history between Baltimore's African-American community and local law enforcement, she said.
"I'm really working hard to overcome this very challenged history that we have in Baltimore where (there are) trust issues between the community and the police," Rawlings-Blake said on MSNBC's "Morning Joe."
Baltimore police promised a full investigation.
"I want citizens to know exactly how it happened," said Police Commissioner Anthony Batts, who promised to "hold the right people accountable."
Batts said that Gray's family has so far declined to sit down with police — but that the force would try again this week to set up a meeting.
Deputy Commissioner Jerry Rodriguez said at a news conference Sunday that a criminal investigation was underway.
"It's a two-part investigation. One is a criminal case, for Mr. Gray and also the officers. We always have that component in there to determine whether there is criminal culpability,'' Rodriguez told a press conference on Sunday.
A protest was held Sunday outside the station house where Gray was taken after a rally was held there Saturday night, according to the Baltimore Sun.
The events were organized by the Baltimore activist group People's Power Assembly and Justice League NYC, who diverted their "March2Justice" to Washington, D.C., "to stand in solidarity with the family of Freddie Gray," the paper reported.
— William J. Gorta