California's iconic Hearst Castle appeared to have escaped the wrath of the Chimney Fire as the blaze continued to devour hundreds of acres on Tuesday — and the battle was far from over.
The wind-driven wildfire was just 35 percent contained and overnight it burned another 4,000 acres as it continued to march in a north and northeasterly direction, Brian Steiger, a a spokesman for the California Department of Forestry and Fire Protection, told NBC News.
But the insatiable inferno that had gotten within three miles of Hearst Castle has abated — although plenty of firefighters continued to stand watch outside the iconic estate, the inspiration for Xanadu in the 1941 Orson Welles movie "Citizen Kane."
"The fire is not actively burning in that area," he said. "Our priority right now is towards the north perimeter of the fire."
While no fatalities have been reported, overnight "two residential structures were destroyed," said Steiger.
So far, some 37,000 acres in San Luis Obispo County have been burned by a blaze that erupted 11 days ago.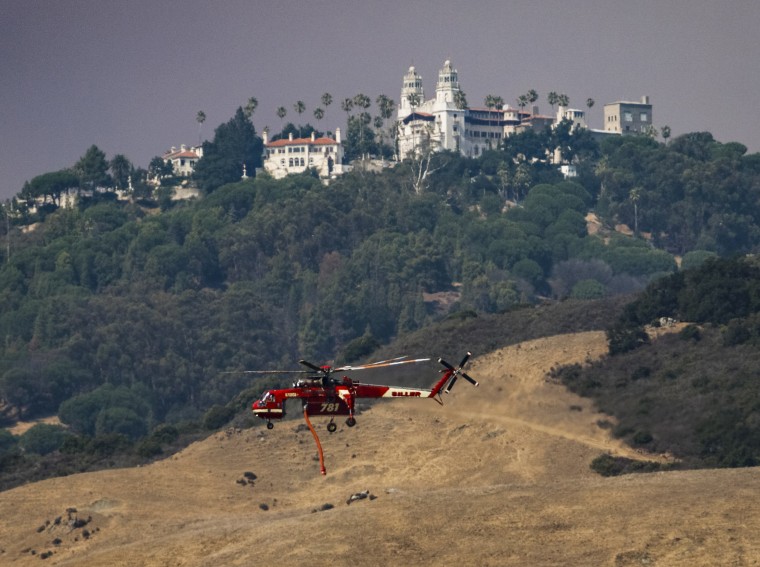 Hundreds of homeowners from communities around Lake Nacimiento have been evacuated and at least one of the 3,700 firefighters responding to the crisis was hurt, officials said. His condition was not known.
Investigators, who are expected to provide an update later Tuesday, have not determined the cause of the fire.
Fighting this behemoth blaze has been a challenge for fighters, Orange County fire Capt. Larry Kurtz said Monday.
"This fire ... has had an interesting setup in that we have lots of different microclimates going on around the fire," Kurtz told NBC station KSBY of San Obispo.
"Winds that occur down in the southern area of the fire are different from what's in the northern end of the fire," he said. "Plus, as the day progresses, we get what's called 'sundowner' winds, and that makes the winds shift."