Dogs owners, particularly in the southern U.S., are being warned to keep their animals away from ponds and lakes where blooms of blue-green algae could be deadly to their furry loved ones.
Melissa Martin and Denise Mintz said their four dogs — Abby, Harpo and Izzy — died within hours of frolicking in a pond in Wilmington, North Carolina.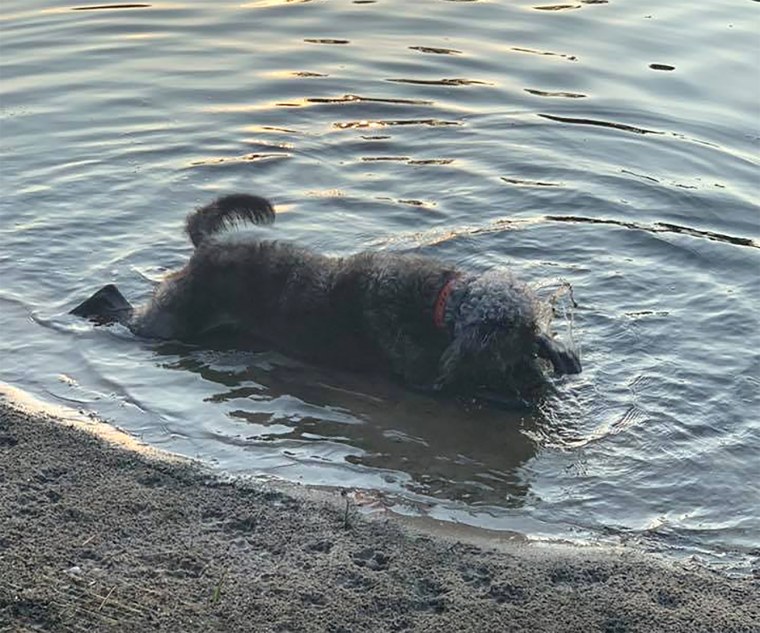 In a heartbreaking Facebook post, Martin wrote that "our dogs crossed the rainbow bridge together. They contracted blue green algae poisoning and there was nothing they could do. We are gutted."
"I wish I could do today over," Martin continued. "I would give anything to have one more day with them."
In another incident, a couple from Marietta, Georgia, said they lost their dog recently just an hour after visiting Lake Allatoona in Bartow County.
"We took our sweet Arya to the lake and had the best day playing ball and swimming around! About 30 minutes later on the drive home, we noticed her making weird noises," Morgan Fleming said on Facebook.
They rushed her to an ER but by "the time we got there, she was brain dead," Fleming said.
In Austin, Texas, pet owner Clare Saccardi said she recently lost her 4-year-old Golden Retriever, Harper, after a visit to Red Bud Isle on Thursday. Within about an hour and a half of leaving, Saccardi said Harper began showing symptoms.
"All of the sudden, she started walking down a step and she collapsed," Saccardi told NBC affiliate KXAN. "Both of her front legs stopped working. She couldn't stand up. She looked at me with the saddest little puppy eyes."
Saccardo said Harper died a short time later.
"She's struggling to breathe, and she starts getting a little foam in her mouth, and so we take her to the emergency vet, and 10 minutes after we got there, they told me that, 'Your baby's not doing good. We have to give her CPR,' and she died shortly after that."
The dog deaths in North Carolina, Georgia and Texas have all been linked to blooms of blue-green algae.
The city of Austin released a warning flyer asking people not to swim in, drink from or expose their animals to Lady Bird Lake after tests showed a presence of the algae, which can produce a neurotoxin.
A press release issued Friday said that the city has collected samples and is testing the water to further identify the algae.
"Dogs who ingest water contaminated with this toxin could have a number of symptoms," the release said. "On the severe end, it could result in respiratory paralysis and death."
Dr. Summer Heyerly, a veterinarian at the Bayview Animal Clinic in Ft. Lauderdale, Florida, told NBC News that blue-green algae toxins thrive off sunlight and have been blooming due to the higher temperatures around the country.
Owners who notice what look like paint chips in the water should immediately take their animals out, rinse them with soap and water, and take them to a local veterinarian, Heyerly said.
"We try to to treat them symptomatically, shift them to a 24-hour facility for further care if need be and just hope for the best," Heyerly said.
There are no antidotes to the toxin produced by algae and it can be fatal for animals, the doctor told NBC News.
"A lot of times they're sedated because they are in a lot of pain and this can go into the central nervous system," she said.