The heat wave gripping large swaths of the Midwest and Northeast has killed at least three people, forced the evacuation of about 250 residents from a retirement home, and sparked the cancellation of major public events.
Other severe weather in the upper Midwest meanwhile left more than 200,000 households and businesses in Michigan without power Saturday morning. High winds and storms in the state on Friday knocked out power lines, with utility crews working to repair the outages as quickly as possible.
In Maryland, health officials said a Prince George's County man and a Worcester County woman died this week from extreme heat. Earlier this month, a Baltimore City man and an Anne Arundel County woman died.
"I once again urge Marylanders to be mindful of the impact of this severe weather on their health and wellness," Maryland Gov. Larry Hogan wrote in a tweet Friday.
Further west, in Arkansas, the heat claimed the life of former New York Giants offensive lineman and Super Bowl winner Mitch Petrus at age 32. He died Thursday of a heat stroke after working outside in his family's shop, officials in Arkansas said.
The high temperature in Little Rock on Thursday was 92 degrees, with a heat index of 103 degrees. Pulaski County Coroner Gerone Hobbs told NBC News that the former NFL athlete was drinking water "but not enough electrolytes."
In Arizona, an air conditioning technician, identified by NBC affiliate KPNX as Steven Bell, died Thursday while working in a couple's Avondale attic.
It's not clear if the death is heat-related. According to KPNX, Bell was found with his hand "in the wires underneath the blow motor" next to a pan with water in it. Temperatures in the area were above 100 degrees on Thursday, KPNX reported.
The heat wave stretches from southwestern Kansas and parts of Oklahoma to the Carolinas and even southern Maine, where Bangor is expected to see a high of 94 degrees Saturday.
Around 169 million people are under heat alerts as temperatures continue to climb. As of Saturday afternoon, it felt like 100 degrees in cities such as New York, Washington, Little Rock and Memphis. In other cities, it will feel more like 112 degrees.
New York City is expected to reach a temperature high of 99, forecasters said, just shy of its record 101 degrees. The heat index in the city is expected to climb toward 111.
Over in Boston, the high temperature is expected to reach 99, while Philadelphia could see a high of 100.
Forecasters don't predict much of a cool down during the evening but said a little relief will come Sunday, although it's still expected to be hot and muggy.
Before the fever breaks, the extreme heat will put power grids across the country to the test. Utility companies were deploying thousands of workers to be able to quickly respond to any outages during the weekend's sweltering weather.
In New York City, utility Con Edison said it had more than 4,000 workers at the ready.
Illinois' Commonwealth Edison had mobilized more than 750 of its workers for quick responses. The utility, which serves Chicago, also said it was prepared to send out cooling buses and offer free water and charging stations should there be prolonged outages.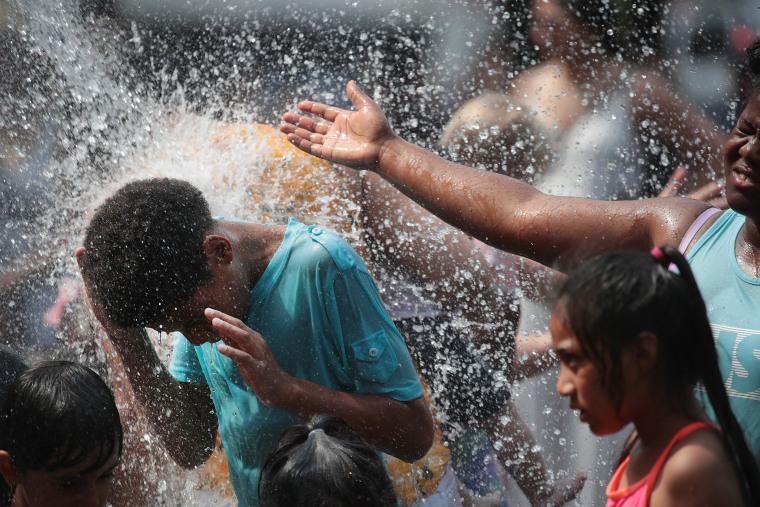 DTE Energy, a Detroit-based electric company, said Saturday morning that it was working to restore power to roughly 72,000 customers who lost power during a severe thunderstorm Friday night. A total of 96,000 customers had been affected by the storm, the company said in a note on its website.
Consumers Energy, another electric company, said Saturday that more than 155,000 customers were without power due to the storm. The company urged customers "to seek alternative ways of staying cool" while they worked to restore power.
"Our crews are working around the clock to restore service to our customers, but this will be a multi-day restoration effort," Consumer Energy tweeted.
Michigan State Police in a tweet urged residents to stay safe as temperatures were expected to climb Saturday.
"It's going to be another smokin' hot day and possibly more pop up severe storms. Check with local governments for cooling centers near you," the department tweeted Saturday morning. "Keep a close eye on pets and those that may have trouble with the heat. Replenish your ice cream supplies as you are going to need it!"
Over in Philadelphia, some 250 residents at a retirement home were evacuated Friday after the facility lost power, according to NBC Philadelphia. Residents at the Pavilion Apartments were taken to temporary shelters in West Philadelphia.
Fire officials said it could be two days before they are allowed to return home, NBC Philadelphia reported.
In an effort to limit the stress on the power supply, New York City's mayor ordered government buildings and private office buildings to keep thermostats at 78 degrees, a restriction that lasts until just before midnight Sunday.
"Air conditioning saves lives. They do not need to be on full blast to be effective," Dr. Oxiris Barbot, commissioner of the New York City Department of Health and Mental Hygiene, said in a statement.
In Chicago, temperatures Saturday were expected to reach 94. Factor in humidity, and it'll feel hotter than 100 degrees, said National Weather Service meteorologist Casey Sullivan of the Chicago office.
"It's the humidity that's making it worse," Sullivan said.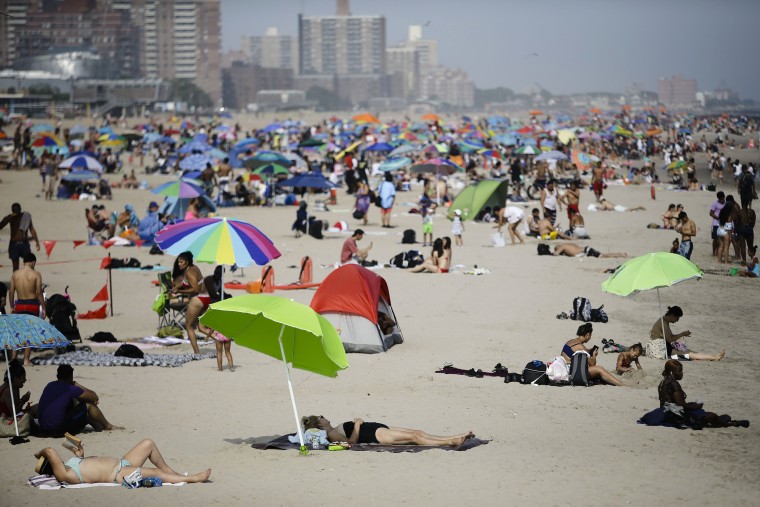 Workers with My Block, My Hood, My City have been delivering fans, misting devices and cases of water to help people deal with the excessive heat, NBC Chicago reported.
"It's amazing. My uncle really needs this — he's on an oxygen tank," said Tomia Hopkins, who was among those helped by the group. "It's really hard, and it's 100-degree weather right now," she said.
A member said the organization had received more than 50 requests for water and fans a day, mostly from homes with seniors.
Saturday night or Sunday a cold front will move in and usher in temperatures in the mid-80s in the Chicago area.
But areas further east will feel the heat through Sunday.
Relief can't come soon enough for some New Yorkers. In New York City, a network communication issue delayed many subway lines Friday, which exacerbated the scorching conditions.
"This kind of meltdown during a heat wave is UNACCEPTABLE," Mayor Bill de Blasio tweeted.
Passengers were left waiting on crowded and hot platforms. After about an hour-and-a-half, the Metropolitan Transportation Authority said that the system was back and running, NBC New York reported.
"It's ridiculous," fumed one passenger to the station. "It's 100 degrees out here. It's hot, and it's hot in the train station."
An MTA official told the station that it did not appear that weather had anything to do with the disruption.
The temperatures in the nation's largest city are expected to climb. The forecast called for a high of 100 degrees on Saturday and 97 on Sunday before things cool down. With the humidity, it will feel hotter.
The city has declared a heat emergency, and many outdoor activities — including Sunday's New York City Triathlon and Saturday's Coney Island Music Festival —were called off because of the heat.
Boston won't be getting any relief either until after the weekend's over. The city is expected to suffer through 100 degrees on Saturday and 103 on Sunday.
Sheryl Queen, owner of the Twist & Shake ice cream shop on Revere Beach north of Boston, said her shop's ready with extra staff, but she's not expecting a rush until after the sun goes down and things cool off some.
"Sometimes, it's even too hot for ice cream, but we're here," she said.
Rescue crews in South Haven, Michigan, rescued two people from the water, one of whom was caught in a rip current, on Friday as people packed beaches to escape high temperatures, South Haven Emergency Services said in a statement.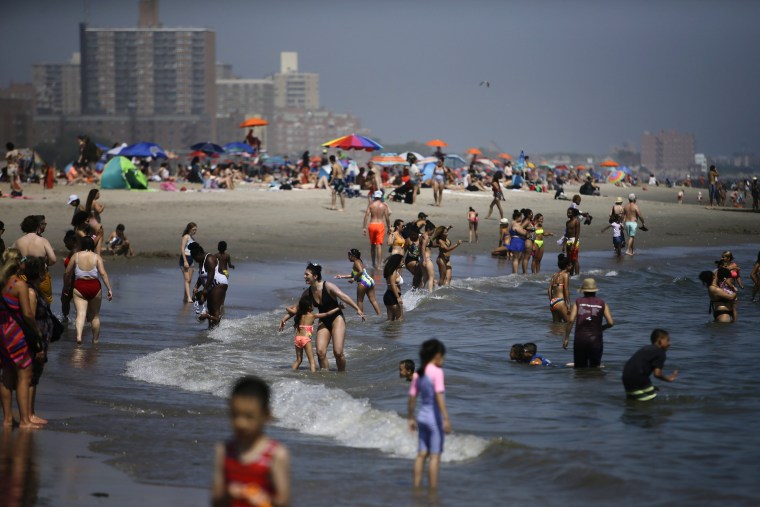 In Sioux Falls, South Dakota, where temperatures reached as high as 95 degrees on Friday, the heat caused lanes on Interstate 229 under an overpass to buckle, NBC affiliate KDLT reported.
An engineer for the South Dakota Department of Transportation tweeted that "High heat, humidity and moisture created ideal conditions for pavement blowups," and posted a photo of the buckled highway.
The state highway patrol said Friday evening that the road had been repaired and was open.