Nearly 6,000 police officers — hundreds of them with long guns, radiation detectors and bomb-sniffing dogs — will be guarding New York's Times Square as a year punctuated by terrorist attacks draws to a close, officials said Tuesday.
The NYPD and the FBI unveiled plans to protect the more than 1 million people who will throng to the Crossroads of the World on New Year's Eve — including multilayered checkpoints and a new 500-member Critical Response Command of elite counterterrorism cops launched two months ago.
"We are very very confident that New Year's Eve in New York City will be the safest place in the world to be," said Chief James Waters, who is in charge of counterterrorism operations for the police department.
Police Commissioner Bill Bratton said investigators have been monitoring intelligence channels for anything that would suggest Times Square could be a target.
"We are not aware of any threat at this time that we deem credible," he said.
The terrorists attacks in Paris and San Bernardino, California, have stoked fears that an ISIS supporter could try to attack the nation's biggest New Year's celebration while hundreds of thousands of revelers are crammed into holding pens and millions more at watching on TV at home.
But authorities say they have spent months on preparations to thwart any scenario and that Thursday night's celebration will feature more security than in previous years.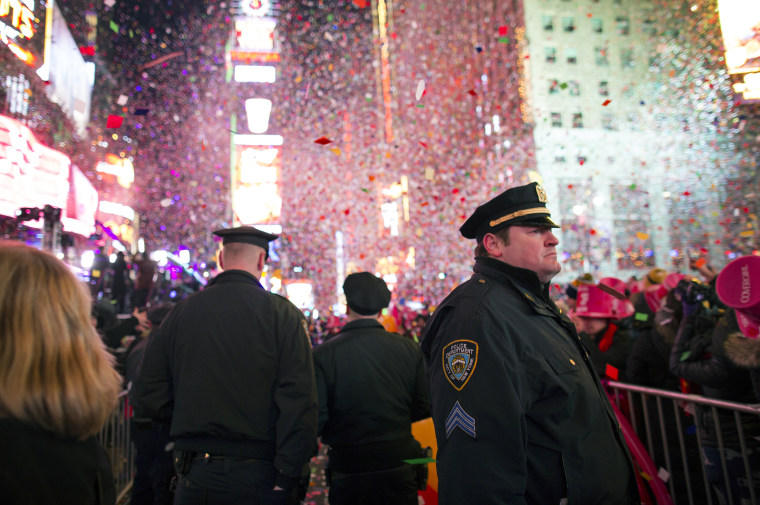 Waters said that as crowds enter a frozen zone at 14 points, uniformed officers will inspect bodies and bags with magnetometers and hand wands. Counterterrorism officers with chemical and radiation detectors will be standing by, and a long gun team will be stationed 50 yards away "In case anyone tries to breach the entry point."
After getting through that screening, people will be re-screened when they get to one of 65 massive spectator pens, Waters said. Around them, they will see K-9 cops, heavy weapons teams and emergency service officers "capable of responding within seconds."
The force will also include 1,200 probationary police officers working their first New Year's in uniform and plainclothes police who will work the crowds looking for anything suspicious.
Nearly 1,000 cameras will be transmitting images throughout the night.
Asked whether all the attention on Times Square would leave lower-profile targets vulnerable, Bratton said police working overtime would be covering the rest of the city but added that "the ability to protect everything all the time is not possible anywhere."
Mayor Bill de Blasio said New York is better prepared to handle an attack than any city in the country.
"The eyes of the world will be on us," he said. "We're ready."