LAS VEGAS — As Valachie Peeples gathered his laundry late on a recent afternoon, he knew he wouldn't be able to find a bed at a shelter that night.
By the time he finished cleaning the clothes he needs for his job at a convention center and got to the Salvation Army shelter in downtown Las Vegas, it would be full.
"I'm not sure where I'll go tonight," Peeples, 46, who's been homeless for about two years after struggling to find work, said as he filled laundry bags at the Critical Assistance Relief Effort, or C.A.R.E., Complex, a homeless service center. "Maybe, I'll walk around or maybe, I'll ride the bus for a while," he said, adding that he knew he might have to rest for a bit on a sidewalk.
But sleeping on public sidewalks or streets may soon not be an option for homeless people in Las Vegas. On Nov. 6, the City Council is slated to vote on an ordinance that would make it illegal to camp or sleep on the streets in parts of the city. Drafted in September, the ordinance would make it a misdemeanor to rest, sleep or "lodge" in Las Vegas' downtown district and other residential areas if shelter beds are available. Those found in violation could be fined up to $1,000 or jailed for up to six months.
"It's already hard enough because there are not enough shelters," Peeples said. "This is going to give you a fine you can't pay, and then they'll lock you up."
If Las Vegas moves forward with the proposal, it would be among scores of cities to impose similar bans. Supporters say the proposed ordinance will help keep homeless people safe and connect them with services.
But the move has met with sharp criticism from advocates for the homeless, who say it will burden the homeless with fines and criminal records that will make it harder for them to find jobs, save up for rental payments and receive government assistance. Critics note that the measure does nothing to address the issues that contribute to homelessness, such as the affordable housing crisis, unemployment and a lack of services to treat mental illness and substance abuse.
Activists, residents and homeless people protested the ordinance outside Las Vegas City Hall last month, many wearing buttons that read, "Poverty Is Not A Crime."
"To some people, it may seem that if you get homeless folks out of sight, and perhaps out of mind, that that's an improvement. But that's a lie," former Housing and Urban Development Secretary Julián Castro, a Democratic presidential candidate, said at the Oct. 2 protest, according to the Las Vegas Review-Journal.
Massachusetts Sen. Elizabeth Warren, another Democratic presidential candidate, has also condemned the proposed ban, saying in a statement that cities should be "fighting back against measures that criminalize homelessness."
Supporters of the ordinance include the Downtown Vegas Alliance, a 60-member business group that includes hotels and gaming companies, which sees the camping ban as a "necessary first step to help protect those who have made significant investment in the area," according to a statement the group provided to the Nevada Current.
"The city believes the ordinance will be a benefit to the homeless population, while at the same time protecting the health and safety of the entire community," Las Vegas Mayor Carolyn Goodman said in a statement. A city spokesman said Goodman was not available for an interview.
Almost 60 percent of Nevada's approximately 7,500 homeless residents sleep outdoors, a share that is among the highest in the country, according to a 2018 report by the U.S. Department of Housing and Urban Development. Advocates say most of that homeless population — about 5,500 people — is concentrated in Clark County, which is home to Las Vegas, the state's largest metropolitan area, according to the annual Southern Nevada Homeless Census. The homeless population is disproportionately black, compared to the population of Clark County, and includes more than 550 homeless veterans and more than 300 unaccompanied children, according to the local census.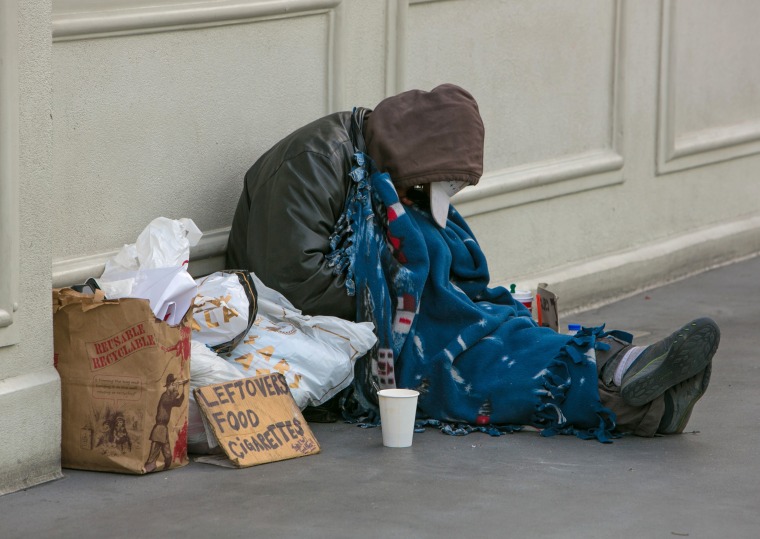 More than 3,000 homeless people in Clark County are unsheltered. Many of them sleep on the streets or in desert areas, encampments or cars. Some find refuge on an outdoor mat at Las Vegas' Courtyard Homeless Resource Center, a city-funded facility. A couple hundred live in underground storm drainage tunnels below the bright lights of the billion-dollar casinos on the Las Vegas Strip, a deadly location during flash floods. Those who do find shelter usually go to what the city calls the "Corridor of Hope," a few blocks on the fringes of downtown where many homeless shelters are located.
Homeless advocates fear that criminalizing those who sleep outdoors will make it harder to help them. It often takes more than a dozen interactions between an outreach worker and a homeless person to establish trust, said Emily Paulsen, executive director of the Nevada Homeless Alliance, an advocacy and outreach nonprofit.
"If someone is fearful that they are going to be arrested or ticketed, they are going to disengage from street outreach," she said, "making it more difficult for street outreach people to connect homeless people to services."
'They are not trying to help'
At least 160 cities across the U.S., including New York, Los Angeles and Chicago, have prohibited camping, sitting or lying down in public spaces or outdoor areas, according to a 2016 National Law Center on Homelessness and Poverty report. The report analyzed 187 cities. As in Las Vegas, local governments often justify such bans by saying the goal is to encourage the homeless to get help.
After Honolulu enacted a 2014 ban on sitting and lying in public spaces, police issued 16,215 warnings and 534 written citations, punishable with a fine that can turn into a warrant for arrest if it's not paid, according to the law center's 2016 report. Since 2017, homelessness across Oahu has decreased 10 percent. Still, police say enforcing the ordinance alone is not enough, and city officials are building a hub for homeless services to help, according to the Honolulu Star-Advertiser.
Bans do not always coincide with reductions in homeless populations. Between January 2012 and November 2015, officers in Dallas issued more than 11,000 citations, which can result in a fine or an arrest, for sleeping in public. But Dallas' unsheltered homeless population has roughly doubled between 2016 and 2019, and homeless advocates blame the city's lack of affordable housing, according to the Dallas Observer.
"We already have a mass incarceration problem in this country and this just adds to that," Maria Foscarinis, executive director of the National Law Center on Homelessness and Poverty, said. "Giving people a criminal record just makes the problem worse because it's just that much harder to get housing, even to get into shelters sometimes, when you have an arrest record and it starts a cycle that is just destructive."
Homeless advocates say local governments should do more to address the causes of homelessness instead.
"They are not trying to help," said Teiona Schaaf, an intern at Las Vegas' C.A.R.E Center, who is pursuing a degree in social work. "They are putting a Band-Aid on it and it's one that's not even sticky."
Enough beds?
The constitutionality of such bans could be heard by the Supreme Court. In September 2018, the 9th Circuit Court of Appeals ruled that criminalizing homeless people for sleeping outside when there are not enough shelter beds or housing constituted cruel and unusual punishment, violating the Eighth Amendment. The circuit court's jurisdiction covers nine Western states, including Nevada and California.
Boise, Idaho, where the case originated, argues that camping bans allow cities to maintain the health and safety of their communities. In a petition asking the Supreme Court to hear the case, Boise argued that public encampments "have spawned crime and violence, incubated disease, and created environmental hazards that threaten the lives and well-being both of those living on the streets and the public at large."
Some cities are already taking steps to align with the federal court's ruling. In Modesto, California, city officials are still enforcing a camping ban in parks. However, they have also built an emergency homeless camp with nearly 300 tents to provide extra shelter beds so that homeless people have a guaranteed place to go, according to the Modesto Bee.
Las Vegas city officials have said that the proposed ban, if approved, would only be enforced when shelter beds were available.
Paulsen, with the Nevada Homeless Alliance, said there are only about 2,000 shelter beds in Clark County, which can only serve a little more than a third of the area's homeless population on any given night. She added that Las Vegas lacks enough affordable housing to transition people out of shelters and keep them permanently off the streets.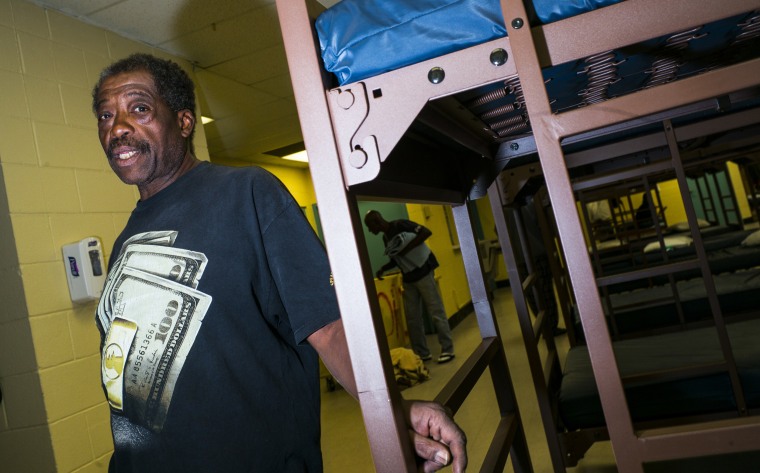 "The reality is that there are more people than there is available help and you can't just legislate reality any differently," Foscarinis, with the National Law Center on Homelessness and Poverty, said.
The city has said it will have enough shelter space to house all of Las Vegas' homeless population. In 2017, the city spent $16 million to open the Courtyard Homeless Resource Center, which includes an outdoor lot where homeless people can set up mats on the ground.
But it's not clear how many people can sleep there, and Paulsen said Courtyard is not an adequate shelter alternative, since it doesn't offer beds or even protection from the elements.
Other solutions
Las Vegas has one of the greatest shortages of affordable housing for extremely low-income renters — those with incomes at or below the poverty line — in the nation, with 14 affordable and available rental homes for every 100 extremely low-income households, according to a report by the National Low Income Housing Coalition. The national average is 37 affordable housing units for every 100 households.
Advocates say the best way to decrease homelessness is to address the lack of affordable housing. Foscarinis pointed to inclusionary housing programs, in which local governments work with private developers to create more affordable housing. Some cities have mandated that developers seeking permits include affordable housing in their projects, while others have required developers to pay into a fund that creates housing for the poor. Between 2014 and 2018, Boston generated more than $31 million for housing and job training programs through such a fund.
"If a community wants to solve the problem, there are a lot of creative ways to do that," Foscarinis said.
Currently, Nevada does not allow municipalities or counties to require private developers to build affordable housing units. A state senate bill that would have changed this died in this year's legislative session.
In recent years, Clark County has reduced its homeless population by expanding initiatives that move people into supportive housing and by assisting people with their rent, Paulsen said. In January, the 2019 Southern Nevada Homeless Census found about 13 percent fewer homeless people compared to 2018. The 5,530 homeless people who were counted marked the lowest number since the survey began 12 years ago. But Paulsen said the existing programs are not sufficient. There are more than 1,800 people on a waiting list in Clark County for placement into homeless service programs, such as rental assistance.
"We need to be funding them at a level that would provide those services for everyone that needs them," Paulsen said of housing assistance programs. "We need the political will to take those interventions to scale."
As Peeples got ready to leave for the laundromat recently, he said he's been saving money and he hopes to find permanent work and an apartment before winter. He's also trying to stay optimistic that the city's ban on sleeping in public places won't pass.
At the moment, though, Peeples' more pressing concern was that the temperatures would be dropping into the 30s that night.
"I need to find a hat," he said. "It's getting cold out here."