Hurricane chasers? Yup, they exist.
It's a fairly small club.
At the core is Mark Sudduth, 42, a Wilmington, N.C., resident who packs his teammates and his meteorological gear into a Chevy Tahoe outfitted with special data-collecting mechanisms each Atlantic hurricane season, traveling from as far as Texas to Maine.
What makes Sudduth stand out is what he does once he reaches the hurricanes: He leaves. Sudduth and his partners have developed unique, hurricane-proof technology that provides live video feeds to officials and to the National Hurricane Center, which enable his team to stay out of danger while capturing vital storm information.
While tornado-chasers are often in the news — whether it's amateurs whose cell phone camera videos capture a swirling twister on YouTube, or the deaths of three professional storm chasers in Oklahoma earlier this month — hurricane-chasers are a rarity. 
"We're not thrill-seekers," Sudduth said. "We really don't chase a hurricane. You think of storm-chasers driving to try to catch up with a super-cell or a tornado. We know where a hurricane is going to go generally. We get to where it's going to be. We set up our equipment and then it runs over us. You actually are intercepting a hurricane. But nobody wants to call it a hurricane-interceptor."
The team, which includes four people who go into the field, plus two who run their website, HurricaneTrack.com, arrives a few days before a hurricane's expected landfall.  
"We get to know the local officials. We reach out, and most of them, we know now, because we've been doing this for so long," Sudduth, who has been tracking storms since 1998, said.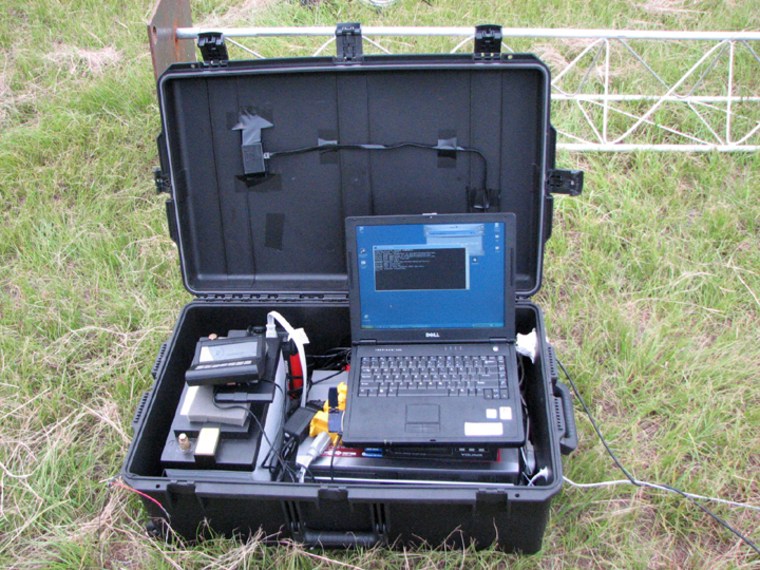 Using remotely-operated, water- and wind-proof cameras that Sudduth calls "surge cams," the team is able to stream and record live video of hurricanes — including conditions too dangerous for people to be in.
Wind speed, barometric pressure, temperature, and rainfall are among the information the team collects. The data is livestreamed to subscribers on his website and through his app, Hurricane Impact; he gives it to local officials for free.
The team hoists the unmanned cameras about 30 feet up in the air and attaches them to a building or any structure that seems likely to survive hurricane-strength winds. The equipment is protected by military-grade cases and is connected to a laptop with a broadband card, which sends data straight to the team's site during a hurricane — something the National Hurricane Center has taken note of, Sudduth said. 
"Max Mayfield, the former director of the National Hurricane Center, I had gotten to know him in the early years of my career, and he was staunchly against what I was doing," Sudduth said. "They were trying to get people out of harm's way, and I was going into a hurricane. However, the data that you provide is badly needed, because there is very little ground data when a hurricane hits. There's weather stations from the National Weather Service ... If the hurricane happens to go over that station, they get data, otherwise it's up to the storm chasers." 
The first time the surge cam was deployed was during Katrina, in Gulfport, Miss., in 2005.
"Back then, the mobile internet was slow, we had a very small image, it was a low bit-rate, but it worked," he said.
The boxes are like "flight-data recorders" and "virtual storm chasers," he added: They keep recording data, even when local infrastructure goes down, and don't endanger anyone. When Mayfield and the National Hurricane Center saw the data he was collecting — safely — he changed his tune on him. 
"It's become very, very important for providing local emergency management all the way up to national media,  National Weather Service, NOAA, the Hurricane Center — they all know where to find these feeds. We stay in constant contact with each other. We often work with local officials to figure out where we want to place the cameras."
The National Hurricane Center declined to comment on Sudduth's work, citing the fact that it's a government agency and can't comment on work in the private sector. But Mayfield, who retired as head of the NHC in 2007, readily shared praised about Sudduth. 
"He's one of my favorite guys," said Mayfield, who lives in Miami and now runs a weather blog for a local TV station. 
While the NHC was often too busy to watch Sudduth's feeds in real-time while a hurricane was happening, they proved "invaluable" after the storm, Mayfield said.
"Even after the fact, to show this to emergency managers or even the general public, to let them see the storm surge, what it looks like, is invaluable. And he's not putting his life at risk to do that," he said. 
Sudduth doesn't have a patent on his surge cams, but believes he is the only one who has the technology to make them — partly because at an estimated $950 a pop, in addition to the $2800 high-end weather stations that they connect to, they're an expensive collectors' item, and partly because few others take the time to not only go to the scene of a hurricane, but also go back after a hurricane is over.
Among those that didn't have funding to set up such cameras was the NHC, Mayfield said. 
"I wish more people would follow Mark's lead and do the same thing, including the media networks. I would love to see more  cameras on the coastline without the people there to put themselves in harm's way, sending a message that it's okay to be out there," he said.
The inspiration for Sudduth's unmanned cameras came from a terrifying drive through Hurricane Charley in 2004 in Florida, when winds of 90 mph rocked the team's SUV to the point where they could no longer control the vehicle. 
"It was like being on a commercial flight and you hit turbulence, and you feel like you're going to crash," Sudduth said. "Imagine that feeling for 45 minutes." 
While the surge cams collect vital storm data, Sudduth and his team wait out the storm, hunkering down in hotels or emergency operations centers. The biggest risk, he said, is sleep deprivation; the team tries to bank as much sleep as they can before the storms, knowing they'll have long days and long nights of data-collecting from their safe location once the storm hits.
Mayfield cautioned hurricane-chasing — or being a "hurricane educator," which is what he refers to Sudduth as — can be a life-threatening hobby.
"I've really got to talk with people standing out in waist-deep water in the storm surge. People get electrocuted in standing water. There are snakes and all kinds of things that you really don't want to be in," he said.
Sudduth's work has garnered him awards from top national weather agencies and handshakes from the likes of Gov. Chris Christie after Superstorm Sandy, and up to 2.5 million visitors to his website during a hurricane, but Sudduth says he isn't finished: during the off-season, when he's not with his two kids, he's been working on a new project.
Connecting GoPro cams and GPS tracking devices to a helium weather balloon, Sudduth hopes to record a landfalling hurricane from start to finish, capturing video of hurricanes as they've never been seen before. 
"That's going to be huge," he said.