President Donald Trump plans to invite representatives from the video game industry to the White House, an administration official told NBC News on Friday — just days after the president suggested that there is a link between violent games and mass shootings like the one in Parkland, Florida.
"I'm hearing more and more people say the level of violence on video games is really shaping young people's thoughts," Trump said last Thursday during a meeting about school safety.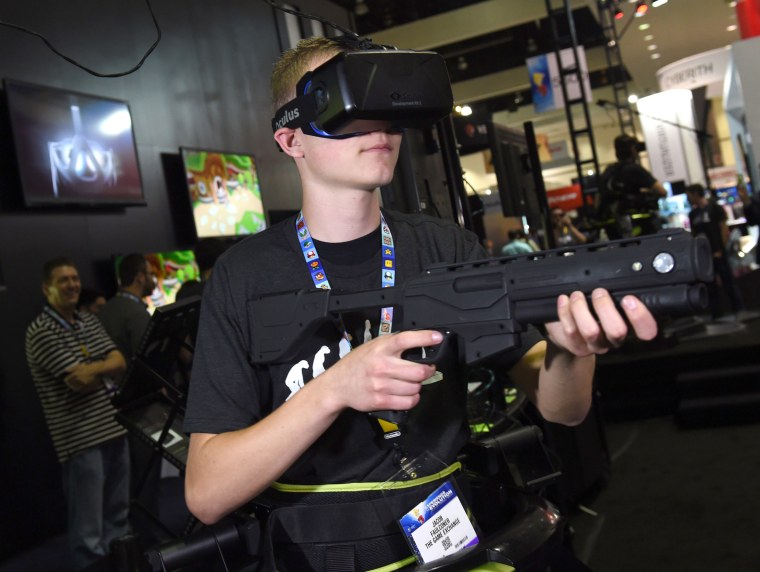 Trump is by no means the first politician to say that bloody, brutal video games can lead to real-world violence. Mitt Romney, for example, once blamed the Virginia Tech and Columbine massacres on "pornography and violence" in music, movies, TV shows and video games.
But what do researchers make of these claims? A growing number of them say there is no evidence of a link — and yet some groups (including the National Rifle Association) continue to foster that perception. Here's a look at the scholarship.
Scant evidence
Nikolas Cruz, the 19-year-old accused of gunning down 17 people at Marjory Stoneman Douglas High School in Parkland, Florida, on Feb. 14 reportedly played video games for up to 15 hours a day.
"It was kill, kill, blow up something, and kill some more, all day," Paul Gold, a neighbor, told The Miami Herald.
But that anecdote, troubling as it may sound, is not scientific proof of Cruz's propensity to commit acts of violence, according to many researchers.
"It's hard to attribute video games to any kind of violence in society," said Christopher Ferguson, a psychology professor at Stetson University in Florida. "We're not able to find any evidence to support this idea."
Ferguson is joined in that view by Whitney DeCamp, a professor of sociology at Western Michigan University, who says the relationship between video games and violent behavior is insignificant and trivial.
The Supreme Court in 2011 dismissed any link between game violence and real violence when it ruled, 7 to 2, that California could not block the sale of violent games to kids. Justice Antonin Scalia, a hero in the conservative movement, wrote for the majority:
"Psychological studies purporting to show a connection between exposure to violent video games and harmful effects on children do not prove that such exposure causes minors to act aggressively. Any demonstrated effects are both small and indistinguishable from effects produced by other media."
Alarms raised
A review of scientific literature by an American Psychological Association task force identified a link between violent games and short-term spikes in hostile or mildly aggressive behavior.
But many academics, including Ferguson and DeCamp, have pushed back against that report; hundreds signed an open letter to criticize what they described as poor methodology and "bias."
In any case, there is no reason to believe playing violent games has any significant "long-term effects or that it translates into real-life violence down the road," DeCamp said.
A nation of gamers
Forty-nine percent of American adults play video games on a computer, TV, console or portable device (like an iPhone), according to a 2015 survey from the Pew Research Center. And another 10 percent consider themselves to be "gamers."
The American public is fairly divided on the question of whether violent games are tied to violent behavior.
A slight majority (53 percent) disagree with the statement "people who play violent video games are more likely to be violent themselves," according to Pew. But 40 percent say there is a relationship between game violence and actual violence.
Political drama
Wayne LaPierre, the head of the National Rifle Association, has castigated the entertainment media for its purported role in contributing to mass shootings. After the 2012 massacre at Sandy Hook Elementary School in Newtown, Connecticut, LaPierre blasted the video game business as a "corrupting shadow industry that sells and sows violence against its own people."
In his comments last week, Trump appeared to side with the NRA view of the video game industry. But his comments were quickly challenged by several researchers — and at least one survivor of the Parkland shooting.
"My friends and I have been playing video games our whole life and never … have we ever felt driven or provoked by those actions in those games to do something as horrible as this," Samuel Zeif told CNN last week. "I don't think anyone is."
"It's a video game," he said. "Something happens, you restart. We know that's not how life is."