The yearbook adviser at a New Jersey high school has been suspended after parents complained that photos of their children were digitally edited to remove references to President Trump.
Wall Township High School in central New Jersey is investigating the alleged censorship, which the superintendent of schools said represents a "possible violation of First Amendment rights."
"This allegation is being taken very seriously and a thorough investigation of what happened is being vigorously pursued," the superintendent, Cheryl Dyer, said in a statement posted online Saturday.
Dyer said two parents had alerted the school district that "the attire of their children was altered in yearbook photos." There were also "claims that comments or quotes" about Trump were not published.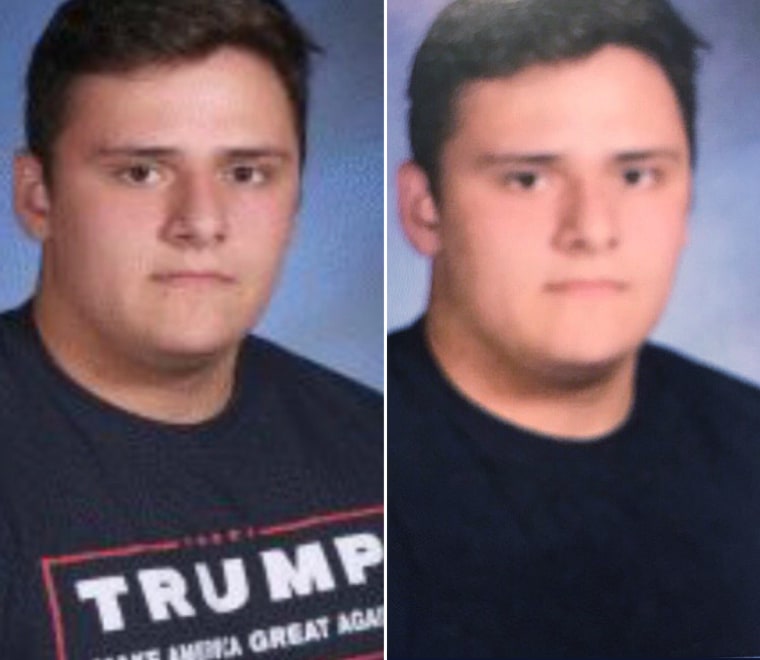 The yearbook adviser, who is also a teacher at the school, was suspended with pay, Dyer said in an email to NBC News. The suspension will last until the investigation is complete, she said.
The politically charged controversy stems from changes made to photos of two juniors, Grant Berardo and Wyatt Dobrovich-Fago, according to CNN, which spoke to the students' parents. Both families did not immediately respond to interview requests from NBC News on Tuesday morning.
Related: Parents Outraged Over School's 'Discriminatory,' 'Racist' Dress Code
The lettering on the shirt Berardo wore for his photo — "TRUMP Make America Great Again!" — appears to have been digitally scrubbed in the print version of the yearbook.
"He was disappointed," Grant's father, Joseph Berardo, told CNN. "This was the first election he was interested in."
Similarly, the Trump logo on the vest Dobrovich-Fago wore for his photo appears to have been removed.
"I want to know who thought it was okay to do this," Wyatt's mother, Janet Dobrovich-Fago, told CNN.
Related: School District Tells Elementary Student to Change Hair
Wyatt's sister, Montana, the freshman class president, was also affected by the alleged censorship, according to CNN. She had submitted a paraphrased Trump quote — "I like thinking big. If you are going to be thinking anything, you might as well think big" — to appear alongside her yearbook photo. The quote was not published.
In her statement, Dyer said there is "nothing" in the school's dress code that would "prevent a student from expressing his or her political views, or support for a political figure, via appropriate clothing and attire."
"Indeed," Dyer went on to say, "the administration applauds students for becoming involved in politics, making their voices known, and taking an active part in our democracy."
It was not clear why or how the changes were made. The suspended teacher has not been identified.
Joseph Berardo wants the school to reissue the yearbook, he told CNN.
"There is an opportunity to use this as a teaching moment for the kids, and for the teachers as well," he told CNN. "This is a First Amendment, freedom of speech issue."