HIGHLAND PARK, Ill. — An Illinois man who police say for weeks planned the mass shooting on a July Fourth parade has been charged with seven counts of first-degree murder, officials said Tuesday evening.
Robert "Bobby" E. Crimo III, 21, will be charged with additional counts in the shooting spree in Highland Park that killed seven and injured dozens of others Monday, Illinois officials said.
If convicted of murder, Crimo would receive a mandatory life sentence without the possibility of parole.
The seven people killed have been identified as Katherine Goldstein, 64; Irina McCarthy, 35; Kevin McCarthy, 37; Jacquelyn Sundheim, 63; Stephen Straus, 88; Nicolas Toledo-Zaragoza, 78; and Eduardo Uvaldo, 69..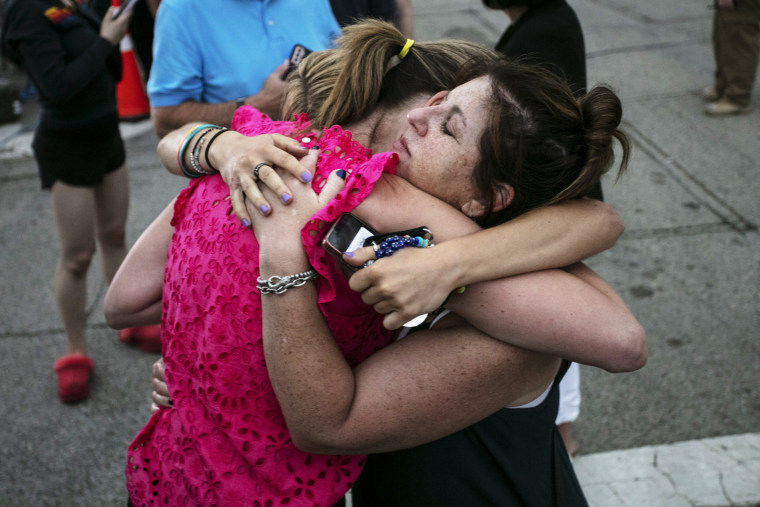 State's Attorney for Lake County Eric Rinehart called the shooting a "premeditated and calculated attack" and said that additional charges will most likely include attempted murder and aggravated battery.
"We anticipate dozens of more charges centering around each of the victims," he said.
Tom Durkin, Crimo's attorney, said prosecutors informed him that at a bond hearing Wednesday, they will request no bail, which he said he would not contest "at this time."
Durkin said he has spoken to his client only briefly.
"I was just retained this afternoon," he said. "I've spoken to my client late this afternoon for 10 minutes by phone."
Crimo, whom police picked up hours after the rampage, scaled a fire escape ladder to make himself a sniper's nest to fire on paradegoers below, authorities said.
He had planned the attack for weeks and wore women's clothing to avoid detection, authorities said Tuesday.
"We do believe Crimo preplanned this attack for several weeks," Lake County Major Crime Task Force spokesman Chris Covelli said Tuesday.
An image of Crimo, obtained by NBC Chicago from a senior law enforcement official, appeared to show him in a blue-and-white blouse with longer hair.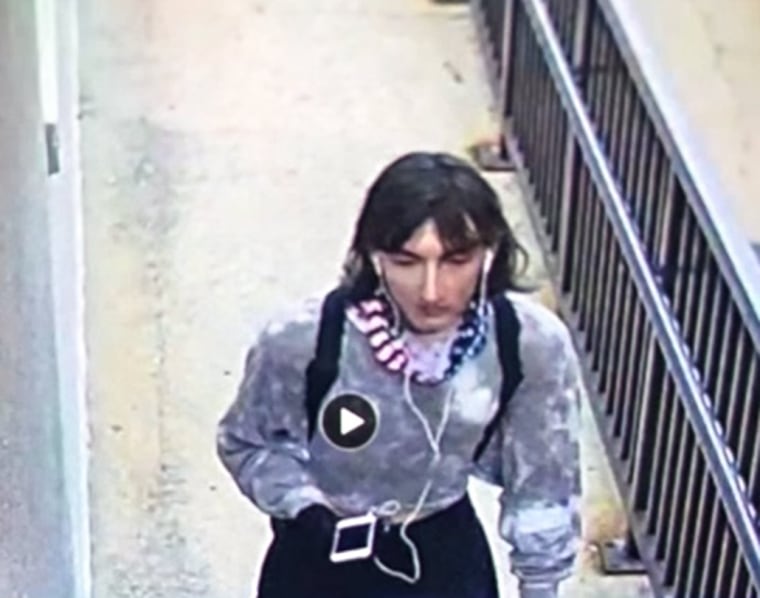 "During the attack, Crimo was dressed in women's clothing, and investigators do believe he did this to conceal his facial tattoos and his identity and help him during the escape," Covelli said.
The plan seemed to work initially, as Crimo is alleged to have walked undetected to his mother's home, borrowed her car and driven out of town.
"Following the attack, Crimo exited the roof, dropped his rifle, and he blended in with the crowd and he escaped," Covelli said.
"He blended right in with everybody else as they were running around, almost as if he was an innocent spectator, as well." 
Investigators pieced together Crimo's movements based largely on video recorded Monday in downtown Highland Park, authorities said.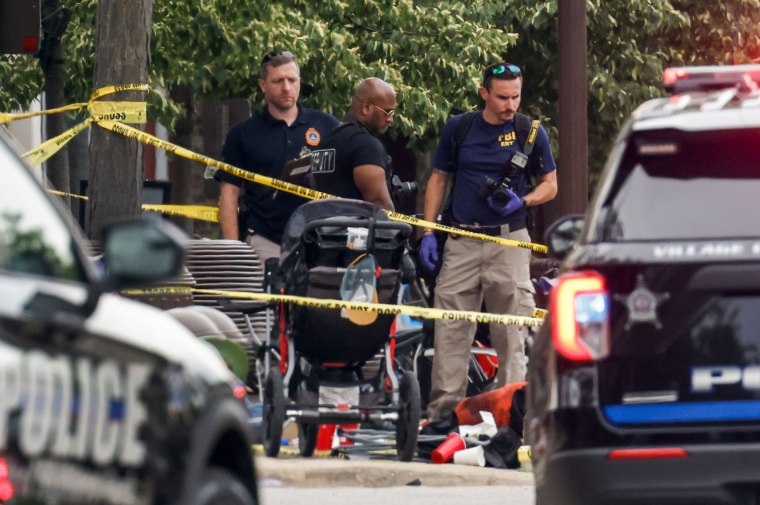 The suspect fired more than 70 rounds from his rooftop perch, randomly picking off victims below, officials said.
Covelli said there was no immediate evidence that the shooter was aiming for victims based on race or religion.
Crimo applied for a gun license in December 2019, when he was 19, and his father sponsored his application, according to Illinois state police, who issue gun owners' licenses.
At the time, "there was insufficient basis to establish a clear and present danger" and deny the application, state police said in a statement.
Since then, the agency said, he had passed four background checks in 2020 and 2021.
Covelli said authorities had contact with Crimo twice in 2019. The first time was in April 2019, after law enforcement officers followed up on a reported suicide attempt, which Covelli said was handled by a mental health professional.
Police also responded to a call in September 2019 after a family member reported that Crimo had threatened to kill relatives in his home. Multiple knives were confiscated, as well as a sword and a dagger, but he didn't have firearms, Covelli said.
Authorities said that on Monday, Crimo had at least five firearms, including rifles and handguns seized at his father's home.
Covelli said Tuesday the weapon used was a rifle that dispersed "high-velocity rounds similar to an AR-15," the developed-for-battle firearm often at the center of assault weapons bans.
Asked whether so-called red flag laws should have prevented Crimo from owning guns, Covelli couldn't provide a definitive answer.
"At that time, there was no information that he possessed any firearms, any rifles," he said. "Would that be enough, if he's making threats? It's a case-by-case basis. I don't want to speak broadly to the issue. It depends on the circumstances."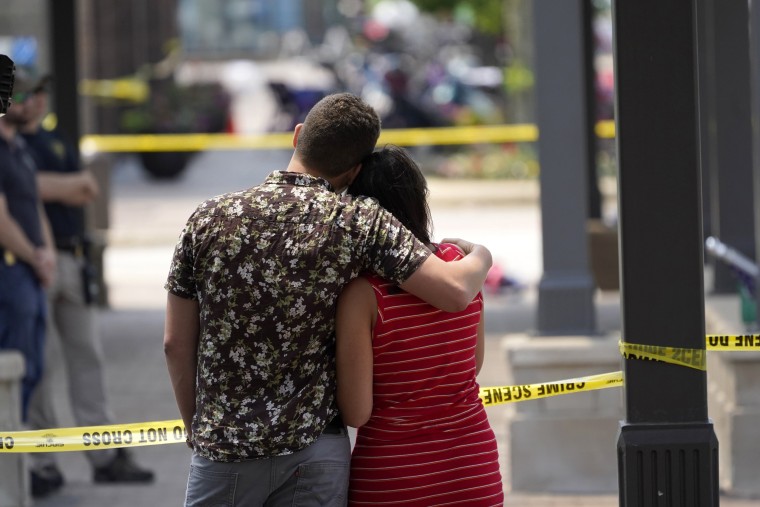 Vice President Kamala Harris made an unscheduled visit to Highland Park shortly after the murder charges were announced. She was expected to be joined by Mayor Nancy Rotering, U.S. Rep. Brad Schneider, D-Ill., and state Sen. Julie Morrison, a Democrat from Lake Forest, who was with her family at Monday's parade when the gunfire erupted.
"The whole nation should understand, and have a level of empathy to understand, that this can happen anywhere," Harris said. "In any peace-loving community."
Highland Park is known as a heavily Jewish suburb, according to the Jewish Telegraphic Agency and the Israeli newspaper Haaretz. Both noted that some estimates put the area's Jewish population at about a third of its total estimated population of 30,100.
"At this point, we have not developed a motive for him," Covelli said.
"The shooting appears to be completely random. We have no information to suggest at this point it was racially motivated, motivated by religion or any other protected status."
The weapon was legally purchased in Illinois, officials said. Covelli described it as being "similar to an AR-15."
"He brought a high-powered rifle to this parade, he accessed the roof of a business via fire escape ladder and began opening fire on the innocent Independence Day celebrationgoers," Covelli said.
Highland Park's mayor said Tuesday that she knew Crimo as a youth.
She said on "TODAY" that she's stunned that anyone could unleash such violence.
"I know him as somebody who was a Cub Scout when I was the Cub Scout leader," she said.
"And it's one of those things where you step back and you say: 'What happened? How did somebody become this angry, this hateful, to then take it out on innocent people who, literally, were just having a family day out?'"
Crimo's parents expressed their sympathies in a statement through their attorney, Steve Greenberg.
"We are all mothers and fathers, sisters and brothers, and this is a terrible tragedy for many families, the victims, the paradegoers, the community, and our own. Our hearts, thoughts, and prayers go out to everybody."
In other developments:
Antonio Planas, Natasha Korecki and Phil Rogers reported from Highland Park; Marlene Lenthang and David K. Li from New York City; and Ava Kelley from Chicago.