A California Highway Patrol officer was killed and two others were injured after a man driving a truck that was to be impounded opened fire during a traffic stop Monday, starting a gunbattle in which he was also killed, authorities said.
The officer who pulled over the truck was shot but was able to call for assistance, Highway Patrol Assistant Chief Scott Parker said. He was later taken by air ambulance but died from his injuries, Parker said. He has been identified as Andre Moye Jr., 34, who graduated from the CHP academy in March 2017.
Two other highway patrol officers were wounded in the gunbattle, he said. Both are expected to recover.
"It was a long and horrific gunbattle," Riverside Police Chief Sergio Diaz said at a news conference Monday night.
The gunfire erupted in Riverside, about 60 miles east of downtown Los Angeles, near Interstate 215 shortly after 5:30 p.m. PT.
A highway patrol officer stopped a white GMC pickup, called for a tow truck and was filling out paperwork when "the suspect entered his vehicle and pulled out a rifle, unknown caliber rifle, and he engaged our officer with multiple gunshots," Parker said.
The shooting and officer's call for assistance sent CHP and other law enforcement officers to the scene.
The next two officers who arrived "immediately were engaged with gunfire by this suspect," fired back and were wounded, Parker said.
Seven law enforcement officers fired their weapons during the gunfight, Diaz said.
The suspect was identified by his father, Dennis Luther, as Aaron Luther. The shooter's father said his son appeared to be depressed in recent times while dealing with knee pain and marital issues, according to NBC Los Angeles.
Nonetheless, Aaron Luther was devoted to his two children and a stepchild, according to his father.
"My wife and I are just in shock right now. And we're just praying for the officers," Dennis Luther said in a brief phone interview.
One of the wounded highway patrol officers suffered major injuries and was in critical condition Monday night, and the other wounded officer suffered minor injuries, Parker said.
The injured officers have not been identified. One is a six-year veteran of the highway patrol who suffered minor injuries to his leg, and the other is a four-year veteran who received major injuries to his leg and who had been said to be in critical condition, CHP-Inland Division Chief Bill Dance said Tuesday. That seriously injured officer is expected to recover, he said.
California Highway Patrol Commissioner Warren Stanley said in a statement Monday that "I am devastated by the tragedy that unfolded earlier in Riverside," adding, "Prayers go out to all, including the responding officers injured in the shooting."
Moye has been a motorcycle officer for the past year, Dance said.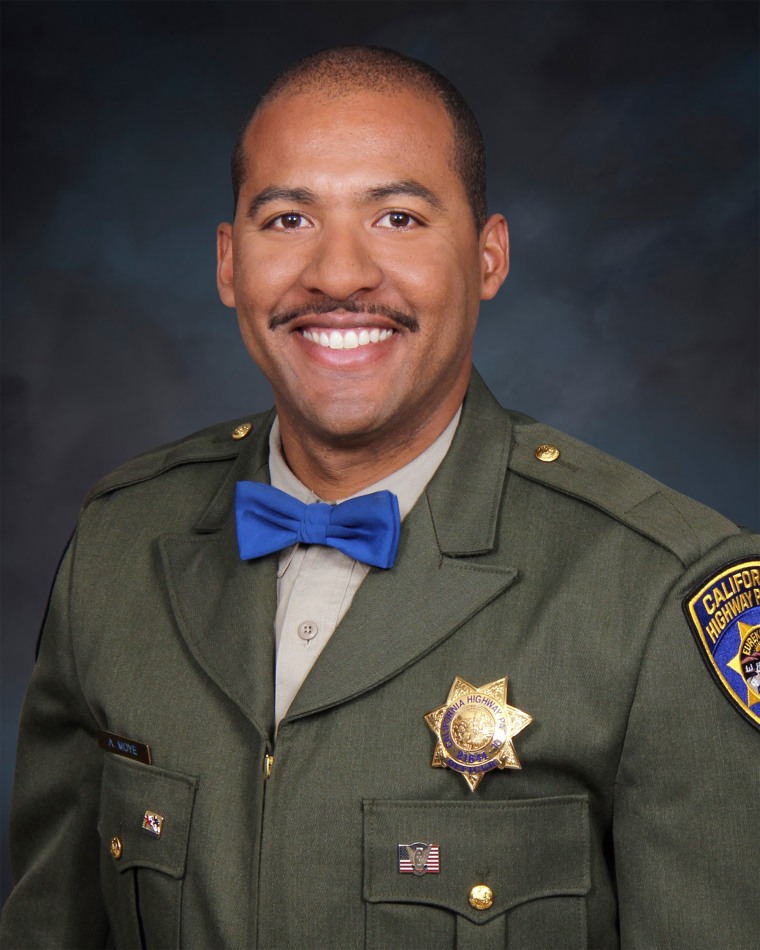 "Yesterday, the California Highway Patrol suffered a tragedy," Dance said. He called Moye an "outstanding individual" and a caring and giving person who will be deeply missed.
"His mother told me last night that this was his dream job, and he loved going to work, and it's what he always wanted to do," Dance said.
The gunman's wife was almost struck during the firefight, according to Dennis Luther.
After he was pulled over, Aaron Luther called his wife to pick him up — and gunfire broke out just as she rolled up to the scene, according to the shooter's dad.
"She said she heard 'pop, pop, pop' ... gunfire, and then a bullet went through the windshield of her car," Dennis Luther said of his son's wife.
Also, Dennis Luther said he doesn't know what his son was doing with a weapon because he's a convicted felon, making possession of it illegal.
Aaron Luther was sentenced to 12 years in prison in a term that began in 1994 for attempted second-degree murder and burglary counts, and he was paroled in April 2004 after serving 10 years and was discharged from parole in 2007, according to the California Department of Corrections and Rehabilitation.
Court records show Luther was arrested in 2007 on felony assault charges and took a no-contest plea deal that sentenced him to 90 days in jail, according to the Associated Press.
Two bystanders are thought to have suffered superficial injuries and are expected to be OK.
The Los Angeles Times reported that a woman was driving home with her 6-year-old twins when a bullet went through her windshield. Nobody in that vehicle was harmed. Charles Childress, a Marine veteran, told NBC Monday night that he helped the woman and her children to safety.
The large crime scene will take some time to process, Diaz said, and investigators will review body-worn camera footage and many eyewitness accounts.
"We don't know where the suspect was coming from, where he was headed to, what his affiliations are," Diaz said. "We don't know his motive for this crime."
California Gov. Gavin Newsom in a tweet said Moye "will be remembered for his commitment to service and the community of Riverside County."
"Jen and I extend our deepest condolences to his family, friends, and fellow officers who are grieving tonight," Newsom said.
Debbie Howard, a family member of the slain officer, told NBC Los Angeles that Moye had a good heart and loved his job. "That's all he talked about," she told the station. "I'm going to be CHP. And he did it."
"I've been knowing him since he was a baby," she said. "I don't understand. I just don't understand."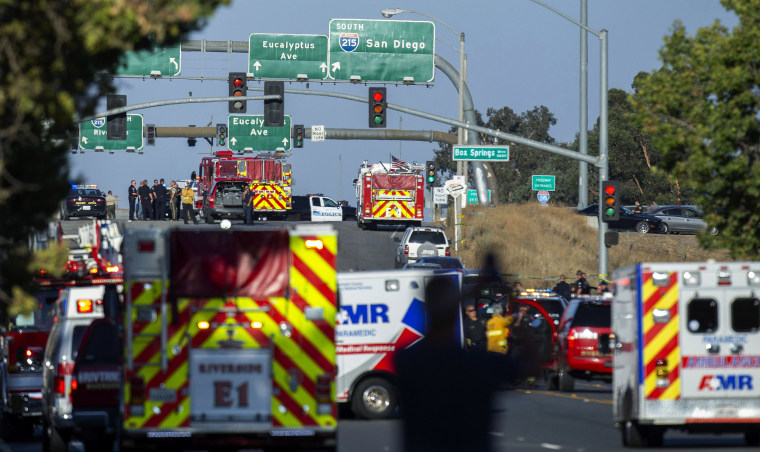 Childress, the man who aided the woman and her children, said that just before he went to help, he could hear rapid gunshots.
"Right in front of me, I could see her window, her front windshield, take a bullet and the round traveled through the windshield right next to her," Childress told NBC.
He said he heard screaming and could tell there were young children in the car.
"The gunfire continued, and it was in front of me, in front of her car, so I opened up my passenger door, got out, made a low crawl-type entry to ... her car. And I opened up the door and I found two small children in car seats — two little boys," he said. "So I told her that I'm going to take her and her kids out and try to get them to safety."
Childress said he put the children behind the engine block for their safety, and once the gunfire slowed, he grabbed the woman and her boys and took them in a low position back behind his car. He said they made it to the bottom of the bridge over the freeway, where they were helped by whom he called "brave" police and sheriff's deputies.
Childress said his 21 years in the Marine Corps was helpful in Monday's situation. He said he "reverted back to our training — somebody needed help, and there was no thinking about it."