Police are hunting a "scruffy" and "unwashed" suspect in North Carolina's Blue Ridge Parkway after a 64-year-old hiker was found tied to a tree and in need of hospital treatment.
Rescuers located the woman after her friend called 911 on Thursday afternoon from the Craggy Gardens picnic site, an area of the park popular with families and hikers.
She was found tied to a tree off a trail near the site in what park authorities said was a possible assault, without releasing additional information.
National Park Service Rangers said late Friday they were looking for a white male, aged about 50, with "salt and pepper hair," a "scruffy and unkept" beard and wearing a light T-shirt, old or faded baggy blue pants and dark tennis shoes.
"Additionally, the subject may appear and smell of a musty odor of being unwashed in several days," the NPS said in a release.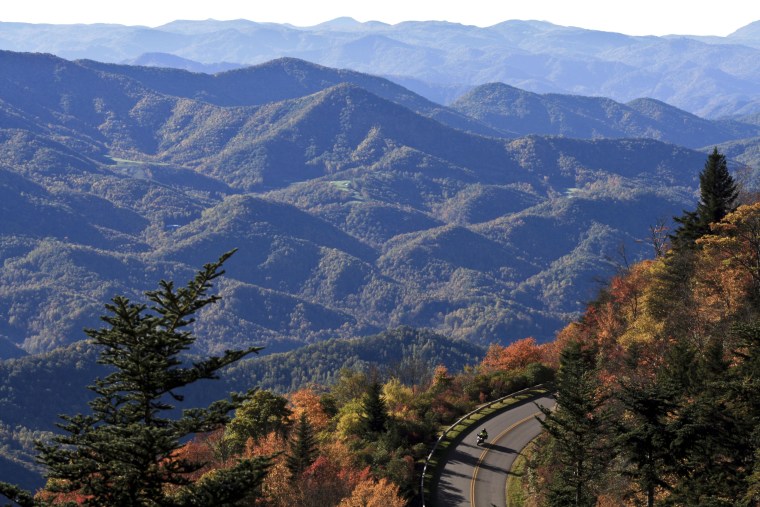 The Reems Creek Fire Department said the hiker was found in need of urgent attention from paramedics.
She was transported to the Mission Hospital in Asheville for treatment, it said. No further information was released on her condition.
The rescue began at 1:30 p.m. Thursday when the woman's friend called 911 to say she was getting text messages and was concerned.
"No voice contact with the subject could be obtained via cellphone," the fire department report states, adding that the missing hiker was prone to possible seizures. She was found after about an hour.
"She has something that looks like seizures, and when she does, she is conscious long enough sometimes to send a text but generally it renders her somewhat mute," the caller said in a 911 recording according to the Asheville Citizen newspaper.
The NPS said it had no reason to believe the bizarre incident was "anything other than an isolated event."
"What we released is what the public needs to know," Leesa Brandon, a public information officer with the Blue Ridge Parkway told the Asheville Citizen, when asked if visitors to the area should exercise caution.