An injured hiker who spun out of control as she was being hoisted into a helicopter "thought she was going to die" during the harrowing rescue, her husband said.
Katalin Metro, 74, was hiking at Piestewa Peak in Arizona with her husband, George Metro, on Tuesday when she tripped and fell onto a rock, breaking her nose and injuring her hand and leg, her husband told NBC affiliate KPNX in Arizona.
Rescue crews decided to airlift her to avoid her potentially exacerbating her injuries.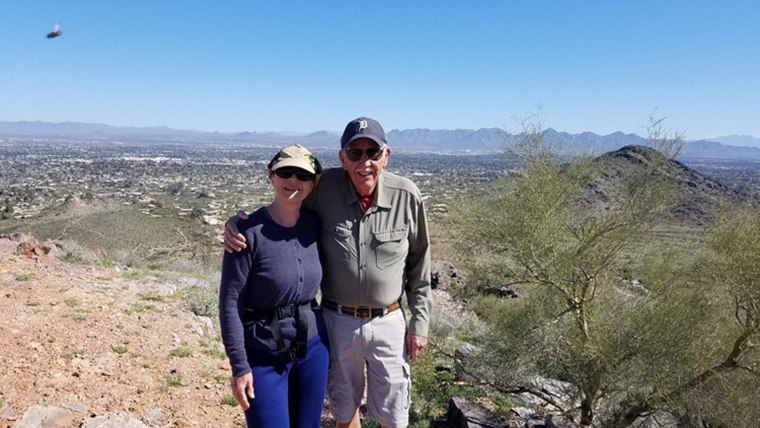 They loaded her into a Bauman Bag and Stokes Basket and began to hoist her up to the helicopter. But her husband and firefighters below watched in horror as the basket began to spin violently.
"They just — one of them said, 'Oh my gosh,'" Metro told KPNX on Thursday from the hospital where his wife was still being treated. "I think they were waiting for the spinning to stop, just like I was."
Katalin was still feeling nauseated and dizzy two days after the ordeal, her husband said, adding that she spun a total of 174 times as she was being lifted and she did deep-breathing exercises to keep herself from passing out.
"The blood was going to her head and eyeballs. The first thing she said was, 'I'm glad I'm alive,'" Metro said. "She thought she was going to die when she was spinning."
Firefighters said what happened to Metro is rare, but they train for the unlikely event. Paul Apolinar, the Phoenix Police Air Unit's lead pilot, said that in 210 rescues, they have only had two cases of the uncontrollable spinning.
Officials said it's often caused by the downward draft from the helicopter's rotors. As the basket gets lifted higher to the helicopter, the spinning speeds, which is why Metro was lowered before being loaded into the aircraft.
In Metro's case, the line that is supposed to keep the basket from spinning broke.