CATHEDRAL CITY, Calif. — As Tropical Storm Hilary pushed through Southern California, stunned residents of the Panorama neighborhood all seemed to have the same question: Who are all these people?
"We're your neighbors," resident Brett Anthony Vasquez recalled the people in his driveway answering.
He and others came together Sunday night as historic rain flooded the low desert to help strangers isolated in their homes, motorists stranded in cars and even a pedestrian immobilized by quicksand-like mud.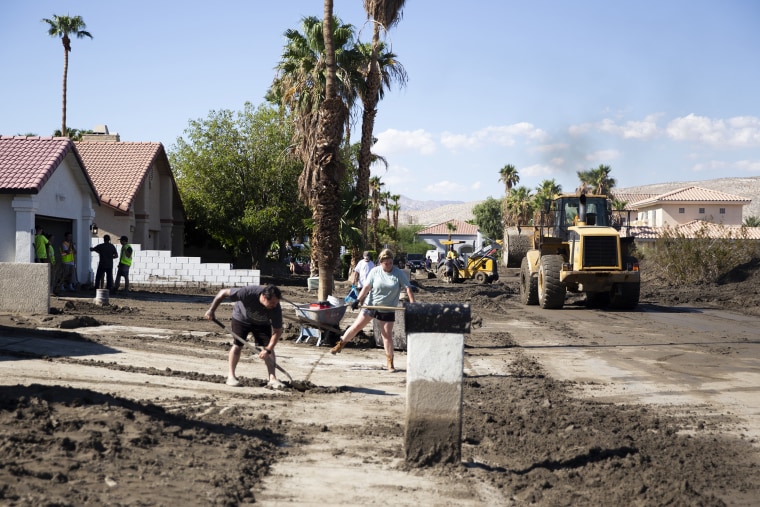 Some neighbors came from blocks away. Few were familiar faces. But they knew Avenida La Vista was hit hard, Vasquez said Tuesday as he surveyed streets that now looked like dirt roads.
A weather station in Cathedral Canyon, about 4 miles south of the Panorama neighborhood, recorded 3.61 inches of rain during the storm, more than the 3.23 inches in adjacent Palm Springs, which was enough to set a daily rainfall record.
Although the forecast called for catastrophic wind and rain, Hilary appeared to wreak much less havoc than expected in the Coachella Valley area, southeast of Los Angeles.
No deaths were reported, flooding damaged but did not destroy homes, and those who needed rescuing, including 58 people in Cathedral City, escaped major injuries, according to accounts from first responders across Southern California.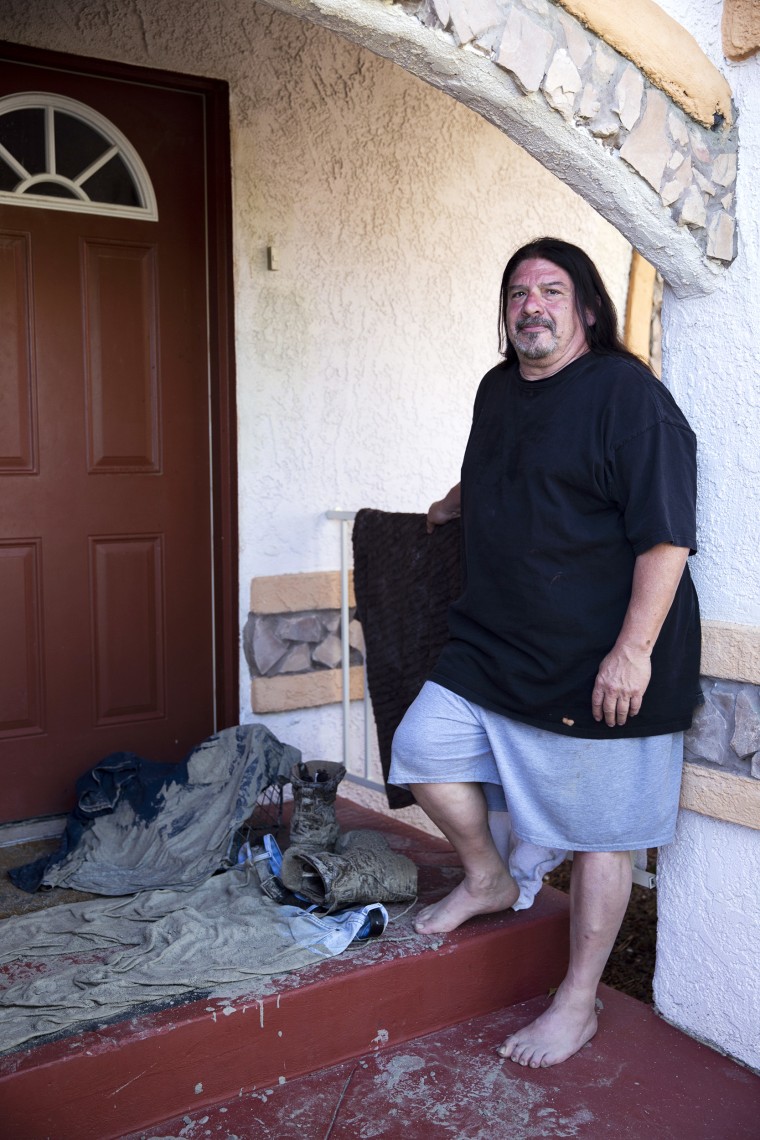 A woman was outside Vasquez's home, standing still in mud 3 feet high for an hour as the storm raged, he said. He helped pull her to safety as others shoveled enough mud from his driveway and front yard that he could get in and out by car or by foot, said Vasquez, an Uber driver.
"Most of this was done by hand," he said, pointing to his driveway and front yard. "Twelve people we've never seen before."
Some of those stranded in vehicles had been diverted from nearby Interstate 10, washed out and filled with debris, and ended up on Avenida La Vista amid sticky waves of mud, neighbors said.
The street is where seven people were ultimately rescued from stuck vehicles Sunday night, Cathedral City Fire Chief Michael Contreras said Monday.
Around the corner, six residents of a senior care boarding facility unable to walk were rescued with the help of a bulldozer provided by the waste disposal firm Burrtec, the city said in a statement Tuesday.
The scene was more like a block party Tuesday, when the sun returned and heated the atmosphere to near triple digits.
Neighbors were in driveways, sitting in folding chairs and shoveling more mud as city bulldozers beeped incessantly in reverse and scraped the avenue of mud and debris. Police sat in pickups and SUVs left running for the air conditioning.
"I've been so inspired by this community's ability to come together during this unprecedented tropical storm, and I assure you that our staff is working aggressively in its response to cleanup and recovery efforts," Cathedral City Mayor Rita Lamb said in a statement Tuesday.
World Central Kitchen, the nonprofit organization started by chef José Andrés that takes food to disaster zones around the globe, set up a table with sandwiches, chips and water outside the home of Rick Smith, a 78-year-old retiree and informal block captain.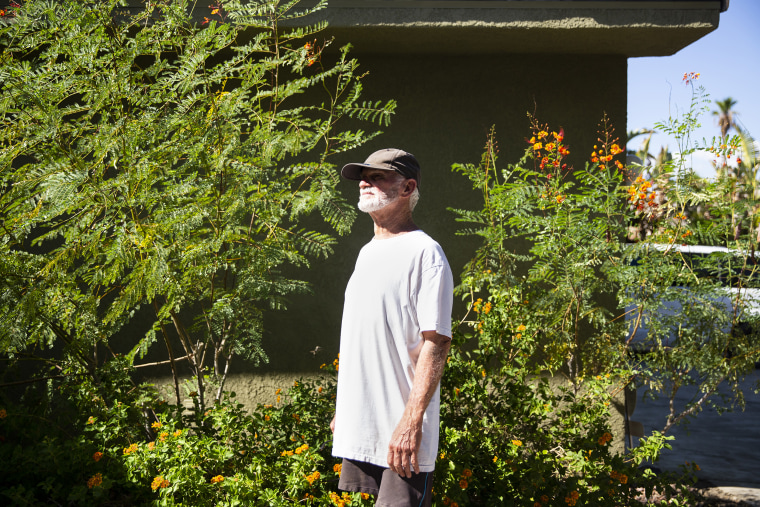 Smith welcomed the good tidings but said the block was out of control Sunday night, when a confluence of events focused on the avenue at the worst time.
"It was like a circus," he said.
The closure of I-10, a core east-west roadway for the region and the country, brought a stream of vehicles down Avenida La Vista just as Hilary was doing its worst, Smith and other neighbors said.
The freeway reopened Monday.
The Splash House 2023 music festival in neighboring Palm Springs ended Sunday night, sending more than the usual amount of traffic onto I-10 and then, with its closure, into the neighborhood, they said.
Then the off-roaders, long attracted to vacant land, decided it was a great night to play in the mud, the neighbors said.
The 4x4s and all-terrain vehicles, normally not a huge deal, sent wakes of mud and rainwater into the street and onto their properties, aggravating the storm damage, they said.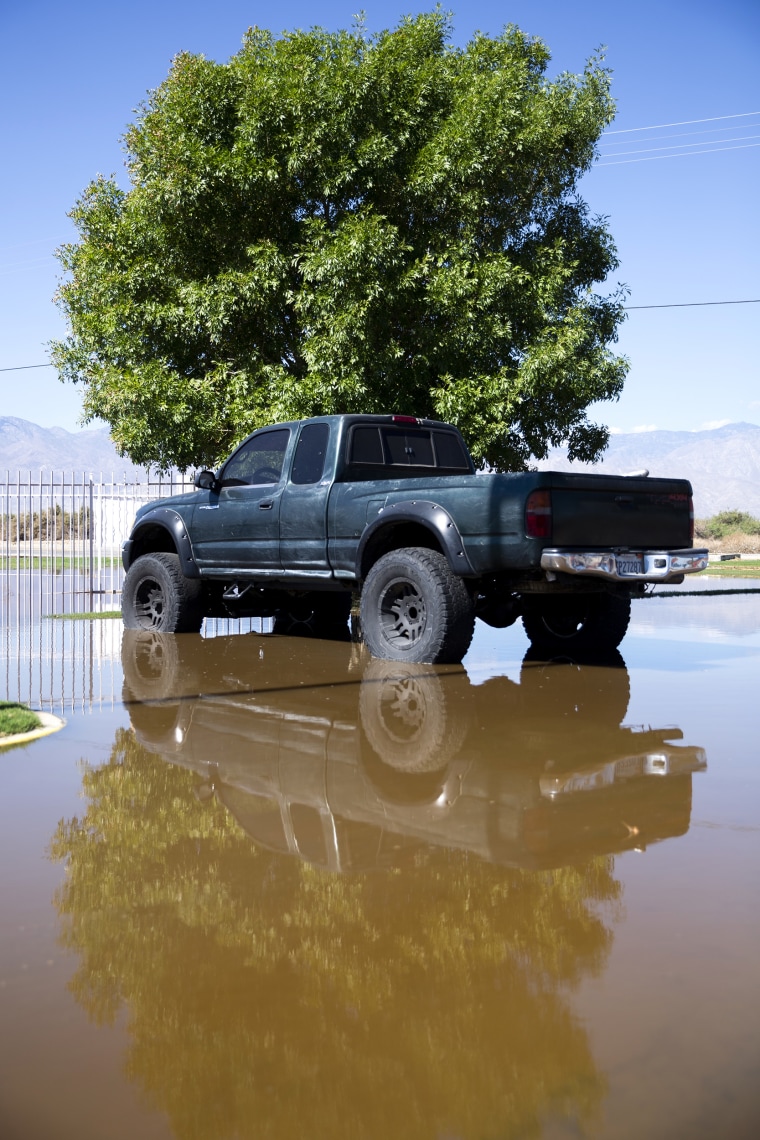 Most of the homes on the avenue were spared indoor flood damage, neighbors said.
Henry Bagumyan, 36, who was looking after his rental property on Avenida La Vista on Tuesday afternoon, said that with off-roaders arriving Sunday night, "It was worse than it would have been."
After off-road enthusiasts returned Monday night, the city shut down the street, Smith said. And then cleanup and recovery began.
"We're usually divided by politics," said Vasquez, one of the Cathedral City residents. "A natural disaster brought us together."