Hillary Clinton will reflect on her loss to Donald Trump in the 2016 presidential election as well her life in politics in general in a new collection of personal essays set to be published this fall, Simon & Schuster announced Wednesday.
The publisher told The Associated Press on Wednesday that the former secretary of state, senator and first lady is working on a book structured around hundreds of favorite quotations that have inspired her. The publisher said Clinton will use the quotes to "tell stories from her life, up to and including her experiences in the 2016 presidential campaign" and into her thoughts on the future.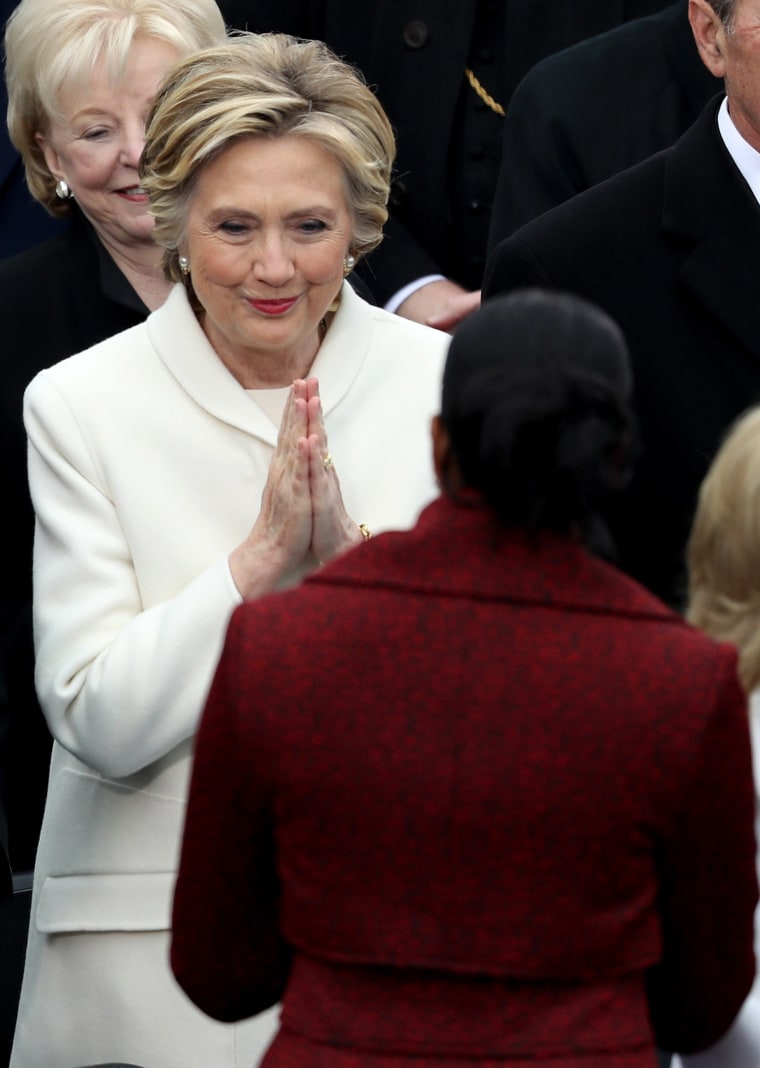 "These are the words I live by," Clinton said in a statement. "These quotes have helped me celebrate the good times, laugh at the absurd times, persevere during the hard times and deepen my appreciation of all life has to offer."
"I hope by sharing these words and my thoughts about them, the essays will be meaningful for readers," Clinton added.
A Clinton aide also confirmed to NBC News that she will deliver the 2017 commencement speech at her alma mater, Wellesley College, in Massachusetts. Clinton's address at the 1969 graduation ceremonies helped propel her into a national spotlight.
Clinton will also resume her relationship with the Harry Walker Agency, the speakers bureau she worked with after she stepped down in 2013 as secretary of state. Clinton's lucrative career as a speaker, notably her talks sponsored by Goldman Sachs, were criticized by primary opponent Sen. Bernie Sanders of Vermont and others as a sign that she was too close to the financial industry.
Clinton does have some speeches arranged, but not through the Walker agency, Clinton spokesman Nick Merrill told the AP. On March 8, she will address an international women's day event organized by Vital Voices, the initiative Clinton and then-Secretary of State Madeleine Albright founded in 1997. Clinton will also speak at the LGBT Community Center in New York on April 20.
Related: Eleven Days that Shook the Political World
Wednesday's announcements mark a growing re-emergence for Clinton, who ran twice for the White House, hoping to become the country's first woman president. She lost to Barack Obama in the 2008 Democratic primaries and, despite winning the popular vote, to Trump in 2016. Clinton, 69, was defeated in one of the harshest presidential elections in modern times, with Trump threatening to jail his opponent because of her use of a private email server while secretary of state.
She has made few public comments since the election, but attended Trump's inauguration earlier this month and has been critical of his policies. She tweeted in support of the nationwide women's marches held the day after his inauguration and condemned his recent executive order restricting immigration. Her pinned tweet quotes remarks she gave Nov. 9, the day after Election Day: "To all the little girls watching...never doubt that you are valuable and powerful & deserving of every chance & opportunity in the world."
Clinton has another literary project in the works: She will reissue her best-selling "It Takes a Village" in an illustrated edition for young people, Simon and Schuster told the AP. Clinton will collaborate with Marla Frazee, a two-time Caldecott finalist for the year's outstanding picture book.
The original "It Takes a Village" was Clinton's first book and came out in 1995, when she was first lady. Clinton has since published "Dear Socks, Dear Buddy" and the best-selling memoirs "Living History," which covered her life through her years as first lady and her successful Senate run New York in 2000, and "Hard Choices," about her years as secretary of state during Obama's first term. If the 2016 campaign was her last, her book of essays would be her first written while she was neither in public office nor anticipating a future run.
Financial terms were not disclosed for her essay collection. Clinton was represented by Washington attorney Robert Barnett, whose other clients include Obama and Clinton's husband, former President Bill Clinton. Net author proceeds from "It Takes a Village" will be donated to charity.