Luke Perry once had to be smuggled out of a Seattle mall hidden under clothes inside a laundry hamper to escape the throngs of teenage girls who had mobbed him during an autograph-signing event.
Another time, in Denver, the mere sight of him prompted a fan to pass out.
"She fainted right in front of me. And I was going, 'Hey, hey, breathe, hey, hey,'" Perry told Rolling Stone magazine in 1992.
"I don't like that. I mean, I could understand if I was the King," he added, referring to Elvis Presley. "But I ain't."
As the actor who played brooding bad boy Dylan McKay on the 1990s hit show "Beverly Hills, 90210," Perry vaulted to fame, becoming the heartthrob of a generation. It was a position he never quite seemed comfortable in.
The actor, who died Monday at age 52 from a stroke, came from modest roots. Raised in rural Fredericktown, Ohio, he didn't start acting until after high school, and told NBC's "Today" Show in 1992 that stardom felt foreign to him.
"I felt weird the first time my mother ever saw me step out of a limousine. I felt a little guilty, maybe I felt a little strange," he said.
"There's a little bit of uncomfortability that goes with having people who've known you all your life, certainly before any of this ever happened," he added. "I'm afraid they'll look at me and say, 'Well, that's not him.' And it is me, because I don't change who I am for what I'm doing."
His ability to stay true to himself helped him land his role in "90210." Often compared in looks and attitude to 1950s icon James Dean — a comparison that Perry flatly rejected ("At one point or another, everybody gets called 'the new James Dean,'" he once said) — he didn't come on the show until after the first episode.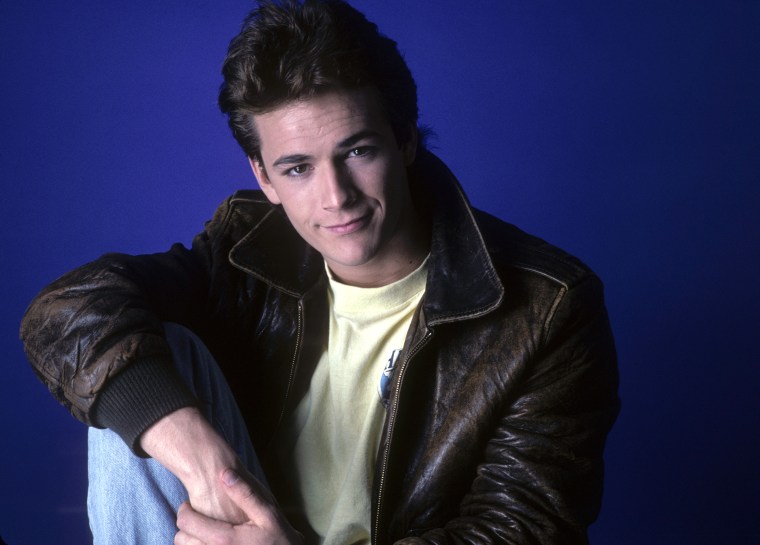 "After the pilot, we felt there should be someone who is a little dangerous, a little on the edge, and we came up with the Dylan character," show executive producer Aaron Spelling told Rolling Stone in 1992. "When Luke walked into the audition, it was like 'Wow, that's the person.' He seems exactly like James Dean to me, but it isn't a conscious imitation — he's really being himself."
Perry's success came from more than his looks. Television and pop culture experts said his ability to play such a complex character, on a show that offered more realism to teenagers than any other program at the time, made him relatable.
"His character went through stuff that most people were dealing with, but nobody was talking about."
"His character went through stuff that most people were dealing with, but nobody was talking about," said Adrienne Trier-Bieniek, a sociology professor at Valencia College in Orlando, Florida, whose research focus includes gender and pop culture. "They didn't just present him as the hot guy. They presented him as having issues with his family and having issues in school, that maybe that was why he was acting out."
Showing characters who had real-life problems was a tenet of the show's success, said Tim Brooks, a television historian and former network executive for NBC, Lifetime and the USA Network.
"It was a case of a business need coming together with a programming need," Brooks said, explaining that in the 1980s, there had been soap operas for a general audience and sitcoms for a younger audience, but there had never been a drama specifically aimed at teens before "90210" debuted in 1990.
"'90210' had an interesting mix where it was set in a rich community," he added. "On the other hand, it was set in a high school setting, and they had the same kinds of problems that a lot of students in America could relate to."
The show, which had lackluster ratings its first season before becoming a runaway hit, didn't shy away from any topics that were taboo to most TV shows then — including AIDS, sexual assault, breast cancer, suicide and alcoholism.
Perry appeared on the show from 1990 to 1995 and then again from 1998 to 2000. He and the show's lead character, Jason Priestley, were its breakout male stars. Posters of them adorned the walls of teen girls' bedrooms across the country; Perry said he would regularly receive up to 5,000 fan letters a week.
But he could never get accustomed to being mobbed by his loyal viewers. In 1991, a crowd rushed a stage he was on, resulting in more than 20 fans getting injured. Perry was bewildered.
"I don't know why it happened," he joked to The Washington Post. "I don't even sing."