Using only their feet and their bloodied hands, two climbers accomplished a once-unimaginable feat Wednesday by clambering to the top of the 3,000-foot, almost vertical face of a granite rock formation in Yosemite National Park.
It took 19 days and countless scrapes and cuts from the rock's razor edges, but Tommy Caldwell and Kevin Jorgeson became the first to scale the Dawn Wall of El Capitan without tools to help them up.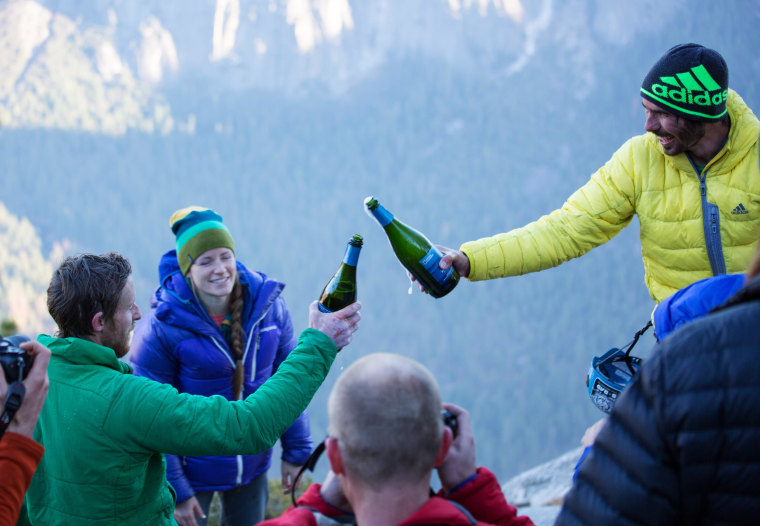 Some experts described it as the most daunting rock climb in history.
On the last day, Caldwell, 36, and Jorgeson, 30, had ideal weather. It wasn't cold enough to chill their fingers, but it wasn't hot enough to make them sweat excessively, which makes the climb more difficult.
They set out on Dec. 27, using only ropes and harnesses to catch them if they fell — as they did, many times. Their relatives stressed to reporters in recent days that the feat wasn't death-defying, just extremely difficult. It took Jorgenson seven days just to complete Pitch 15, one of the hardest segments of the climb.
The climbers spent their nights in sleeping bags suspended horizontally from the face in what are known as portaledges. They had a crew, working with tools, to haul their gear up. That included electronics, and they posted to Facebook throughout the journey, including photos of chalky hands torn up by the thin, sharp edges of the formation.
President Barack Obama himself congratulated the climbers Wednesday evening on Instagram, saying: "Congratulations to Tommy Caldwell and Kevin Jorgeson for conquering @YosemiteNPS's El Capitan! You remind us that anything is possible."