HOUSTON — The bright lights shone down inside Crenshaw Stadium, washing over every yard line just like the floodwaters had weeks earlier.
When Hurricane Harvey hit Texas, it sent waves of water and raw sewage lapping across Houston, including several feet in the stadium, where it soaked deep into the turf. Next door, the field house and school building housing C.E. King High School were filled, too, leaving the floors buckled and warped.
Everything the floodwater touched it destroyed, including hundreds of thousands of dollars of football equipment in the team's locker room — a couple seasons' worth of helmets, pads and uniforms.
The halls at C.E. King have been quiet since, ghosted and vacant but for the workers patching it back together.
Yet on this cool November night, there were few physical remnants of those harrowing days in August, just days before the start of football season, when Harvey poured high water over Houston like soup into a bowl. Now, there was just football.
Much has been written about how the sport is more of a religion in Texas — think "Friday Night Lights" — and tonight was no exception: Families, friends and fans filled the stands. Coaches stalked the sidelines. Players hustled and referees juked between huddles and hash marks.
In a way, there was something almost extraordinary in the normalness of the ritual. Yet there was nothing ordinary about this game or this season — not after all that these two teams, and this community, had been through.
On one side of the field was the home team, the Panthers of C.E. King, whose players hail from the bootstrap neighborhoods in Harris County, just northeast of the city proper.
On the other side were the visiting Kingwood High Mustangs, from a well-off school district just up the road, but a world away.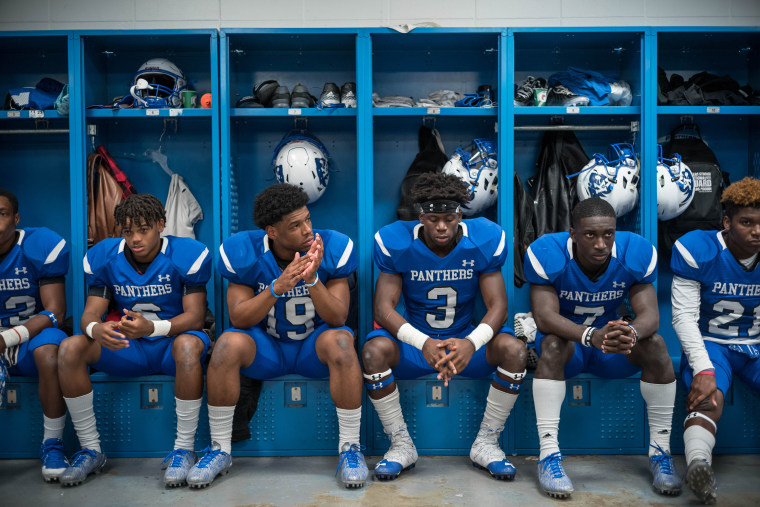 Perhaps no two schools in the Houston area sustained more storm-related damage than King and Kingwood. Both were displaced from their school buildings for months, and many players on both teams had their homes damaged or destroyed.
King students and families were hit especially hard. Some had to be plucked from rooftops and rescued by boats. Many landed far from home, and have been busing in to school and practice from far-flung hotels or houses packed with other marooned relatives. Today, boarded-up homes and detritus from the storm remain visible on the streets of their working-class neighborhoods.
Many of these families have little means during the best of times — and even less now after the hard times brought by Hurricane Harvey.
'A Deeper Meaning to It'
Experts who study the social and economic effects of natural disasters say the most vulnerable populations before a disaster are often the hardest hit, the slowest to recover and left even more vulnerable after.
Months after the storm, tens of thousands of Houston area students remain homeless, including at least 740 in the Sheldon Independent School District, which includes C.E. King, according to recent reports. Thousands of others are among an estimated 47,000 flood victims who are currently living in hotels.
At C.E. King, more than 75 percent of students qualify for free or reduced lunch, a shorthand indication of how many live in poverty. (Just about 6 percent of Kingwood students qualify for free or reduced lunch.)
While the students from Kingwood were hit hard by the storm, too, many of their families have the means to piece together what's been lost.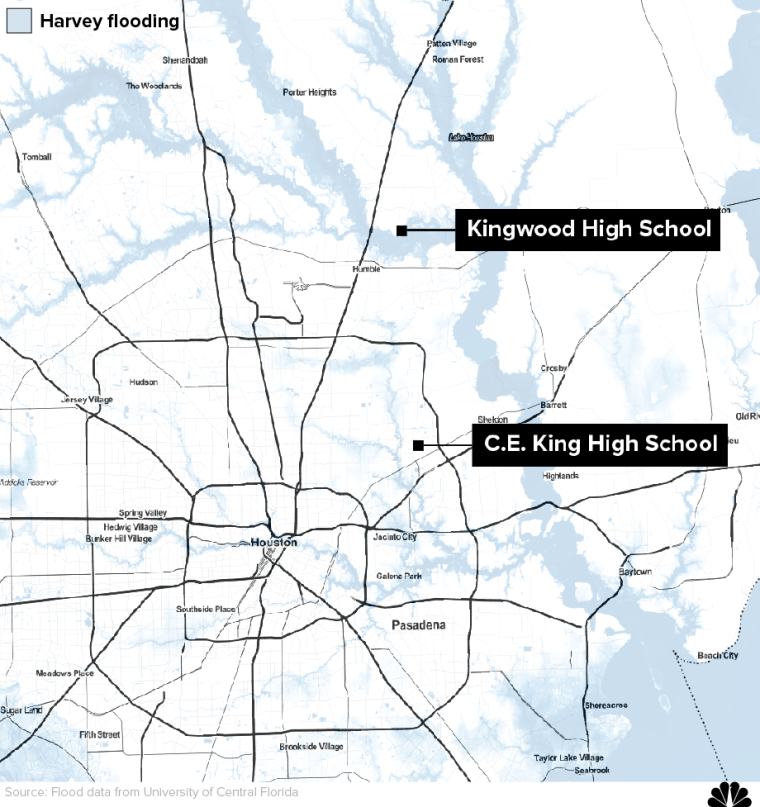 Houston, as much as any other major American city, is a city of noted racial and economic divides, a city of extremes. Vast swaths of wealth and development can be found next to deep pockets of poverty and neglect. Somewhere in the middle are communities of families just trying to make it, in sight of the opportunities the city offers but also a paycheck or major crisis away from losing their footing.
"We're not a rich district or a middle-class district," said Derek Fitzhenry, 51, C.E. King's barrel-chested first-year head coach. "We've got working parents that just don't make a lot of money here. These kids, they face those struggles every day of not having the resources that other people have."
Photos: Storm-battered teams face final football showdown
"Then you add, let's go ahead and take your home away from you, too," he said of the storm's impact. "Let's go ahead and take your clothes away from you. Let's make sure you don't have a place to eat, and a place to sleep and a place to study."
"Unless you saw the amount of destruction and could totally understand the adversity that they were facing and how dangerous it was through that process of the flood and then getting saved, you really can't understand what true character they've shown," Fitzhenry said.
Just eight weeks after being slammed by one of the costliest natural disasters to strike the United States, King and Kingwood lined up for the final game of the regular season. The winner would lock down the fourth and final playoff spot in their division, keeping the dream of a run through the playoffs and of a state championship alive for another week.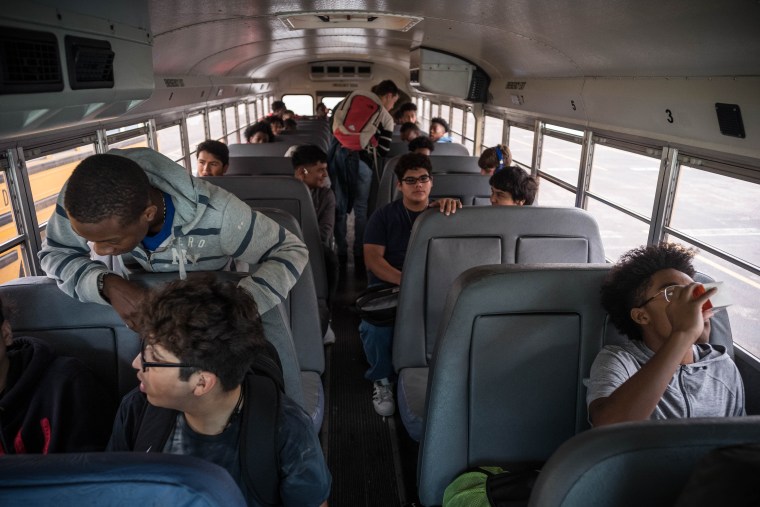 Joshua Koch, the managing editor of Vype Houston, a news site that covers local sports, said that while Texas football is all about winning, it was in one sense a "moral victory" that high school teams in the Houston area "got to play this year at all."
"When we saw how much was taken away from them, it was hard to imagine that they'd have a season," Koch said.
For King's players, with their school closed, just getting to practice was a logistical headache.
They'd rise before sunrise to get to the stadium to start practice before 7 a.m. They were then bused to an elementary school on the other side of the school district for classes, then back to the stadium for an afternoon practice that stretched deep into the evening.
Those players who didn't have rides to morning practice were picked up by coaches who drove as far as 30 and 40 minutes out of their way.
"We're going to make sure you've got food, we're going to make sure you've got a ride, we're going to make sure you're getting plenty of rest," Fitzhenry said. "But when we're here and that bell starts for us to practice … we're going to coach."
"And when that whistle goes off and we're done, then that's when we're going to be that father figure. That's when we're going to take care of you."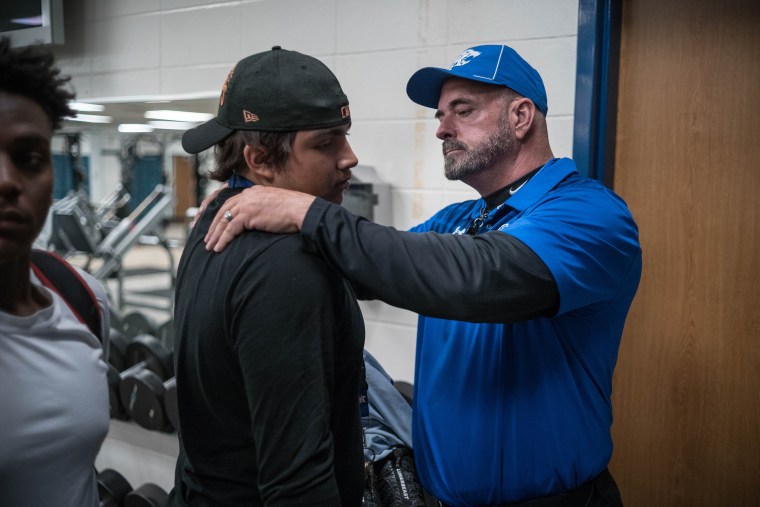 Week after week, this was the drill, through a season of peaks and valleys, of euphoric wins and demoralizing losses.
"I'm not going to say that the record doesn't matter, but there's certainly a deeper meaning to it," said Demetrius McCall, King's principal. "It's us being together. It's us showing the community, the city, the world, that yeah, Harvey hit us, but we're Sheldon strong," referring to the school district.
"We're going to continue to push," McCall said, "and we're going to continue to hold our students to those high standards, because we know we're strong as a community."
With less than a minute to go in the fourth quarter of what could be their last game in a hurricane of a season, the C.E. King Panthers were down, 28-20. The Kingwood Mustangs had taken an early lead, but King was rallying. A pair of touchdowns, on an interception and a kickoff return, had put the Panthers in striking distance.
'Like Mad Dogs in a Meat House'
As the floodwaters rose around their family's home, the Washington brothers — Alex, Asjlin and Bryson — paced. Inch by inch, as the water got closer, their mother became more frantic. The boys stayed glued to their social media feeds where they saw friends rush onto roofs and into attics to escape the angry river gnarling at their houses. Then the power went out.
"We didn't know what was going to happen next," recalled Asjlin.
Eventually the family, including their mother and two younger sisters, were rescued by boat.
Alex said it was "scary seeing all the people on these boats just leaving their homes, their homes just flooded out, everything just damaged."
During the storm, the coaches were tethered to their players, following their Twitter and Snapchat feeds and texting back and forth. While dealing with their own families, they were getting updates on who needed help, then coordinating with the so-called Cajun Navy, a volunteer group of boaters who aided local authorities in rescue efforts.
"These were neighborhoods that were forgotten," Fitzhenry said. "The helicopters showed up late or never got there."
When the waters finally receded, the first stop many of the boys made was the field house, where the first step was cleaning up.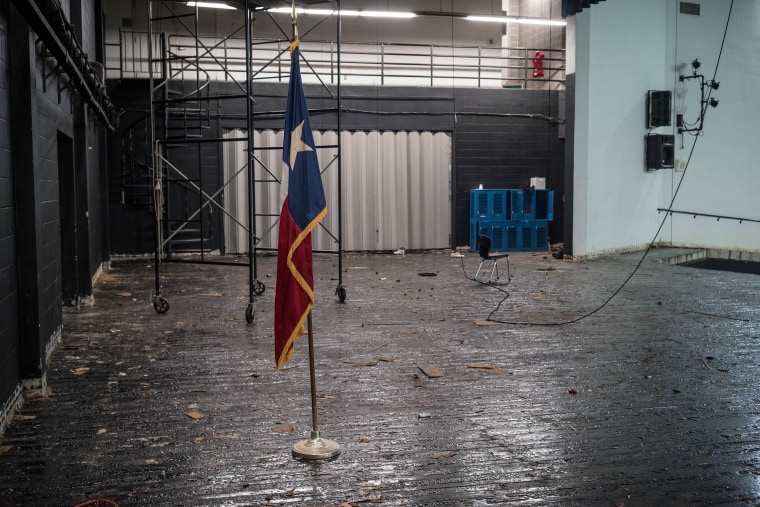 "They found their way here," Fitzhenry said. "When many of them go home, there's nothing there. They need that one place to go where it's normal. This is that place."
Crysalin Pettway, the Washington boys' mother, said that despite all the loss their friends and neighbors have endured, a new sense of unity has emerged, particularly among her sons' teammates.
"They come over. They call me Mom. These young men have all become my sons," she said. "We know that no matter what we go through and what we undergo, we still can pick right back up and just carry on and fight as a unit. We're all family."
The team is almost literally a band of brothers. There are two sets of twins — including two of the Washington brothers, Alex and Asjlin, 18 — several sets of brothers, as well as cousins by blood and cousins by neighborhood.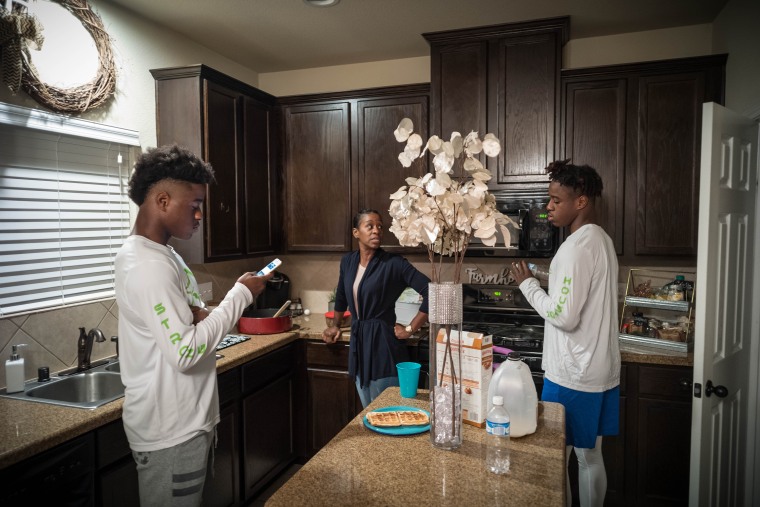 All three Washington brothers start on either offense or defense, meaning there are few plays during a game that don't include at least one of them on the field. Alex and Asjlin, a wide receiver and cornerback, respectively, are seniors. Bryson, 16, is a sophomore and considered among the best safeties in the state. He has already received scholarship offers from some of the top college football programs in the nation, including Baylor, LSU, Louisville, Mississippi, Alabama, Oregon and Ohio State. If the Panthers don't advance to the playoffs, this could very well be the last game the brothers ever play together.
"It's a pretty big deal for me to be able to play with my brothers," Bryson said. "It's amazing because we always watch each other's back, and my brothers help me get bigger and stronger. They encourage me to never give up, and to keep pushing and keep getting better. We need to keep this going."
'Something to Prove'
In a city where the post-hurricane rebuilding efforts have been unequal, often favoring the haves, and where a sense of normalcy remains elusive, high school football has served as a morale booster. Teams donated gear to perennial rivals who lost theirs. Booster clubs helped raise funds through donation drives and concession sales. The sportswear company Under Armor and the NFL's Houston Texans outfitted King and Kingwood with uniforms and cleats.
Yet this magnanimity may belie the extent of the psychological and emotional damage Harvey inflicted.
"It took us a while to get focused on football," said Rodrick Crumedy, 17, a junior linebacker for King. "We were just off. A lot of us lost a lot of stuff and just went through a lot. Some people still aren't right."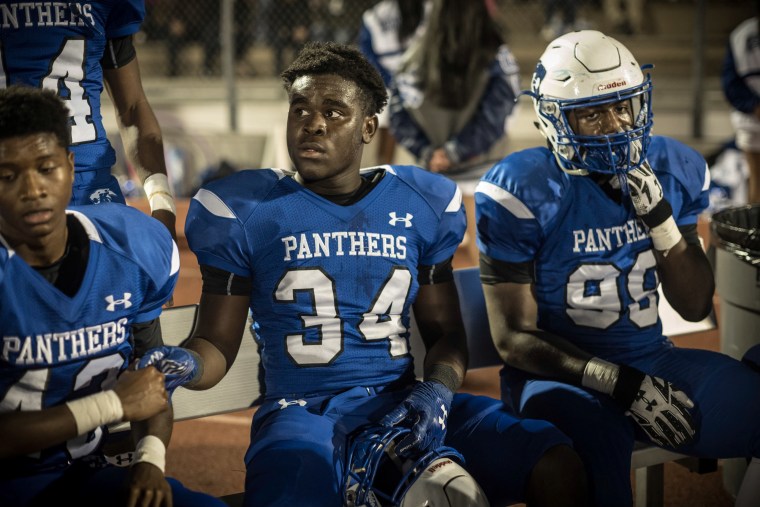 Crumedy's family moved to Houston after Hurricane Katrina flooded them out of their home in Bogalusa, Louisiana. He was just 6 and remembers being rescued by boat. Almost a dozen years later Crumedy and his family were once again rescued from rising floodwater, a nightmarish déjà vu. His mother was taken by boat, while he and his older brother Robert, who also plays for King, walked in chest-high water until they made it to a safe spot beneath an underpass not too far from home.
Crumedy said only two homes on his block were spared, including his. He ran down a list of friends and teammates who weren't so lucky. Getting back on the field offered something firm in the midst of everything that had been washed away.
"We were really scared that we weren't going to be able to play this season. They were talking about splitting us up and sending us to different schools," he said. "But we all wanted to play together. We got something to prove."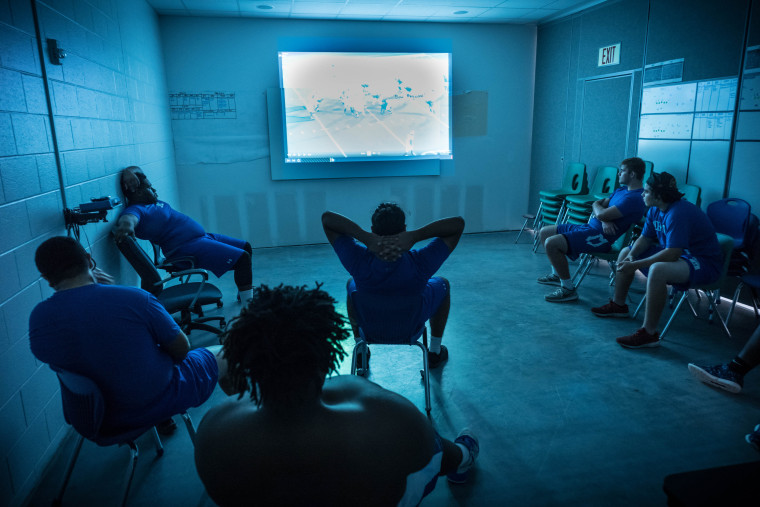 A couple days before the game, about 15 minutes north from C.E. King's field house, the boys from Kingwood were streaming out of Summer Creek High School, which was sharing space while Kingwood was being rehabbed. Two yellow buses served as mobile storage for their uniforms and equipment. With no locker room, they dressed for practice behind open car doors, in the back seats or the beds of their gleaming new cars and pickup trucks. The young men let out howls, guffawing and horsing around.
An unusually chilly wind whipped across the practice field as the coaches' whistles blew and footballs started flying, as the grunts on the offensive and defensive lines ran through their assignments.
Coach Barry Campbell, who has an easy smile and thick dark hair that spills into sideburns à la Elvis, watched as his team shook off the sillies and settled into practice. "These kids are similar to most kids in Kingwood. Determined. Good work ethic," he said. "A lot of people think that our guys grow up with a silver spoon in their mouth. They are middle-class kids. But they work hard and their parents have worked hard."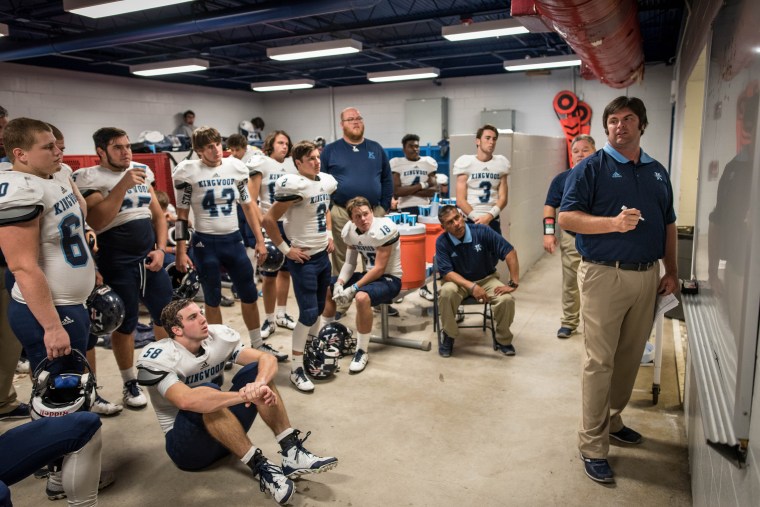 Campbell, 41, has coached at Kingwood for six years. He's the son of a coach and grew up in the area. Coaching football is the only job he's ever had.
The flood sank Kingwood beneath several feet of water, and the high school sustained an estimated $70 million in damage. The largest school in Texas that remains closed because of Harvey, Kingwood is expected to reopen in March.
While the football team lost just about everything, Campbell said the experience offered his players a unique opportunity.
"They got to show what they are capable of," he said. "They didn't sit home and gripe that they didn't have power or internet. They got down and dirty and got to work."
Of the players from C.E. King, Campbell said: "On a person-by-person comparison, I think a lot of their kids and their families have had to deal with things a lot tougher than we have. But I think it's really a great culmination of the season that we're going to be playing each other for the last game. They've got plenty to play for, and we've got plenty to play for."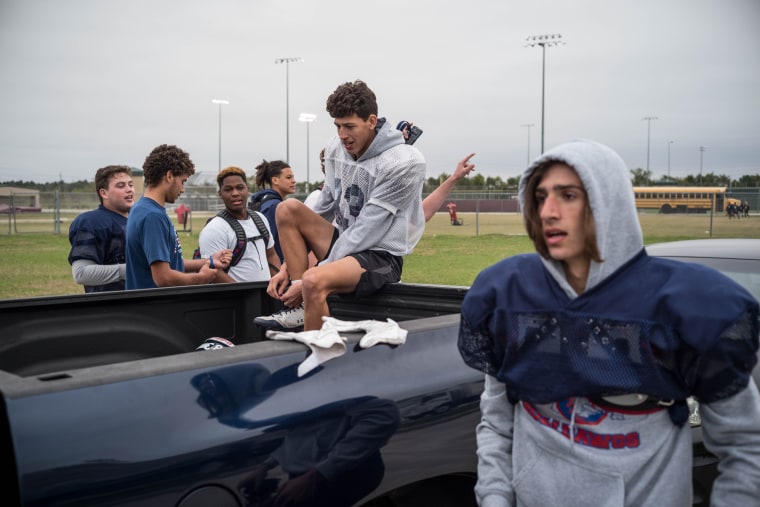 'Keep Your Promises'
During the final practice before the game, Fitzhenry gathered the Panthers at the 50-yard line.
"All the things we've done to get to this point, cleaning the slop up, the hard work we've put in, this should be the fun part," he said. "I hope you go out there and have the best time of your life. It takes a special person to go through what you've been through."
The team then shouted in unison: "1-2-3, Playoffs!"
This was a rebuilding year for King — literally this season after the storm, but also after a disappointing 2016 season in which the team went 1-9, after moving up to a larger, more competitive class.
Fitzhenry, in his first season, brought in 11 new coaches and started trying to sow the seeds of winning.
"Then all of a sudden that's interrupted," he said of the storm. The coaches ended up spending as much time fundraising and budgeting for new equipment as they did on Xs and Os.
After that last practice, the Washington family gathered for a bit of family time to ease everyone's nerves.
A sign hangs on the kitchen wall:
"Family Rules: Help others. Be grateful. Work hard. Say I love you. Try new things. Keep your promises. Give hugs. Be yourself."
Upstairs, Bryson sat on the edge of his low-slung bed, butted up to the bunkbed his older brothers share.
"To help our community bounce back, we've got to let them know that C.E. King is not a team you can just push over," he said.
"You just got to face adversity," Alex said. "That's what we're trying to do. We're trying to come out here every single day and put in work."
"We're just trying to stay on the right path," Asjlin chimed in. "You know, we try not to let stuff bring us down. We try to keep the right mindsets, you know, of moving on. It can be kind of tough sometimes, but we stay humble and we fight through it."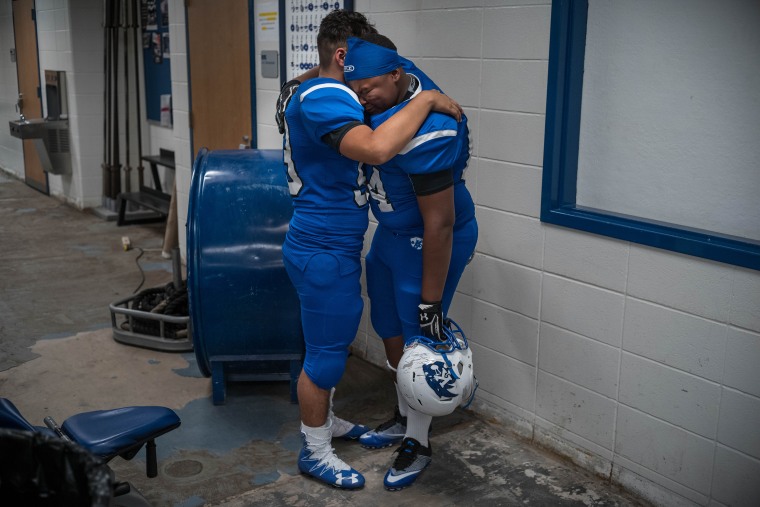 With just over a minute left on the clock, the Panthers marched up to the line of scrimmage. The sounds of the cheerleaders and the band faded as quarterback Tarron Donaldson looked up at the scoreboard.
Down by 8, Donaldson squatted behind the center and scanned the field. The entire season had come down to these last plays. Some of King's players kneeled on the sideline. Others, too nervous to watch, sat on the bench with their heads down, their eyes clenched.
What came next was a blur. A botched snap. A sack. Another sack. And like that, with little drama, the game was over. Kingwood had held on for the win. C.E. King had lost.
Kingwood's players spilled across the field, whooping and hugging and high-fiving their way down a gauntlet of fans.
The Mustangs would go on to win two more games, capping their 6-6 record with their best postseason run in 27 years. King's season would end at 3-6.
On King's sideline, Fitzhenry stood alone as the sound of his team's disappointment bled into Kingwood's celebration. Some of his players let out angry outbursts. Others let silent tears tumble down their cheeks. Bryson Washington let out a guttural moan, sobbing.
The Washington boys fell into one another's arms.
As his players filed through the field house that night, Fitzhenry gave each a handshake or a hug. The next day there'd be a final meeting before the offseason work began and the King Panthers prepared for next season, before the finality of this one had even sunk in.
"I don't think that we're the same team that we were when I first got here — they never quit, they never once gave up," Fitzhenry said. "It hurts me to see them lose this game. Was it all the missed practice time? Was it the schedule? What more could we have done?"