New Mexico health officials say new HIV infections have been linked to a salon that performed so-called vampire facials, almost five years after the business closed.
The Albuquerque salon, called VIP Spa, was shut down in September 2018 after at least two clients tested positive for HIV following the facials.
In March, another former client tested positive for HIV, according to a news release from the New Mexico Department of Health. To date, a total of five HIV infections have been identified among people "with direct or indirect connection with services provided at the VIP Spa," a department spokesperson said.
The most recent case prompted the department to reopen its prior investigation into the spa. Health officials are now asking former clients of the salon who received any type of injection-related service there to get tested for HIV, hepatitis B and hepatitis C. Even clients who previously tested negative should test again, the department said.
VIP Spa offered Botox injections and vampire facials, a procedure that involves drawing blood from elsewhere in the body — typically the arm — separating out the platelet-rich plasma, pricking facial skin with microneedles, then applying the plasma to the face. The process is meant to make the skin look fresher and lessen the appearance of wrinkles, sun damage or acne scars. 
According to the health department, after the initial HIV cases were confirmed in 2018, an inspection by it and other agencies "identified practices that could potentially spread blood-borne infections, such as HIV, hepatitis B, and hepatitis C to clients." More than 100 former salon clients were tested in 2018 and 2019 as part of that probe.
The department spokesperson said it's not clear how HIV was transmitted, but that "genetic sequencing of HIV cases confirm a unique, highly related cluster of HIV infections among former VIP Spa clients without other known risk factors."
The spa's owner, Maria Ramos de Ruiz, pleaded guilty in June 2022 to five felony counts of practicing medicine without a license, the health department said. She was sentenced to 3½ years in prison in October 2022, NBC affiliate KOB4 of Albuquerque reported, and is currently at the Springer Correctional Center.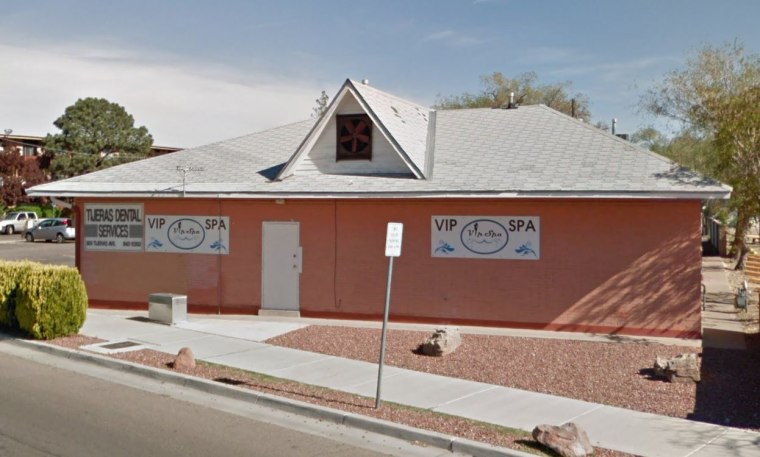 In 2018, Ruiz told KOB4 that she was cooperating with investigators and had turned over her client list to the state.
"If I have to stop doing it, or something that I have to change it, I will change it. Happily, I'll do it," she told the outlet at the time, after the health department shut down the spa.
The department said Wednesday that in the case of the HIV infection reported in March, the "only self-reported HIV risk exposure was a vampire facial" at VIP Spa in 2018. 
To facilitate the new round of testing, the department is hosting three free walk-in testing events for former VIP Spa clients July 15 and 18 in Albuquerque.
"It's very important that we spread the word and remind people who received any kind of injection-related to services provided at the VIP Spa to come in for free and confidential testing," Dr. Laura Parajon, deputy secretary of the health department, said in a statement.