Investigators trying to determine what caused a deadly commuter train crash in New Jersey were delayed Saturday in getting to the front of the mangled locomotive — hindering the search for a key piece of evidence inside.
Crews couldn't gain access to the front cab of the doomed train — where an event recorder and an outward-facing camera are trapped — because the station the train crashed into in Hoboken suffered too much structural damage and the asbestos levels are too high, federal sources told NBC News.
"Extensive debris removal must be completed before investigators can access the train and then have the train removed," the National Transportation Safety Board said Saturday afternoon.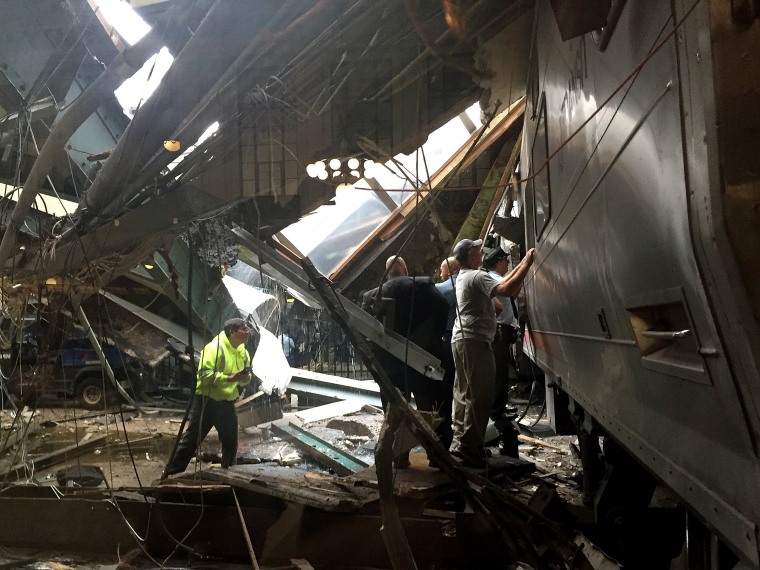 On Friday, the dangerous levels of asbestos forced investigators to leave the century-old station, sources said.
One event recorder, or "black box," has been recovered from the train that slammed into the Hoboken Terminal on Thursday morning at the height of rush hour, killing a woman who was standing on the platform and injuring more than 100 other people.
Related: Hoboken, New Jersey, Train Crashed Without Warning: Survivors
But investigators hit a snag while trying to gather information from that black box, too, as they couldn't download data in the field and had to send the recorder to its manufacturer, vice chairwoman of the NTSB, T. Bella Dinh-Zarr, said Friday. The recorder arrived at the manufacturer in Kentucky on Saturday, the NTSB said in a statement.
The event recorder holds speed and braking information, and could reveal what the engineer was or wasn't doing leading up to and at the time of the crash.
Crews were able to gain access to video recorded from other trains that were at the Hoboken station at the time of the crash, according to the NTSB.
Related: Hoboken Crash: Feds Begin Analyzing Recorder Data, Will Interview Engineer
Investigators also interviewed the train's engineer, 48-year-old Thomas Gallagher, on Saturday. Details from his account wouldn't be available until the rest of the crew is interviewed, the NTSB said.
Toxicology tests on Gallagher were being analyzed Saturday. Gallagher is a 29-year veteran of New Jersey Transit, his father told NBC News.
His phone and the phones of the other two crew members involved in the crash — a conductor and a brakeman — have been confiscated so that investigators can determine whether any crew members might have been distracted, the federal sources said.
One federal source said investigators are still largely puzzled as to why the train entered the Hoboken station at such a high rate of speed. So far, investigators have found no signals that were dysfunctional at the time of the crash, and an inspection of the tracks found nothing that might have affected the train.
Investigators are expected to be at the site of the crash for at least another week.