The commuter train that crashed into NJ Transit's Hoboken Terminal during the Thursday morning rush was not equipped with the positive train control technology that could have prevented it from roaring off the rails.
What's more, not a single NJ Transit employee has even been trained to use the technology, called PTC, according to the most recent U.S. Transportation Department progress report, which is dated Sept. 13.
And that, sadly, will not come as a surprise to anybody at the National Transportation Safety Board, which has for four decades been pushing lawmakers to mandate the technology, which automatically slows trains when they exceed the speed limit on a stretch of track.
The NTSB has argued that PTC technology could have prevented 145 rail accidents since 1969 that killed 288 people and injured 6,574. But it wasn't until 25 people were killed in a Los Angeles commuter train crash that Congress to finally acted in 2008.
NJ Transit currently has a Dec. 31, 2018, deadline for putting this technology in place — which is three years past an earlier blown deadline.
The Transportation Department report stated that "NJT has had a contractor on board for several years." It also says NJT has done "partial testing over the course of the past year" on a locomotive and a cab car.
2015: Advanced Safety System Still a Long Way From the Station
The NTSB blamed the absence of PTC, which automatically slows trains when they exceed the speed limit on a stretch of track, for the 2015 derailment of an Amtrak train in Philadelphia that left eight people dead.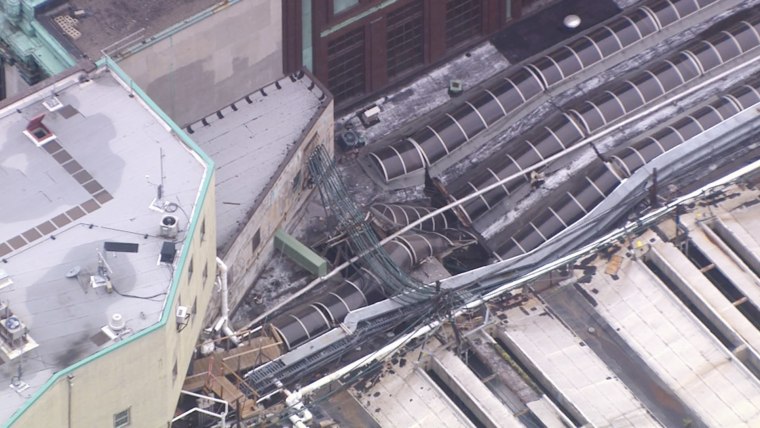 PHOTOS: Rush Hour Train Crashes into Hoboken Train Station
The nation's railroads were supposed to have PTC installed on their lines by Dec. 31, 2015. But they got a three-year extension after telling the House Transportation Committee they could not finish the work by the deadline and complaining about being saddled with an "unfunded mandate."
President Barack Obama signed a bill last year extending the deadline to the end of 2018 and allowing railroads the option of requesting another extension of up to two years to complete testing and installing gear.
But the bill also requires that each new extension request be approved by the secretary of transportation and requires the railroads to submit a completed PTC plan for doing the work by Dec. 31, 2018.
The Federal Railroad Administration had requested that provision to prevent the railroads from dragging out the process by submitting an extension request without having any plan in place.
The proposed extension "will keep the pressure on freight and passenger railroads to ensure safety benefits are realized as soon as possible," said Sen. John Thune, R-S.D., who heads the Commerce, Science and Transportation Committee. "Congress now needs to pass this plan in the coming weeks to avoid service disruptions that will impact shippers across the country and commuter railroad passengers."
But critics from states with commuters who rely on railroads to get them to work, like Sen. Richard Blumenthal, D-Conn., were not happy with the extension.
"This five year extension of life-saving technology is way too long, with way too little guarantee that PTC implementation will get done," he said in a statement. "I will work for a reasonable measure that provides adequate time but holds railroads accountable through year-by-year review of progress toward fully-implemented PTC."
The PATH train system, which also serves New Jersey commuters to Manhattan, is already installing PTC technology. It has shut down service on the weekends to speed the process along.