CENTENNIAL, Colo. — The emotionally charged trial of the man accused of a 2012 movie theater massacre entered its final chapter on Tuesday, as a state prosecutor used his closing statements to argue that alleged gunman James Holmes carefully plotted his attack, buying guns, ammunition and equipment while keeping his plans secret from those closest to him.
Portraying Holmes as a calculating and highly intelligent graduate student whose dreams of becoming a scientist were evaporating, Arapahoe County District Attorney George Brauchler sought to counter defense lawyers' contention that Holmes was legally insane when he killed 12 people and injured 70 at an opening-night showing of "The Dark Knight Rises" outside Denver on July 20, 2012.
Brauchler described 400 people filing into the theater at midnight, hoping to be entertained by a tale about Batman.
"They came in hoping to see a story of a hero dressed in black, someone who would fight insurmountable odds in the name of justice and trying to protect others and for peace," Brauchler said. "But that's not what happened. Instead a different figure appeared before the screen, dressed all in black, and he came with one thing in his head and his mind. And that was mass murder."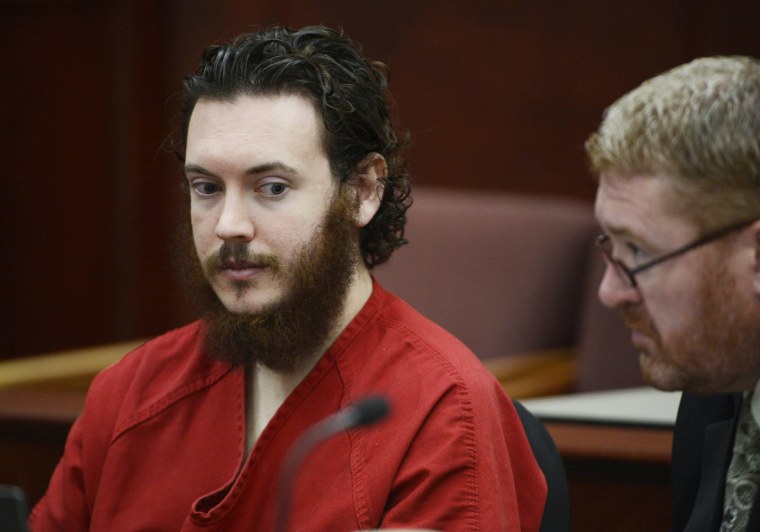 Holmes' defense team has argued that the shooting was the culmination of a long battle with schizophrenia, warping his view of reality and compelling him to kill people. Colorado law puts the onus on prosecutors to prove beyond a reasonable doubt that Holmes was sane.
Lead defense attorney Daniel King pounded at that point on Tuesday, urging the jury not to be swayed by Brauchler's attempts to "pull on your heart strings" by describing in detail crimes that aren't disputed. King accused Brauchler of trying to draw focus away from the trial's central argument: Holmes' mental state.
King urged the jury to rely on their "reason and common sense and not a desire for retribution" and accept the explanation that Holmes' psychosis drove him to carry out the massacre.
"The mental illness caused this to happen," King said. "Only the mental illness caused this to happen, and nothing else."
"When he walked into that theater, the evidence is clear, he could not control his thoughts, he could not control his actions, and he could not control his perceptions," King said.
The jury will begin deliberating in the case on Wednesday.
The closing arguments come just a week before the shooting's third anniversary — and with the trial drawing to an end, there was a palpable sense of anticipation in the packed courtroom on Tuesday. Some survivors and families of those who died came to court groggy from a sleepless night. Many hugged each other.
As the judge instructed the jury on its coming deliberations, he listed the names of the victims. Some loved ones wept, others held hands, and others silently prayed.
Holmes' parents sat behind their son quietly, as they've done since the trial began on April 27.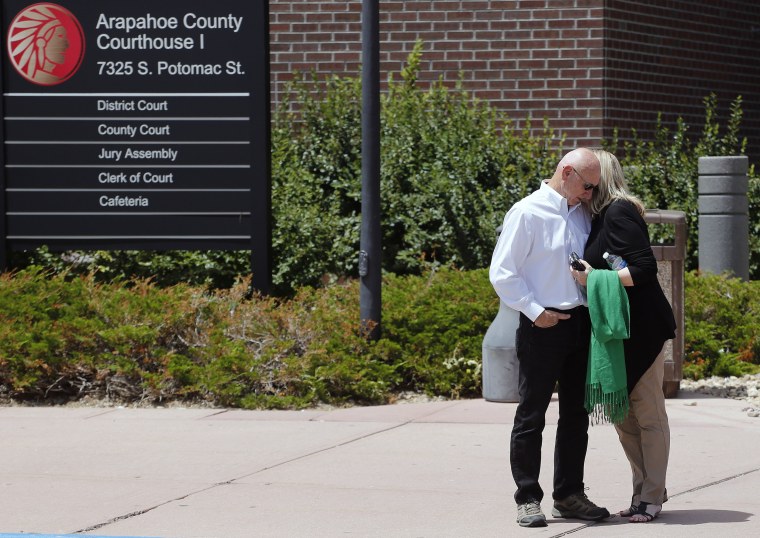 Authorities say Holmes was motivated by the twisted belief that it would make his life more meaningful after a string of academic and romantic failures.
"He did it for one purpose: to make himself feel better and to increase his theoretic sense of value — not to anyone else, but to himself," Brauchler said.
Referring to Holmes as "that guy" or "him," Brauchler said the gunman hid his plans from his parents, friends and therapists, a deception that showed that he knew what he was doing was wrong.
"He is sane, and he was on the 19th and 20th of July," Brauchler said.
But King — who responded by referring to Brauchler as "this guy" — countered that Holmes wasn't calculating or sensible when he deceived his doctors and parents and tried to rationalize his crimes.
"It's not logical. It defies logic. That's the psychotic process," King said. He said Holmes had mental problems for years, and then suffered a psychotic break in 2012, when things got worse.
Holmes faces 165 criminal charges covering those killed, those injured and the explosives he used at the theater and his booby-trapped apartment. If he is found not guilty by reason of insanity, he will be sentenced indefinitely to a state mental hospital.
If he is found guilty, the jury will then decide on a sentence — death, or life in prison with out the possibility of parole.
Speaking at a rebuttal at the end of the day Tuesday, Brauchler told jurors that Holmes knew what he was doing was wrong when he carried out the massacre, and should therefore be found guilty.
"He knew what he was doing when he killed those people," Brauchler said. "He intended to kill them — that was his specific goal."
"This guy gets held accountable, that's what the evidence says," he said.