With its Nazi symbols and slogans, the white supremacist rally in Charlottesville, Virginia, over the weekend evoked painful feelings for many, especially survivors of the Holocaust.
"Looking at swastikas, neo-Nazis, hatred of Jews — and not just Jews, but African-Americans and Mexicans and Muslims — it's really troubling," said Michael Bornstein, who barely escaped alive from Auschwitz more than seven decades ago.
"To see this prejudice is still here is very troubling."
Bornstein, 77, a Polish native who now lives in New Jersey, was 4 years old when he was liberated from the infamous Nazi concentration camp in Germany. He only has fading memories of the horrors there: the smell of the ovens where bodies were cremated, the sound of soldiers' boots marching, the feeling of being starved nearly to death.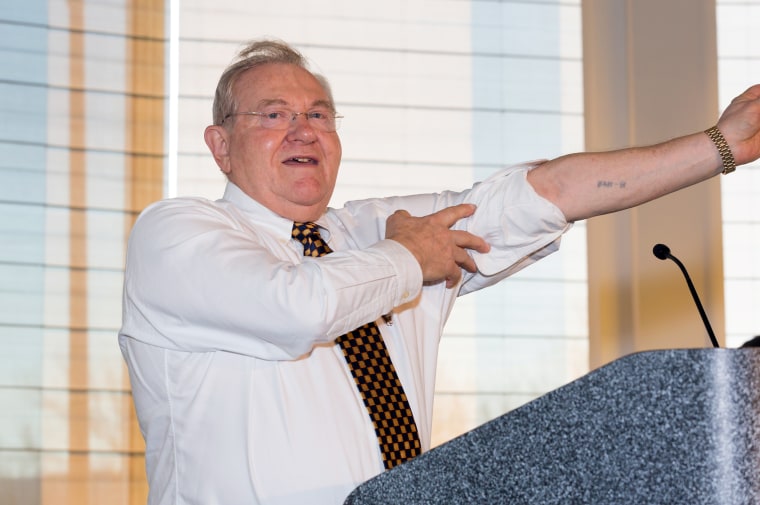 But he distinctly remembers the discrimination he endured even after he got out. He and his mother lived in Germany for six years — his brother, father and several grandparents had all died at the hands of the Nazis — before coming to the United States.
Related: Trump Condemns Hate Groups, Calls Racism 'Evil' Days After Charlottesville Violence
"There was a lot of anti-antisemitism in Munich, but I didn't think when we came to the United States, that I'd see this," Bornstein said.
Bornstein said he felt America was welcoming to him when he became a citizen. That's what made it even more stunning for him to see white supremacists and Ku Klux Klansmen marching over the weekend, chanting Nazi slogans and displaying swastikas. He said he was glued to coverage of what was happening in Virginia.
"The U.S. is wonderful," he said. "I can't think of a better place to live in. But here it is again. The neo-Nazis and their supporters, the white supremacists, are finding another voice."
The United States Holocaust Memorial Museum also expressed alarm at the events and condemned "the violence and neo-Nazi, racist, and antisemitic symbols and language used by some of the participants, including reported chants of, 'The Jews will not replace us.'"
"Neo-Nazism in any form is antithetical to American values and has no place in American society," the Washington, D.C., museum said in a statement.
Meanwhile, a photo spread on social media of a protester in New York holding up a sign that read, "I escaped the Nazis once. You will not defeat me now." NBC News could not independently verify the photo's authenticity.
Bornstein, the Holocaust survivor, was among a chorus of critics who felt President Trump wasn't strong enough in his initial response to the Charlottesville rally, which turned deadly when a car rammed into a group protesting the white nationalists and killed 32-year-old Heather Heyer. Nineteen others were injured.
On Monday, facing growing criticism, Trump made a fresh statement from the White House in which repudiated the racist ideology by KKK and called hate groups "repugnant."
The Anne Frank Center for Mutual Respect called on Trump to go further.
"The president made it worse. He said we should all unite, but there's no way on God's Earth we will ever unite with Nazis," Steven Goldstein, the center's executive director, said.
Borstein said he hoped this weekend would be viewed as a chance for change.
"I think this is a perfect opportunity for Americans to stand up, never forget, and to oppose this hatred we're seeing in the United States," he said.