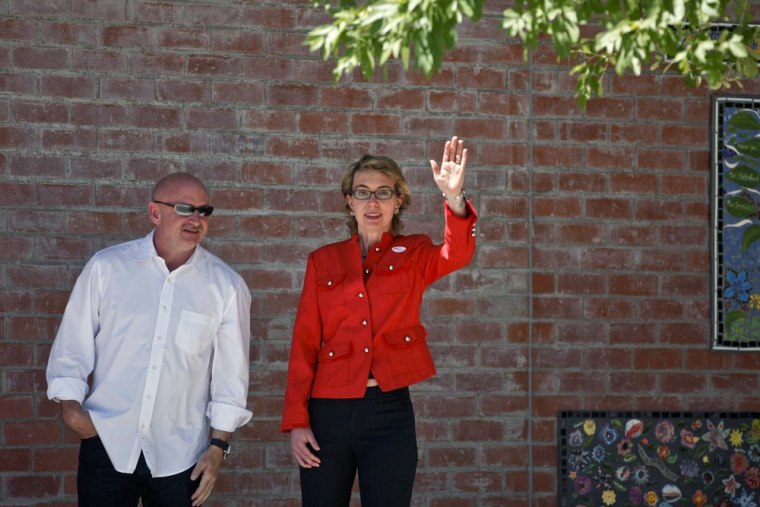 PHOENIX - Former Arizona Representative Gabrielle Giffords, gravely wounded in a mass shooting that killed six and injured 12 others, moved back home to Tucson on Sunday, her husband said.
"Moving back to Tucson today," tweeted her husband, retired astronaut Mark Kelly. "Gabby has been waiting for this day for a long time.
Kelly said the couple was returning to Tucson from Houston, where she underwent intensive rehabilitation after being shot through the head at a meet-and-greet event with constituents in Tucson about 18 months ago. Among those killed were a 9-year-old girl and a federal judge.
Giffords makes rare public appearance to accept award
Giffords, 42, resigned from office in January to focus on her recovery. She visited Tucson several times since the mass shooting that occurred outside a supermarket.
"She's gone home before to visit, but this is different," Kelly was quoted as saying in the Arizona Daily Star. "She'll be home for good. She's very, very happy."
"Since the day she basically realized that she was not in Arizona anymore after her injury ... very early on, the first stuff she talked about was getting home," the newspaper quoted Kelly as saying. "But it was very important for her to be in Houston, where she was able to get very specific therapy for this type of injury. She did that for a year and a half and the second we realized that was going to start winding down, it was time for us to start looking forward to how we could get to Tucson."
The two recently bought a home in the city, the newspaper added.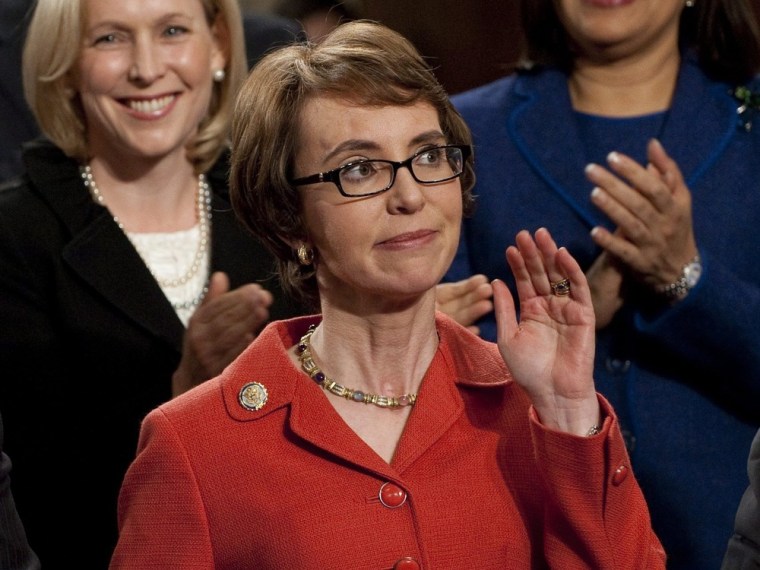 Loughner pleaded guilty
The accused gunman in the shooting spree, Jared Loughner, 23, has pleaded guilty to 19 counts under a plea agreement that guarantees he will spend the rest of his life in prison. He is to be sentenced in November. 
A federal Bureau of Prisons psychologist observing Loughner concluded in an April report released Thursday that he was mentally competent to stand trial for the shooting, but there was no guarantee he would remain so given his fragile state.
Christina Pietz also concluded that Loughner's status "may wax and wane" and could seriously worsen under the pressure of a trial.
Her assessment is part of what led his lawyers to conclude that a guilty plea was the wisest move.
Medication was controlling the psychotic symptoms of Loughner's schizophrenia, Pietz said.
Recovery
Giffords, meanwhile, appears to have made great strides in her recovery since the shooting, and has shown significant improvement in her physical strength, particularly in her ability to walk unaided.
Arizona Democrats hold on to Giffords' congressional seat
In Aug. 2011, she prompted a standing ovation from members of Congress on her first return to the House floor since the shooting. 
On the one-year anniversary of the shooting Giffords recited the Pledge of Allegiance in front of a hometown crowd, the Daily Star reported, but just two weeks later she resigned from Congress.
Kelly and Giffords took a holiday from her grueling  rehabilitation schedule over the summer, traveling through Switzerland, Italy, France and Spain, the Daily Star reported.
PhotoBlog: Gabrielle Giffords summits French Alps
"She's getting to the point with some things she needs less than others. You know, it's time for her to get back to as much of a normal life as possible after this type of catastrophic injury," Kelly said, according to the paper. "Obviously, a big thing for her is to come home."
More content from NBCNews.com: