The head of Homeland Security has a bit of advice for airlines who want to shorten long waits at airport security: waive fees for checked baggage.
"We've asked the airlines to consider possibly eliminating the checked baggage fee to encourage people to check their luggage rather than putting it in the carry on," Homeland Security Secretary Jeh Johnson said Tuesday evening.
It's a call echoed by U.S. Senators Edward Markey and Richard Blumenthal who also pitched the idea in a letter last week to a dozen major U.S. airlines.
The airlines' response? No way.
Instead, the airlines suggest the TSA work to better staff at heavily trafficked airports and encourage more fliers to sign up for PreCheck, a TSA program aimed at expedited screening. American Airlines is now even using its own contractors in TSA lines to help speed things along.
Related: Lawmakers to Airlines: Drop Baggage Fees to Shorten TSA Lines
"This is not a bag fee issue. This model of charging customers for services they value and use is not a new phenomenon. It dates back to 2008. Encouraging passengers to check more bags will not help and would actually exacerbate current checked baggage screening issues that are resulting in passengers missing their connections and having their bags delayed," said Jean Medina, a spokesperson for Airlines for America, an airline industry group.
For air travelers stuck in the middle of this debate, this is going to be the summer of discontent.
The Transportation Security Administration chief has apologized for long lines at airports nationwide with a special apology to hundreds who missed flights from Chicago over the weekend.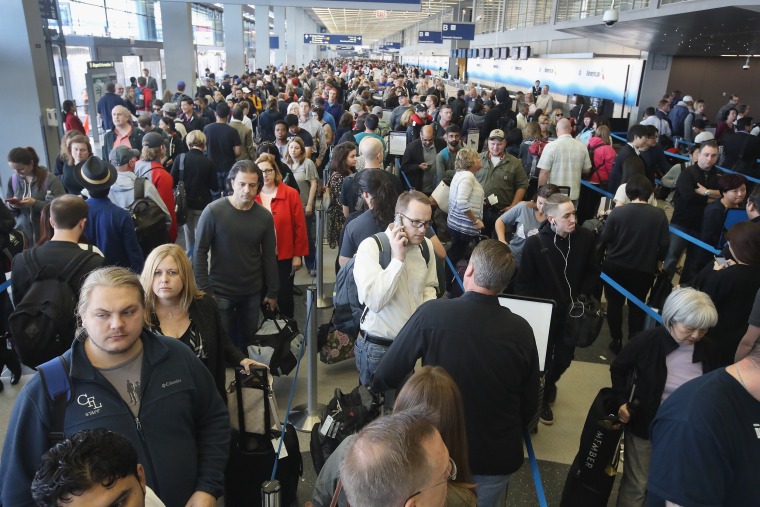 "I always tell people I won't apologize for doing our job well," TSA Administrator Peter Neffenger said Tuesday. "But I do apologize to the people who found themselves stranded in Chicago..."
However, for passengers waiting for hours — and missing flights — things could get even worse during the busy summer travel season.
The airline industry estimates 231 million people will travel this summer, some 2.5 million a day.
The frustration and anger hit a crescendo this week for thousands of passengers.
At Chicago's O'hare International Airport TSA says it's "flooding the zone" after more than 450 passengers, stuck in security screening lines, didn't make it onto their flights overnight Sunday and Monday. A rapid response team—some 58 additional officers and five canine teams—have been dispatched to try to help these passengers get through lines quickly and safely.
Related: TSA Apologizes for Delays, Promises Hundreds of New Staffers at Chicago O'Hare Airport
Chicago Mayor Rahm Emanuel on Tuesday weighed in on the need to relieve the gridlock inside the terminal.
"We have clearly the busiest aviation systems in the country. And this was…why it's unacceptable. It was all predictable," Emanuel said.
The hours-long lines have at least one member of Congress calling for Neffenger to resign if he can't fix the problem by Memorial Day.
"If travelers do not have relief by Memorial Day, TSA Administrator Neffenger must resign and be replaced with a leader who can provide fast and secure screening," Kirk said in a statement.
For Neffenger, who took over the beleaguered-agency last year, said they are working to fix the problem.
"My goal is to get as many people on checkpoint lanes as possible over the summer months," he said. "I expect to see large travel volume over the summer."