Homeland Security Secretary Jeh Johnson defended the beleaguered Transportation Security Administration on Thursday saying the agency is already seeing signs of improvement following weeks of long security lines at the country's busiest airports.
His remarks came during a Homeland Security Advisory Council meeting at the Woodrow Wilson International Center for Scholars in Washington D.C. on Thursday. Council members also briefed the secretary on how to better prepare for impending cybersecurity and "violent extremism" threats.
Fixing issues at the problem-plagued TSA was one of several "top priorities" Johnson hopes to cross off his list during the final months of the Obama administration.
Related: TSA Replaces Head of Security as Airport Lines Keep Getting Longer
The agency has come under fire from both the public and a congressional panel over long lines at security checkpoints that result in passengers missing their flights, high employee turnover and burnout and charges of widespread waste, fraud and managerial abuse of power. Last year, an inspector general reported the agency has problems with technology, procedure and human errors and that "layers of security were simply missing."
Johnson pointed out that TSA officers who volunteered to move to busy airports temporarily along with the implementation of new canine teams has played a significant role in decreasing wait times during the Memorial Day weekend.
"Ninety-nine percent of travelers this weekend waited 30 minutes or less. Ninety-three percent waited 15 minutes or less. So that's a good news story," he said.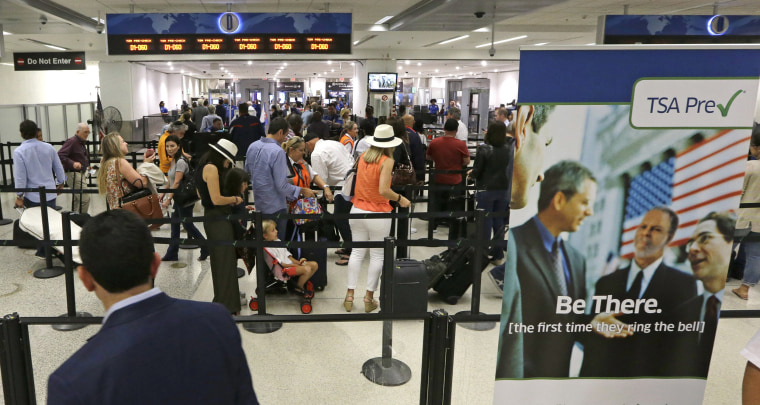 Johnson added that Homeland Security will continue to keep a "vigilant eye" on airport security during the summer months with the help of the TSA's "national incident command center" to monitor any troubleshooting happening at busy airports in real time.
Over the Memorial Day Weekend, the average wait time at security checkpoints was 8 minutes at Chicago's O'Hare International Airport and 9 minutes at Midway International Airport, according to NBC's Chicago affiliate. Last month, 450 American Airlines passengers missed their flights out of Chicago O'Hare International Airport because they were stuck in extremely long TSA checkpoint lines.
It is unclear whether the fact that many travelers opt to drive rather than fly over Memorial Day weekend also helped contribute to shorter security lines at airports.
According to AAA, 38 million Americans were expected to travel the nation's roads this Memorial Day weekend — the second-highest volume on record for that holiday weekend and the most since 2005. Lower gas prices helped spark the increase in road travel.
As for the friendly skies, airlines and consumer advocacy groups warn that a longer term fix is still needed.
Last week, the union representing the 42,000 screening officers took out a full page ad in The Hill, a publication geared toward a Washington D.C. political audience, calling on Congress to spend the money for 6,000 new screeners immediately.
Johnson said that he's relying on the House of Representatives to approve the $28 million budget needed to convert 2,700 part-time screeners to full time staffers. Another $34 million were requested in April to hire new screeners.
The airline industry estimates 231 million people will travel this summer, some 2.5 million a day.
And as TSA works to shorten lines in some of the nation's busiest airports, others have been affected.
Hawaiian Airlines warned Memorial Day weekend travelers to expect even longer wait times than usual at Honolulu International Airport because two of their canine units were reassigned to help relieve long lines on the mainland.
"Shuffling resources from one place where there aren't enough resources to another place where there aren't enough resources really doesn't solve the underlying problem," Mark Dunkerley, president and CEO of Hawaiian Airlines told the Associated Press.