A "feel-good story" that grabbed national attention when a New Jersey couple raised more than $400,000 to help a homeless good Samaritan was built on greed and deception — and all three were in on the scam, prosecutors said Thursday.
The couple — Mark D'Amico, 39, and Kate McClure, 28 — and homeless man Johnny Bobbitt Jr., 35, were charged with second-degree theft by deception and conspiracy to commit theft by deception for cooking up a ploy to dupe people out of their donations, authorities said. If found guilty, they could serve up to five to 10 years in prison.
In November 2017, prosecutors allege, D'Amico and McClure concocted a GoFundMe campaign in honor of Bobbitt, whom they hailed for supposedly handing over a fistful of cash to McClure when he found her stranded on the side of the road in need of gas. The trio manufactured a get-rich-quick scheme — one that turned into a cautionary tale for the internet age as unsuspecting benefactors were "hoodwinked," said Scott Coffina, the prosecutor in Burlington County, New Jersey.
"The entire campaign was predicated on a lie," Coffina said at a news conference, adding that less than an hour after the campaign went live, McClure texted a friend.
"'Okay so wait the gas part is completely made up ... But the guy isn't,'" Coffina said, reading McClure's text. "'I had to make something up to make people feel bad ... So, shush about the made up part.'"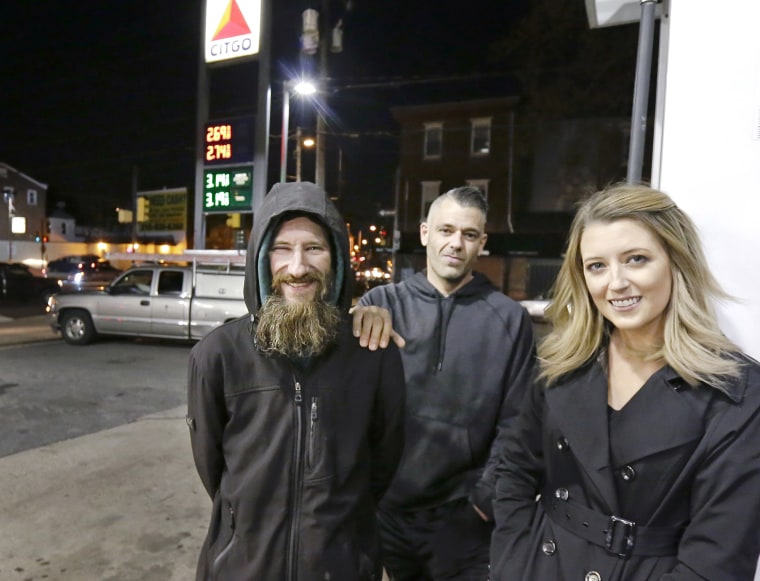 The couple first started running into Bobbitt at a freeway ramp near a casino in Philadelphia they frequented about a month before McClure supposedly met him. They befriended him with money and coffee, and eventually hatched their plan, Coffina said.
He added that he believed Bobbitt was a veteran and homeless, but equally complicit in the ruse.
Prosecutors wouldn't say how much of a cut Bobbitt was supposed to receive, but within a few months of the campaign's creation, all of the money had been spent.
Ultimately, it was their public squabble over the donations this summer — Bobbitt accused D'Amico and McClure of withholding most of the GoFundMe money he was owed — that led authorities to investigate the case. The original tale then unraveled.
The story was "too good to be true," Coffina said.
D'Amico and McClure surrendered to authorities on Wednesday in Burlington County, where they live.
Police in Philadelphia also arrested Bobbitt on Wednesday and said he was considered a fugitive of justice from Burlington County in connection with the case. He could be extradited to New Jersey; a court date has not been set.
Ernest Badway, an attorney for D'Amico and McClure, told NBC News he had no comment early Thursday.
An attorney for Bobbitt did not immediately return a request for comment.
In the initial GoFundMe campaign, D'Amico shared a picture she had taken with Bobbitt and claimed the story unfolded this way: Bobbitt, a homeless Marine veteran, had given her his last $20 after she ran out of gas on a freeway ramp in Philadelphia. Moved by the gesture, McClure and D'Amico started the fundraiser.
"Johnny did not ask me for a dollar, and I couldn't repay him at that moment because I didn't have any cash, but I have been stopping by his spot for the past few weeks," McClure wrote in her post.
WANT BREAKING ALERTS FROM NBC NEWS? SIGN UP HERE
Bobbitt's kindness drew donations from more than 14,000 people and earned him $402,000. The outpouring, in turn, touched the couple, who had gone on a media blitz and were praised for "paying it forward."
"[Bobbitt] will never have to worry about a roof over his head again!!" they later posted on GoFundMe while thanking "everyone who had a part of this amazing ride."
But Bobbitt believed the couple was dipping into some of the money for themselves, and in late August, attorneys for him filed a lawsuit to try to force McClure, a receptionist for the New Jersey Department of Transportation, and D'Amico, a carpenter, to turn over the remaining cash.
Bobbitt's attorneys said he only received $75,000 of the money raised and claim the couple spent the donations on items such as a BMW and on luxury vacations to Florida and Las Vegas.
The couple denied the allegations and said they had withheld some of the money because they feared Bobbitt, who has battled a drug addiction, would spend it on drugs.
Coffina said that more than 60,000 messages between McClure and D'Amico were seized from their iPhones detailing their financial woes, including bills and debts, and how they began thinking of Bobbitt when the idea of the hoax first took root.
When asked if Bobbitt had realized that by suing D'Amico and McClure, their money-hungry hustle would likely get exposed, Coffina said he "can't speculate what is in Johnny Bobbitt's mind."
"It certainly appears to have been a miscalculation on his part in hindsight," he added.
In September, GoFundMe promised Bobbitt that he would receive the rest of the money owed to him. It was unclear Thursday if the fundraising site had already provided it to him, but a spokesman said all donors will be given a full refund.
"We are fully cooperating and assisting law enforcement officials to recover every dollar withdrawn by Ms. McClure and Mr. D'Amico," GoFundMe said in a statement. "Finally, it's important to understand that misuse is very rare on our platform."