Just a few months ago, Johnny Bobbitt's whole world looked like it was going to change.
Back in November, he was homeless and had nothing but $20 to his name. But Bobbitt saw Kate McClure, of Florence, New Jersey, out of gas and with no cash in a tough Philadelphia neighborhood. So he gave her all the money he had.
Moved by the gesture, McClure and her boyfriend, Mark D'Amico, created a GoFundMe campaign to help the homeless veteran get off the streets.
The campaign went viral and raised nearly $403,000, but after a short hiatus in which he lived in a trailer, Bobbitt's lawyer Jacqueline Promislo said he is homeless again, back on drugs and only received a fraction of that total.
"What [Bobbitt] would like is to obtain the money that has been raised for him," Promislo told NBC News. "Over 14,000 people gave him money to help him get off the streets and give him a safe place to live."
Promislo said that Bobbitt estimated he was given about $75,000 with which he purchased a truck and the trailer he lived in until June. There should still be around $300,000 left for the homeless veteran to start a new life, the lawyer said, but Bobbitt doesn't appear to have access to those funds.
Bobbitt told the Philadelphia Inquirer that he is worried that McClure and D'Amico have wasted the money raised for him, specifically mentioning vacations the couple took to California, Florida, Las Vegas and the Grand Canyon. He also mentioned that McClure, who works as a secretary for the New Jersey Department of Transportation, is driving a new BMW.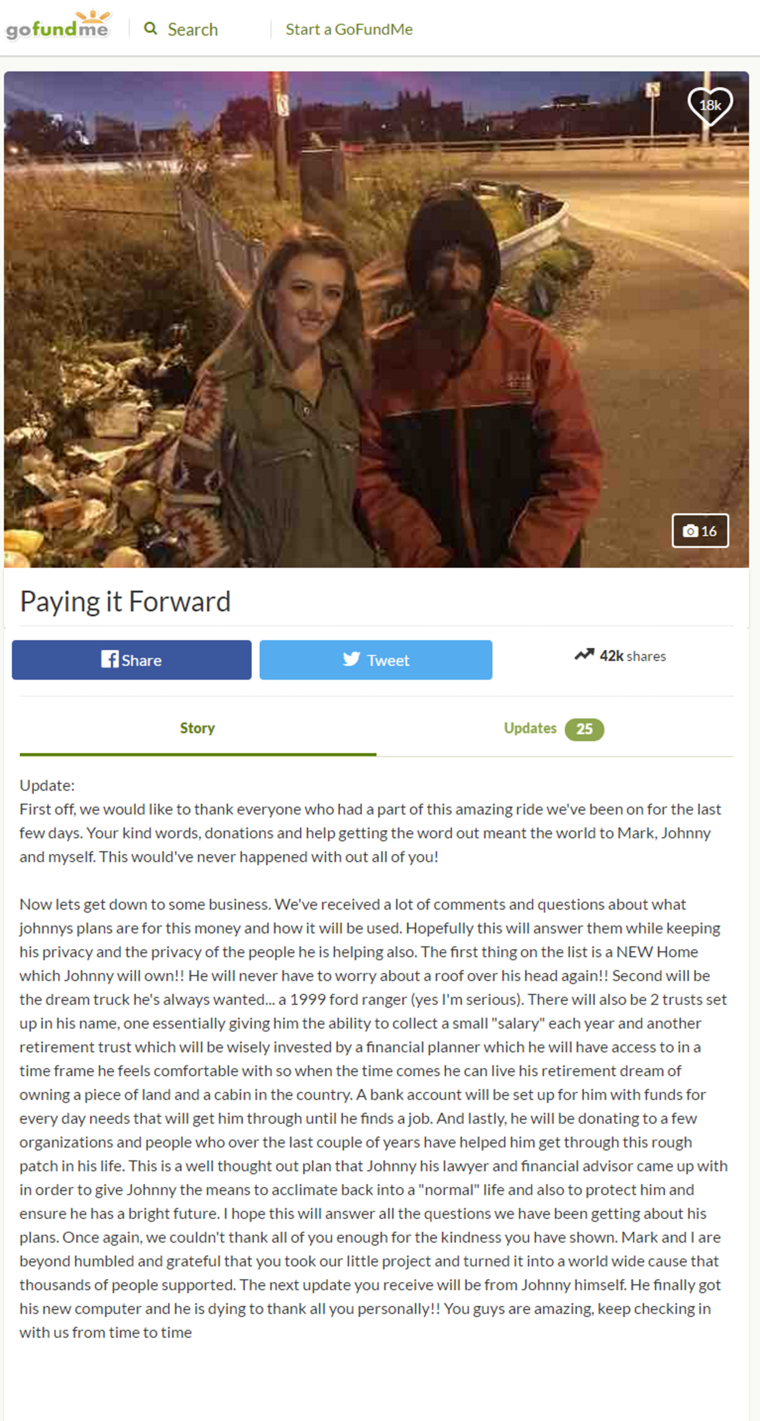 Meanwhile, D'Amico, a carpenter, admitted to Philadelphia Inquirer that he used $500 of the fund to gamble at a Philadelphia casino, but said he repaid the amount to the campaign. Bobbitt said he believes that D'Amico may have gambled away more of the money.
GoFundMe said on Friday that it is investigating to see how the funds were used.
"GoFundMe is looking into the claims of misuse regarding this campaign," a spokesperson said in a statement. "When there is a dispute, we work with all parties involved to ensure funds go to the right place. We will work to ensure that Johnny receives the help he deserves and that the donors' intentions are honored. GoFundMe always cooperates with Law Enforcement investigations."
The spokesperson added that misuse is rare, and that it occurs in "less than one tenth of one percent of all campaigns."
McClure and D'Amico were not reachable for comment, but they told the Philadelphia Inquirer last week that they used their own money for the car and vacations. They added that Bobbitt had burned through tens of thousands of dollars in fewer than two weeks and stolen from them to buy drugs.
Bobbitt denied those allegations.
D'Amico, however, insisted to the Inquirer that he won't give Bobbitt the money until he is sure the veteran is free of drugs, stating that he would rather "burn [the money] in front of him" because giving money to a drug addict would be akin to "giving him a loaded gun."
The couple is slated to meet with Bobbitt's lawyer on Monday, and Promiso said she hopes to get a clear accounting of how the money has been spent and how much remains. They plan to put that money into a trust for Bobbitt, she said, adding that he is working to detox and keep away from drugs.
"So many people have been so generous," Promislo said, "but I would hope that this does not deter people's generosity because there are so many people that do need help."