Elaine Harmon's ashes are one step closer to making what her family hopes will be their final journey from her daughter's bedroom closet in Maryland to a place more befitting a World War II heroine: Arlington National Cemetery.
Harmon, who served her country in the WASP — an acronym for the Women Airforce Service Pilots — during the war, died in April 2015 at the age of 95.
Since then, her ashes have been sitting on a shelf in her daughter's condominium in Silver Springs, Maryland, awaiting resolution of a dispute between Congress and the Pentagon.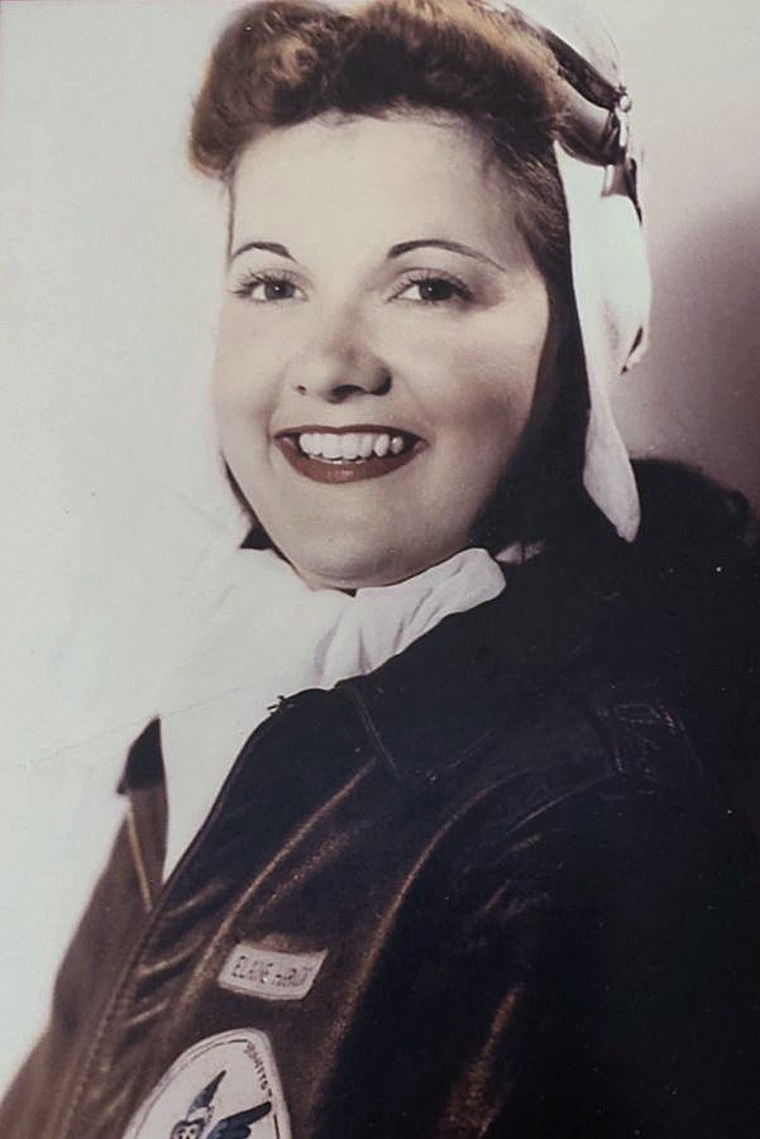 It was Harmon's dying wish to be recognized for her WASP service by having her ashes inurned at the national cemetery's Columbarium, and one her family and backers are determined to carry out.
"This was important to my mother on behalf of the WASP because … being here at Arlington would be part of honoring that service that they provided to fill the gap in World War II for the U.S. Army," said Terry Harmon, who is leading the charge, along with her three daughters.
That outcome appears to be drawing closer following House passage last week of legislation allowing the inurnment of the ashes of any of the roughly 100 surviving WASPs who request burial at the national cemetery.
Sens. Joni Ernst, R-Iowa, and Barbara Mikulski, D-Maryland — who sponsored companion legislation in the Senate — are continuing to build bipartisan support for their bill. And the Senate Committee on Veterans' Affairs is hoping to include the measure in a forthcoming legislative package that will address several veterans' issues. But the timing remains unclear, committee spokeswoman Lauren Gaydos told NBC News.
Rep. Martha McSally, R-Arizona, a former Air Force fighter pilot who attained the rank of colonel before taking office, cosponsored the House bill to grant WASPs the right to be inurned at Arlington. She said that the legislation wouldn't have been needed if it weren't for the discrimination that women faced at the time if they attempted to step outside the role of homemaker.
"The only reason that the WASPs were considered not active duty at the time ... was because we had these cultural biases about what women can and cannot or should and should not do," she said.
The women of the WASP have been fighting for their due for decades.
Authorized by Army Gen. Henry "Hap" Arnold in 1942 in response to a severe shortage of male pilots during the war, the WASP combined the Women's Auxiliary Ferry Squadron (WAFS) and Women's Flying Training Detachment (WFTD) into a single unit to fly military aircraft within the U.S. and relieve male pilots for combat duty.
"They were everything from college girls to housewives. We had a Rockette ... artists, musicians, businesswomen, mothers -- all sorts of women who set their lives on hold to volunteer for their country."
While upward of 25,000 women applied to join the WASP, only 1,074 completed training and were certified to join the unit.
Katherine Landdeck, an associate professor of history at Texas Women's University, said that those who were accepted into the program all had
"They were everything from college girls to housewives," she said. "We had a Rockette ... artists, musicians, businesswomen, mothers — all sorts of women who set their lives on hold to volunteer for their country."
The effort proved highly successful. Between September 1942 and December 1944, the WASP delivered 12,650 aircraft of 77 different types, ferrying more than 50 percent of high-speed pursuit type aircraft in the continental United States during that period, according to WASPMuseum.org.
While members of the WASP did not fly combat missions, the duty was by no means hazard-free. Thirty-eight women pilots died during training or while ferrying aircraft for deployment overseas.
Despite their contribution to the war effort, the women received less compensation than male pilots doing comparable duties, got no military benefits and often were required to pay their own expenses. When one died in the line of duty, their families had to pay to have their bodies shipped home in a plain pine coffin.
Then, as the war was drawing to a close, legislation to categorize the WASP as a U.S. military unit was defeated in Congress.
"Due to political pressures and the increasing availability of male pilots, the WASPs were disbanded effective on Dec. 20, 1944, with no benefits," the National Museum of the U.S. Air Force notes in an online exhibit on female military pilots.
That slap in the face was finally rectified in 1977 when Congress passed legislation giving the WASP fliers veteran status and qualifying them for military benefits — an effort in which Harmon played an important role, according to her granddaughter, Whitney Miller.
"She was instrumental in passing legislation in 1977 to give them the veterans' rights that they deserve, as well as in fighting other battles since that time so that they could be honored and recognized in the way that they should be," she said.
The WASPS also were honored by President Barack Obama in 2009 with a Congressional Gold Medal.
The remains of 17 WASP members were subsequently inurned at Arlington, and Harmon's family anticipated there would be no problem honoring her request when she died. But when the request was denied, they discovered that then-Army Secretary John McHugh had months prior to her death declared that both WASPs and merchant marines ineligible for any benefits at Arlington.
In a memo the Harmons obtained through a Freedom of Information Act request, McHugh said WASPs and merchant marines were not "active duty" veterans and were therefor eligible only for burial at cemeteries run by the Department of Veterans Affairs — not at Arlington, which is run by the Army.
That view is echoed on the Arlington National Cemetery website, which says those WASPs "mistakenly inurned there, through no fault of their own, would remain in their final burial location."
Renea Yates, a retired Army lieutenant colonel and now deputy superintendent for cemetery administration, said the issue is strictly one of space at Arlington.
"Burial space at Arlington National Cemetery is ultimately finite, and we have strict adherence to federal code and the burial eligibility criteria to ensure burial space is ensure burial space is reserved for the active duty service members and eligible veterans for decades to come," she said. "The Women Service Air Force Pilots, their selfless dedication is commendable. Unfortunately their level of service doesn't quite meet the duty that the current code requires."
But McSally, the cosponsor of the House bill, said the right of the WASPs to rest at the cemetery should never have become an issue.
"This is something that they deserve, something that they earned," she said. "We thought this discussion was over and until we discovered through the story of Elaine Harmon and her family denied this right. … Now, let's be clear, the Army has every authority they need in order to right now — today — allow the WASPs to be inurned in Arlington National Cemetery and if they chose not to, we're going to direct them to."
The Army does appear to be taking heed of the widespread outcry that the denial of rights to WASPs and merchant marines generated when it was first reported last year.
Acting Secretary of the Army Patrick Murphy sent a letter to several members of Congress in March saying the Army support legislations that would make WASPs and merchant marines eligible for "above-ground inurnment" at Arlington. He also said that while legislation is pending, eligible individuals can apply for an exception.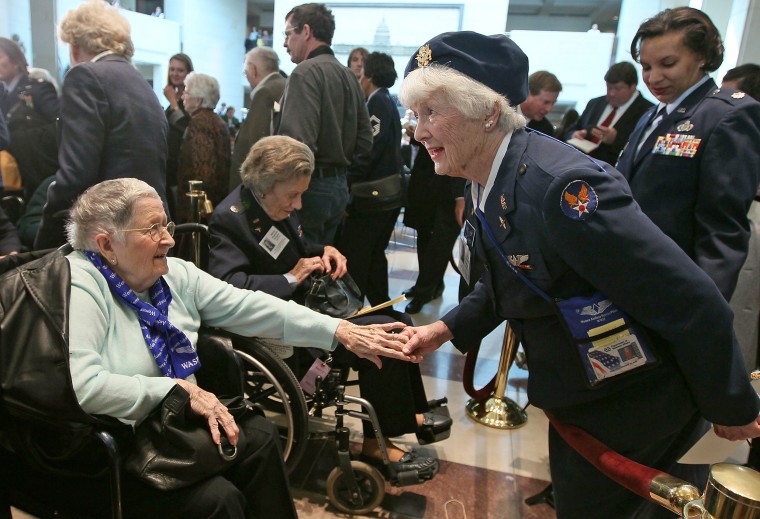 The Harmons, however, say they are holding out for a change of policy that opens the sacred grounds to any WASP who wishes to be laid to rest there, citing the example set by the matriarch of their family.
"Oh no. She definitely would not take no for an answer, especially in a situation like this," Elaine Harmon's granddaughter Whitney Miller said.
In the meantime, time is running out for other families unwilling to wait in limbo, as the Harmons have being doing for a year. Three more WASPs have died in 2016, according to the WingsofAmerica website, which has a section devoted to preserving their legacy.