More than two dozen trainers, veterinarians and others in horse racing were charged in a widespread doping scheme that "amounted to nothing less than abuse," federal officials and court papers revealed Monday.
The defendants ran horses at tracks in New York, New Jersey, Florida, Ohio, Kentucky and the United Arab Emirates, federal prosecutors in New York City said.
"Over the course of the scheme, participants manufactured, purchased, sold, shipped, delivered, received and administered thousands of units" of performance-enhancing drugs, or PEDs, for use on racehorses, U.S. Attorney Geoffrey Berman wrote in charging documents against 19 of 27 defendants.
The indicted included 11 trainers, seven veterinarians and nine drug suppliers and distributors, according to Berman.
"All involved in the cruel and systematic doping of racehorses across the United States and indeed around the world using misbranded, adulated and dangerous performance-enhancing drugs," Berman told reporters in New York.
"This is the most far-reaching prosecution of racehorse doping in the history of the Department of Justice."
William F. Sweeney Jr., the FBI's assistant director in charge of the New York office, said this practice forced horses to run faster than they really could, putting them in grave danger.
"These substances stimulated endurance, deadened nerves, increased oxygen intake and reduced inflammation," Sweeney told reporters. "What actually happened to these horses amounted to nothing less than abuse."
He added: "They experienced cardiac issues, overexertion leading to leg fractures, increased risk of injury and in some cases death."
As of now, investigators said they have not found any evidence that defendants told anyone about their doping scheme so to make bets on juiced horses. But they allegedly profited on hefty prize money.
"Conversely, the human beings in the scheme continued to line their purses as they manipulated this multiple-billion-dollar horse racing industry across the globe," Sweeney said. "People are rightfully disturbed by the mistreatment of animals who have absolutely no means of defense."
Prosecutors said trainer Jorge Navarro "orchestrated" this scheme by "using PEDs designed to evade drug tests, physically concealing containers of PEDs and drug paraphernalia from state regulators and racing officials."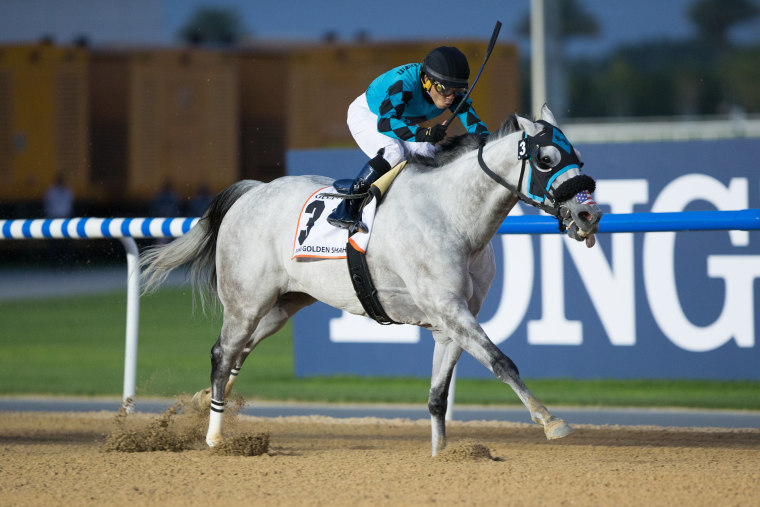 One of Navarro's most prized thoroughbreds, X Y Jet, died of an apparent heart attack this year after receiving a significant amount of PEDs, in one instance 50 injections, according to the indictment.
X Y Jet won the prestigious Dubai Golden Shaheen at Meydan Racecourse in Dubai in March 2019, which paid $1.5 million to the winner, highlighting a career of 12 victories and more than $3 million in earnings. The horse won that race and another contest in February of last year in Florida after receiving adulterated and misbranded PEDs before both races, according to the indictment.
While in the UAE for the Dubai race, Navarro "personally administered various adulterated and misbranded PEDs to X Y Jet, including a substance Navarro referred to as 'monkey,' " according to the indictment.
"Monkey" is a commonly used code word for a drug that can "boost a racehorse's red blood cell count in order to stimulate endurance during a race and improve race recover," according to the indictment.
But those drugs, "when combined with intense physical exertion, thicken the horse's blood, thereby causing increased cardiac exertion and pressure, which can lead to cardiac issues or death," the indictment said.
Navarro and another high profile trainer, Jason Servis, were both indicted on a count of conspiracy of drug adulteration and misbranding.
Navarro allegedly told Servis in an intercepted phone call on March 5 last year that he particularly liked a PED called SGF-1000.
"I've been using it on everything almost," Navarro told Servis. Navarro ended the phone call a short time later, saying, "I don't want to talk about this s--- on the phone, OK," according to prosecutors.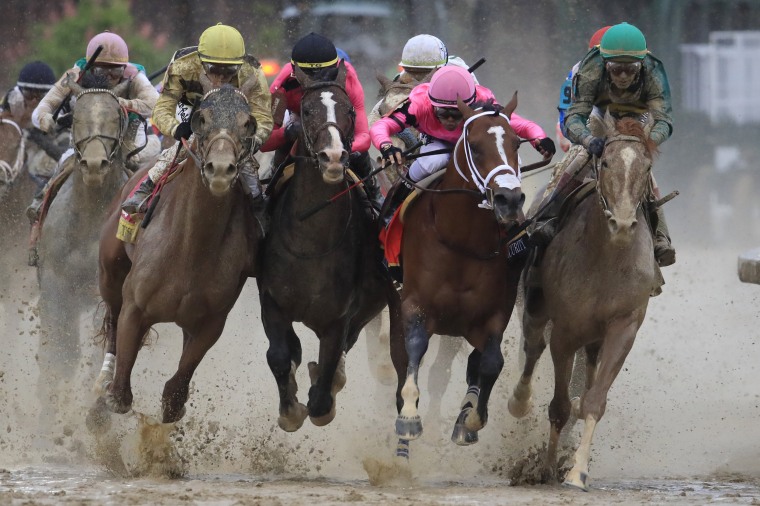 Servis is the trainer of Maximum Security, who crossed the finish line first at last year's Kentucky Derby but was disqualified minutes later after stewards ruled that the horse had impeded the paths of others; Country House was declared the winner. Maximum Security won the Eclipse Award as horse racing's top 3-year-old colt in 2019.
Before a race later that year at Monmouth Park in Oceanport, New Jersey, Servis was caught on an intercepted telephone call with veterinarian and co-defendant Kristian Rhein, according to the indictment. The veterinarian assured Servis that a PED given to Maximum Security wouldn't show up on a test.
"They don't even have a test for it," Rhein told Servis, the indictment alleged. "There's no test for it in America."
Federal agents specializing in organize crime probes were investigating a "different case, on a different topic all together" before they tripped on to the doping scheme and "one thing led to another," according to Sweeney.
"We had one agent in particular (who) was actually an expert in this industry from (a) prior life," Sweeney said. "He was part of the team and they did great work."
The indictments show how widespread illegal drugs are in horse racing, according to People for the Ethical Treatment of Animals.
"This sweeping federal investigation has exposed that illegal doping is still ubiquitous in horse racing, including at the highest levels," PETA Senior Vice President Kathy Guillermo said in a statement.
"These crimes cheat bettors of billions of dollars and are egregiously cruel to horses, resulting in rampant injuries, pain, and deaths, such as those cited in the indictment."