Parents across the country are beginning to ditch traditional cribs in favor of "baby boxes."
Baby Box Co., a Los Angeles-based company, is partnering with hospitals in the United States to give away free cardboard boxes to new parents after they are quizzed on a 15-minute educational video about safe sleeping habits for babies. The boxes come equipped with clothes, a mattress, fitted sheet and $150 worth of baby necessities.
In January, New Jersey became the first to adopt a statewide baby box program, set to distribute a total of 105,000 boxes. And now, Ohio has jumped onto the baby box bandwagon, along with hospitals in Philadelphia and San Antonio, Texas. So, why are parents deciding to trade their cradles with fluffy blankets for cardboard and a mattress?
What's the point of a baby box?
Modeled after a program in Finland that began more than 70 years ago, baby boxes are aimed at curbing infant mortality rates by promoting safe sleeping practices for newborns.
The online course paired with the box discourages parents from sleeping with their child, putting toys in their bed or placing the baby on his or her stomach, all of which can lead to Sudden Infant Death Syndrome (SIDS) — the abrupt death of a baby that is younger than 1. SIDS is usually attributed to sleep-related accidents such as strangulation, suffocation or entrapment. In 2015, the Center for Disease Control reported about 3,700 infants died from SIDS.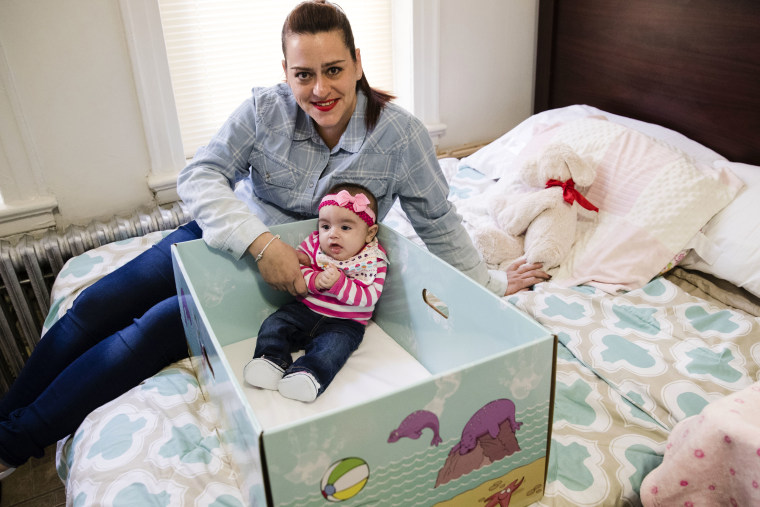 Proponents of baby boxes say the combination of educational tools and free resources will bring America's infant mortality rate closer to those found in wealthy Nordic countries.
The U.S. saw a drastic decline in its infant mortality rate since 1994, when the CDC launched its "Back to Sleep" campaign urging parents to have their infants sleep on their backs rather than stomachs, but disadvantaged groups still tend to be affected by SIDS more than others. From 2010 to 2013, black infants suffered SIDS at double the rate of white infants.
Lindsey Henn, a Baby Box Co. spokeswoman, called the program a "symbol of health equity."
"We believe that parenting education coupled with equal access to a safe sleep space will reduce infant mortality here as it has in Finland," she said.
Have baby boxes made an impact?
In Finland, baby boxes have had a dramatic impact. When the program launched in 1949, the government gave mothers a choice: They could either receive 140 euros or a baby box stuffed with child care products worth more than the cash.
In the 1930s, the country's infant mortality rate was 65 deaths per 1,000 infants. Beginning in 1949, that number has shrunk to 3.5 deaths per 1,000 births— a decrease that's credited in part to baby boxes. Comparatively, the United States had an infant mortality rate of about 5.8 deaths per 1,000 births in 2016.
The United States' higher infant mortality rate compared to some European countries is driven "almost entirely" by infant deaths among lower socioeconomic groups after the mother and child leave the hospital, according to one University of Chicago study. Other factors may include poorer health insurance coverage and maternal education.
What else can be done to curb infant mortality rates?
Some experts argue that policies geared toward enhanced post neonatal care for mothers of low socioeconomic status would be most effective in combating the U.S. infant mortality rate.
Universal home nurse visits, available in a number of European countries such as Finland and Austria, are one option. A provision of the Affordable Care Act offers money for a number of similar programs, such as the Nurse Family Partnership founded in 1977 in New York.
The program, which sought to rein in infant deaths in the U.S., provides low-income, first-time mothers with registered nurses who visit their homes to provide assistance and child health education for mothers. The visits continue until the child turns 2. A 2014 study released by the group found that participants "had lower rates of preventable child mortality from birth until age 20."