House Democrats made a renewed push for votes on gun control measures on Wednesday — nearly three months after they staged a sit-in on that chamber's floor demanding action.
"Time and time again we ask for compassion, time and time again we ask for action, time and time again we ask for leadership. Our people are sick and tired of a do nothing congress," Rep. John Lewis , D-Georgia, said on the floor pleading with Republican leaders to take a vote. "These bills should be passed. Bring them to the floor, let us have a vote."
Lewis, a civil rights icon, led the revolt over gun policy reform in June. And while the sit-in did not result in a vote on two controversial gun control measures, he and other Democrats said their effort highlighted the need for action.
Related: Democrats End Gun Control Sit-In After More Than 24 Hours on House Floor
On Wednesday, a number of Democrats spoke throughout the late morning in remembrance of the victims of gun violence. As they spoke, the lawmakers held photos of the victims of gun violence.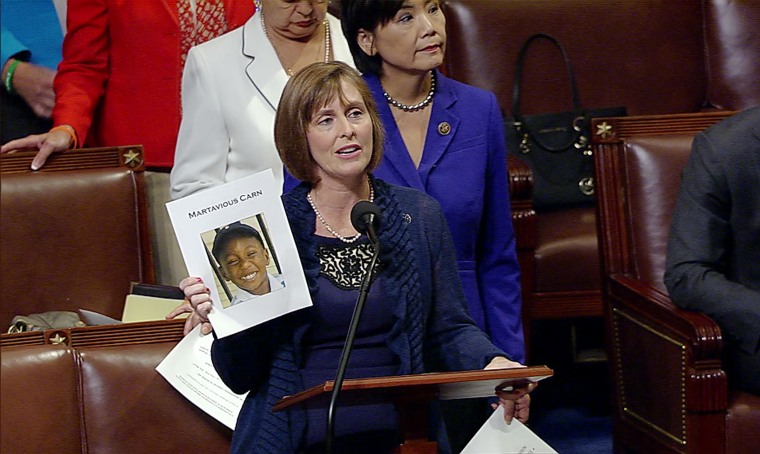 Wednesday's demonstration is a continuation of what the Democrats began in June after taking over the House floor for a nearly 25-hour sit-in.
"We're not going away," Minority Leader Nancy Pelosi, D-California, said. "We're not going to stop until we enact gun violence prevention laws. We're not going to stop until we get the job done."
Democrats want votes before Congress adjourns for recess until the election on bills to expand background checks for gun sales and to prevent suspected terrorists on the no fly list from being able to purchase a weapon.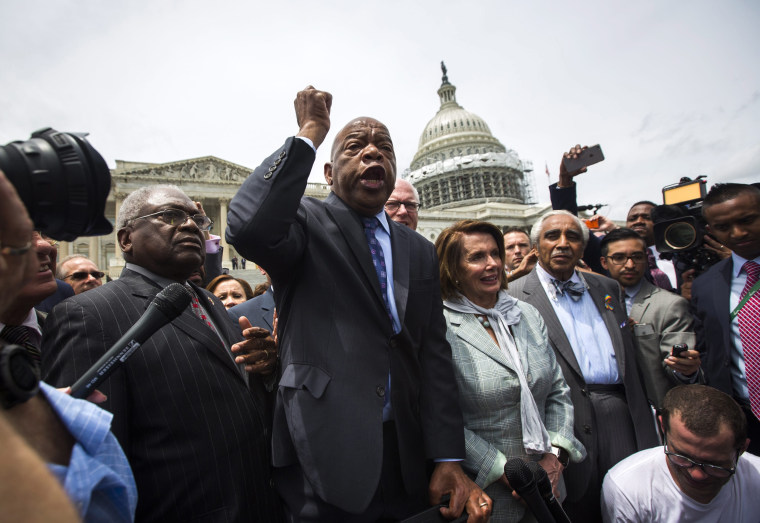 Related: Gun Control Battle Rages on Between House Democrats and Speaker Paul Ryan
Pelosi asked what Republicans are afraid of and why they leadership will not allow for a vote.
"We have a little time to save lives. What more important thing does any of us have to do than to stay here and pass a law to save lives? Somebody said to you, you could save 90 lives by passing a bill today, wouldn't you do that? Or why wouldn't you do that? Why wouldn't you do that," Pelosi asked.
Republican leadership did not immediately respond to NBC News' request for comment.
But even as Wednesday's push moves ahead, there still remains the possibility of ramifications from Republican leadership for the Democrats' June sit-in.
Speaker Paul Ryan told reporters last week leadership would "see when we do something about it" but had no specific details to share about potential punitive measures.
"Our goal here and our job is to protect this institution. Protect this institution so that democracy can work, so the house can get its job done," Ryan said.
Pelosi told reporters while she does not think Democrats should be punished for their protest on the floor, they "would welcome that" if Republicans move ahead.
"If they want to come in and say that we're gonna punish you for having a demonstration for gun violence prevention led by an all- American icon, John Lewis, bring it on," she said.