LOS ANGELES — A hush fell inside and outside Staples Center on Friday night as the Lakers and heartbroken fans paid tribute to NBA legend Kobe Bryant, his daughter Gianna and seven other people killed in a helicopter crash.
Before the Lakers' first game since the Sunday morning crash, the lights went off in the arena except for a purple spotlight on two Lakers jerseys bearing Bryant's numbers, 8 and 24, hanging above. The crowd chanted "MVP! MVP! MVP!"
Crowds outside the arena, which was surrounded by signs, flowers, balloons and stuffed animals, chanted "Kobe! Kobe!"
Jessica Samuelson, from North Hollywood, customized a pair of purple Converse high tops with yellow laces. Her sons were obsessed with the basketball star.
"I think it's going to be good to start the healing process," she said. "I have a three-pack of tissue in my bag. I know they'll probably all be used."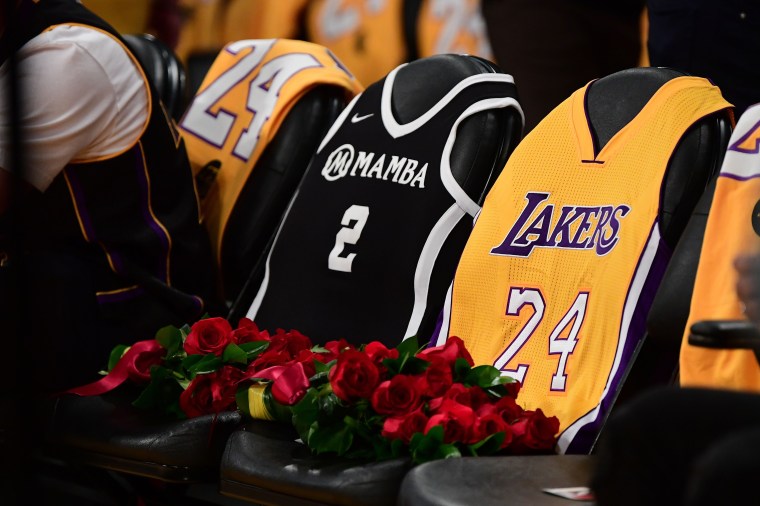 Inside the arena, the team held a 24.2-second moment of silence, and the team reserved two courtside seats with bouquets of roses and adorned them with Bryant's No. 24 jersey and Gianna's Mamba Academy No. 2 jersey.
The arena played a recording of Bryant expressing his appreciation to fans, saying, "thank you, thank you from the bottom of my heart. God, I love you guys."
As Boyz II Men sang the national anthem, the Lakers' LeBron James wept. He later took the court and read the names of all nine victims, ending with Bryant's.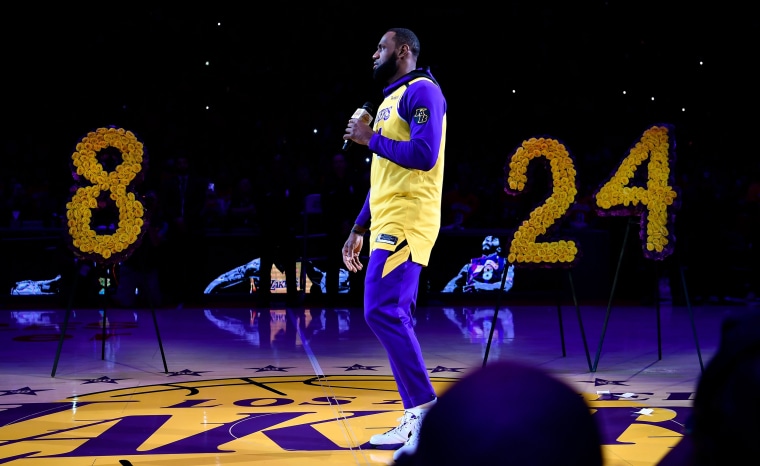 He had some prepared remarks written down, but said, "Laker Nation, man, I would be selling you all short if I read off of this sh--, so I'm going to go straight from the heart," to cheers.
"The first thing that come to mind, man, is all about family. And as I look around this arena, we're all grieving, we're all hurt, we're all heartbroken," James said. "But when we're going through things like this the best thing you can do is lean on the shoulders of your family."
James said "Laker Nation" showed this week what a family is all about. He said Bryant, his wife, Vanessa, and Gianna would be grateful.
"Everybody that's here — this is really, truly, truly a family," James said. "And I know Kobe and Gianna and Vanessa and everybody thank you guys from the bottom of their heart, as Kobe said."
The names of all nine victims were displayed in white text on a black screen.
"Lost in this unthinkable tragedy were husbands, wives, parents and children, teammates and coaches," an announcer said. "As the entire world mourns, we want to remember and honor those nine individuals."
Full coverage of Kobe Bryant's life and legacy
Hours before the game, the Lakers tweeted a statement and several photos of Bryant, who spent his entire 20-year career with the team: "We've been through our ups and been through our downs. I think the most important part is that we all stayed together throughout."
The Lakers also tweeted a picture of their court logo, changed from the team name to a giant KB with a star in the center. The Lakers will keep the logo on the court and on the players' jerseys for the remainder of the season, according to NBC Sports.
Bryant, 41, died Sunday morning in a helicopter crash near Los Angeles that killed all nine people on board who were traveling to a youth basketball tournament at Bryant's Mamba Academy in Thousand Oaks, California. Fans across the globe mourned his death and set up makeshift memorials from Los Angeles to Philadelphia, where Bryant was born.
Download the NBC News app for breaking news and politics
Reza Safa, a painter from Orange County, said when heard about the helicopter crash, he knew he had to commemorate the basketball star and his family. One of his paintings was on display Friday outside Staples Center. It showed Gianna sitting on Bryant's shoulder, both of them grinning. It's called "Carry Me Dad."
"I want to donate this to the family," he said. "He was the type that works hard and overcomes — the type that is not arrogant," Safa said.
The other people who died in the crash were Ara Zobayan, 49, the pilot; Christina Mauser, 38, an assistant basketball coach at Bryant's Mamba Sports Academy; John Altobelli, 56, the head baseball coach at Orange Coast College in Costa Mesa, California; his wife, Keri Altobelli, 46; their daughter Alyssa Altobelli, 13; Payton Chester, 13, who played on the academy's basketball teams; and her mother, Sarah Chester, 45.