PYEONGCHANG, South Korea — The U.S. Olympic Committee opened its first news conference of the Winter Games with an apology to the victims of Larry Nassar, the former USA Gymnastics doctor accused of molesting 265 girls and women.
"The Olympic system failed you, and we are so incredibly sorry," said Larry Probst, chairman of the U.S. Olympic Committee, or USOC.
But Probst also expressed support for USOC Chief Executive Scott Blackmun, who has been buffeted by calls for his resignation and who isn't in South Korea because of health problems.
"We think that he did what he was supposed to do and did the right thing at every turn," Probst said of Blackmun's handling of allegations against Nassar.
The USOC has oversight over USA Gymnastics, which used Nassar as its team physician for decades until he was fired in July 2015 after complaints by three elite gymnasts.
USA Gymnastics detailed the allegations against Nassar and the resulting FBI investigation in a September 2015 email to the USOC's security chief. A USOC spokesman said Blackmun never saw the email and didn't realize that Nassar, who had treated Olympic gymnasts for years, was a suspected pedophile until he was arrested a year later.
Critics have accused the USOC of a flat-footed response to the scandal. No one from the organization attended sentencing hearings for Nassar where 200 women delivered victim impact statements, and the committee didn't call for an independent investigation until last month.
Probst said it was an "error in judgment" not to attend the hearings and admitted the Olympic Committee took too long to reach out to Olympic athletes like Aly Raisman, McKayla Maroney and Simone Biles, who say they were abused.
On Wednesday, a group of senators called for Blackmun to step down and announced a resolution to form a special Senate committee to investigate the USOC and USA Gymnastics.
Thursday, the House Oversight Committee kicked off its own investigation by demanding that the two sports organizations turn over documents that relate to Nassar.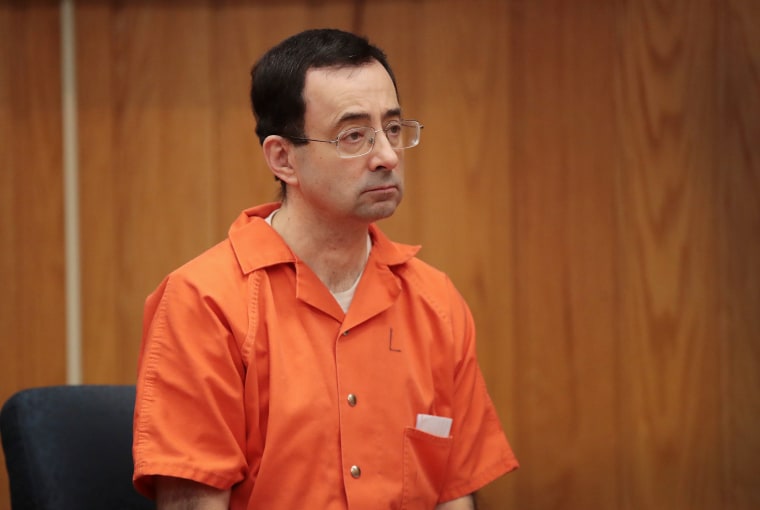 Letters were also sent to Michigan State University, where Nassar had his medical practice; Twistars, a Michigan gymnastics club where Nassar treated athletes; and the Karolyi Ranch, where he treated Olympians-in-training.
"One of the most disturbing aspects of the survivors' accounts is how this reprehensible conduct went undetected or ignored for years. Coaches, instructors, law enforcement, and other trusted adults all failed these young athletes," the letter to USA Gymnastics said.
Nassar, 54, has been given effective life sentences after pleading guilty to molesting 10 girls under the guise of bare-handed pelvic procedures and to possession of child pornography.
Stephanie Gosk reported from Pyeongchang. Tracy Connor reported from New York.