A shooting at a Chabad synagogue near San Diego on Saturday, the last day of Passover, marks the latest tragedy in an increasingly dangerous trend of attacks on houses of worship during services where congregations are at their most vulnerable.
The Chabad synagogue of Poway, California, had advertised online an 11 a.m. "Passover Holiday Celebration" on the final day of a week-long holiday marking the deliverance of the Jewish people from slavery in Egypt. Saturday also is the Jewish Sabbath.
The San Diego County Sheriff's Department responded at about 11:23 a.m. to reports of an active shooter at the synagogue, where four people were shot, including an older woman who died. A man identified by multiple law enforcement sources as John T. Earnest, 19, was later detained.
President Donald Trump spoke to reporters on the White House South Lawn on Saturday and said that based on conversations with law enforcement, the shooting "looks like a hate crime."
One Democratic presidential candidate, Sen. Kirsten Gillibrand, D-N.Y., called the attacks an epidemic in a tweet that demanded an end to such violent incidents.
"Something is fundamentally broken in our society when any house of worship is made unsafe by gun violence and hate — again and again and again," Gillibrand said. "I'm keeping Poway and the entire Jewish community in my prayers. More than that, I don't accept this. We must end this epidemic."
Download the NBC News app for breaking news
Ronald Lauder, president of the World Jewish Congress, said "it is inconceivable that yet again innocent people have been targeted simply for their religion and for choosing to attend a place of worship."
"People of all faiths must stand together and declare that we will never tolerate such hatred," he added.
Poway is the third attack of its kind in the last six weeks and the fourth mass attack on a house of worship in the last year.
Tree of Life synagogue shooting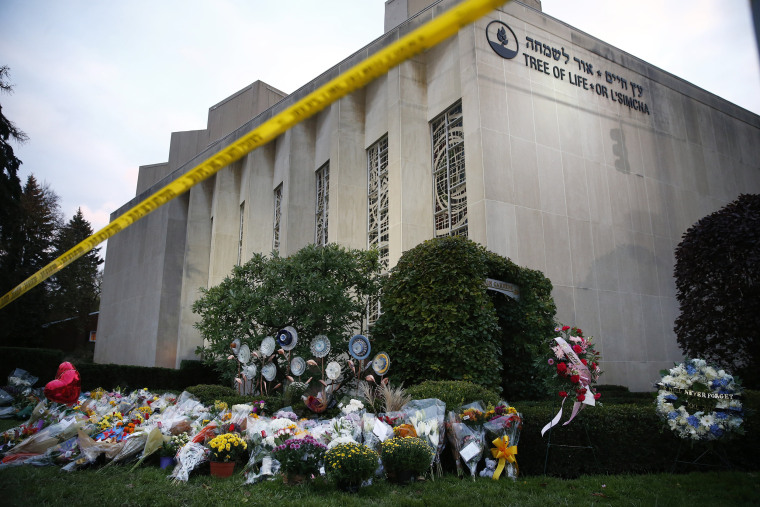 In October, 11 people died at the Tree of Life synagogue in Pittsburgh when a gunman opened fire during Sabbath services. The suspect, Robert Bowers, allegedly engaged with law enforcement on his way out of the temple and injured several officers.
Bowers has pleaded not guilty to 63 charges in connection with the shooting, including murder and federal hate crimes. Prosecutors said Bowers talked about his desire to "kill Jews" during the rampage. He also had a history of threatening Jewish communities and posting conspiracy theories about them online.
Bowers faces a maximum possible penalty of life in prison without parole.
After the attack, the rabbi who presided over the Saturday services called on political leaders to "tone down the rhetoric" and lead by example.
"There is hate, and it isn't going away. It just seems to be getting worse," said Rabbi Jeffrey Myers told "Today" in October.
Christchurch mosque attacks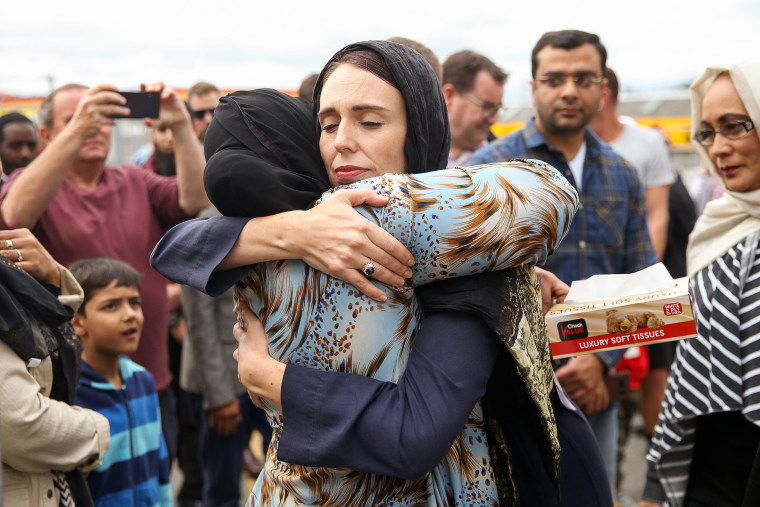 Fifty worshippers at two mosques in Christchurch, New Zealand were gunned down last month during a Friday afternoon service, which is typically practiced as a congregation.
Australian national Brenton Tarrant, is expected to face 50 murder and 39 attempted murder charges when he appears in court. Tarrant, 28, allegedly attacked the Muslim congregations after posting a lengthy manifesto detailing his white-supremacist worldview online.
The manifesto contains a sprawling array of anti-immigrant, anti-Muslim and white-supremacist references, repeating common far-right talking points, and pledged to start an American race war.
Although the Islamic faith requires praying five times a day, every day, the Friday afternoon prayer services, known as Jumu'ah in Arabic, are highly revered because they are meant to be practiced as a community. It is the day Muslims are most likely to attend mosque.
New Zealand Prime Minister Jacinda Ardern called the attack "one of New Zealand's darkest days," and announced plans to ban nearly all military-style semi-automatic and assault-style rifles.
Sri Lanka Easter bombings
On Easter Sunday, more than 250 people, including about 45 children, were killed during a series of suicide bombings in Sri Lanka that targeted churches and hotels.
Hundreds of others were also injured during a wave of near-simultaneous explosions carried out by seven suicide bombers at three churches and three luxury hotels on Sunday, officials said. Police later reported two further blasts.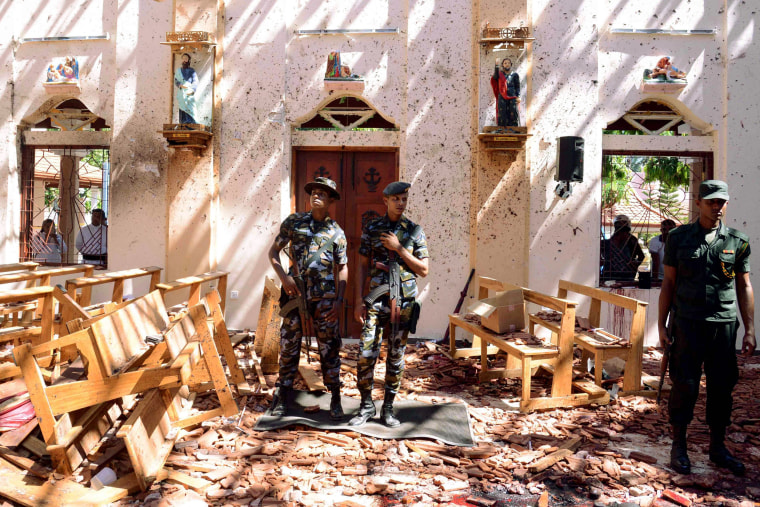 Sri Lankan authorities were warned about a potential terrorist plot two weeks before the attacks, government officials said Monday.
Police have arrested 40 suspects in connection with the bombings, the Associated Press reported Tuesday.
"We never expected it to be so big," Hemasiri Fernando, the chief of staff to Sri Lankan's president, told NBC News. "We never thought it would happen so soon."
Authorities said they were investigating what role international terrorism may have played in the tragic attack after the Islamic State group claimed responsibility for the gruesome bombings.
ISIS released a video of men pledging allegiance to ISIS chief Abu Bakr al-Baghdadi — although the group produced no evidence to link it to the attacks.
The validity of the video and identities of the men have not been confirmed, according to Flashpoint Intelligence, a global security firm and NBC News consultant.
The archbishop of Colombo, Cardinal Malcolm Ranjith, said during a news conference Friday there will be no Sunday Masses until further notice.
Sri Lankan authorities also blocked most social media services in the country following the attacks, a group that monitors internet censorship said.
Sri Lankan officials said they were temporarily blocking social media to curtail the spread of false information and ease tensions.The defense ministry said the shutdown would continue until the government concludes its investigation.