HOUSTON — Two weeks ago, Houston Methodist Hospital opened a special unit to treat critically ill coronavirus patients. The city had reported only a handful of confirmed cases at that point, but the hospital's 24-bed coronavirus ICU filled up in only about a week, far faster than doctors anticipated.
Alexandra Carnahan, 26, one of the nurses assigned to the unit, was surprised by the number of patients who were in their 30s or 40s, with no prior health problems. Now they were intubated and in critical condition, suffering from COVID-19, the respiratory disease caused by the coronavirus.
These patients can't have visitors, and most are heavily sedated. So Carnahan and other nurses hold their hands while checking vitals, "to maintain that human connection," she said. The nurses remind them where they are and try to explain why their families can't be there, though it's difficult to know whether the patients can hear them.
A few days ago, one of them, a man in his 50s, unexpectedly squeezed Carnahan's hand while she and another nurse bathed him, she said. He apparently could hear her voice, and seemed to be reacting. Carnahan told him everything was going to be OK. Afterward, she pulled off her protective mask and face shield, stepped into another room, and cried.
The man was around her parents' age.
"Seeing that is frightening," Carnahan said, "knowing that it could easily be us or our loved ones in the hospital bed."
So far, Houston, the nation's fourth largest city, has not recorded a swell of confirmed coronavirus cases similar to those straining health care systems in New York and Detroit, giving some residents hope that stay-at-home orders issued by local officials came early enough to stop the virus from spreading too widely here. But interviews with Houston ICU doctors and nurses — as well as the daily rise in the number of critically ill patients now showing up in their hospitals — paint a more sobering picture of what's happening in southeast Texas.
While limited testing has prevented officials here and across the state from getting a complete accounting of how many people have been infected with the coronavirus, hospitals in greater Houston have seen a steep increase — 40 percent over four days — in the number of patients believed to be suffering from the virus, according to a daily census of hospital admissions collected by the SouthEast Texas Regional Advisory Council, which helps coordinate emergency response efforts.
Full coverage of the coronavirus outbreak
The 25-county region surrounding Houston had reported fewer than 950 confirmed coronavirus cases among its 9.3 million residents as of Monday. But on that same day, there were 996 people hospitalized in the region with confirmed or suspected cases of COVID-19, according to the advisory council count. That figure is not cumulative and does not include patients with COVID-19 who were hospitalized and released before Monday.
Dr. Peter Hotez, an infectious disease expert and dean of the National School of Tropical Medicine at the Baylor College of Medicine in Houston, said the disconnect between the number of positive test results and the number of people hospitalized for COVID-19 suggests that a significant majority of coronavirus cases are going undetected here.
"We know that about 1 in 5 or 1 in 10 COVID-19 patients needs to be hospitalized, so what you're seeing in hospital admissions would suggest that the actual number of cases could be 5 to 10 times higher in Texas than what's been reported to this point," he said.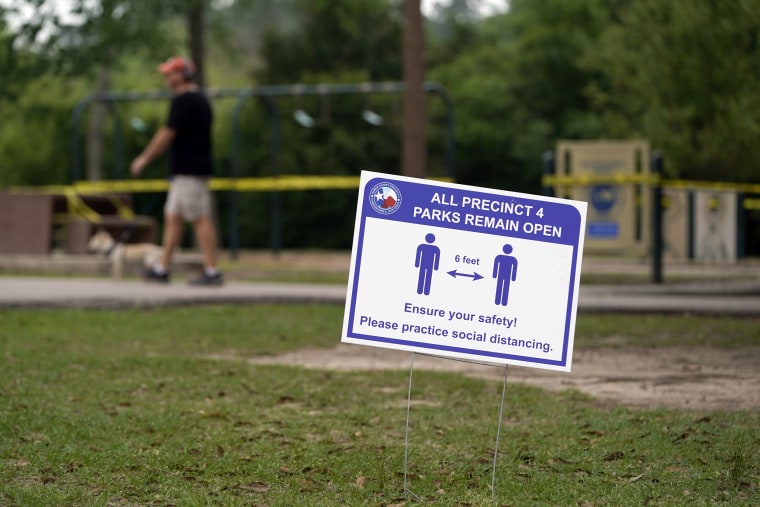 In an interview with Houston Public Media on Thursday, Harris County Judge Lina Hidalgo — the county's top elected official — said public health officials are looking to hospitals for insights on how widely the virus is spreading.
"Really the most accurate information, because of the lack of widespread testing, comes from the hospitals," Hidalgo said. "They're still seeing their rates of COVID patients go up exponentially … So, we know right now we are very much tracking the path that Italy or New York were on."
Do you have a story to share about the coronavirus in Texas? Contact us
Texas has ramped up testing in recent weeks, but it still lags behind nearly every other state in the country. On a per capita basis, New York state has tested residents at a rate seven times greater than Texas, according to an analysis of coronavirus testing figures and U.S. census data. Lengthy delays getting results have further slowed the process in Texas, forcing government officials to make decisions based on incomplete and outdated information.
In Houston, officials have set up a pair of drive-thru testing locations, but because of limited supplies from the federal government, Mayor Sylvester Turner announced last week that his city of 2.3 million people would only be able to complete about 250 tests per day at each site. That number does not count tests run at hospitals and those sent to private labs. As of Thursday, Houston had reported 506 confirmed cases in the city.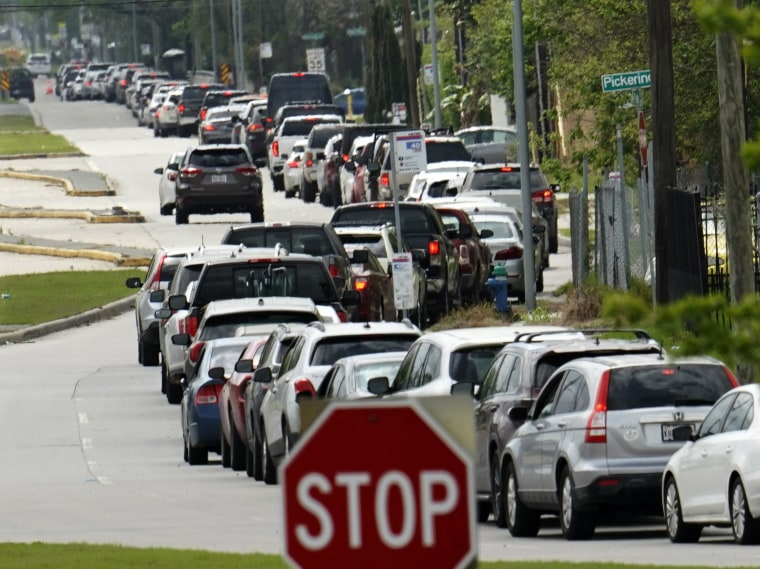 Dr. Umair Shah, executive director of Harris County Public Health, said without widespread testing, county officials have no choice but to begin preparing for worst-case scenarios, while at the same time hoping they won't need to execute them. That includes a plan to potentially set up an emergency field hospital on the sprawling campus of NRG Stadium, where the Houston Texans play.
"All of the numbers that we have, across the board, are very difficult to make sense of," Shah said. "Because in this country, we have not had testing capabilities to the degree that we should have had testing capabilities and at the timeline when we should have had it. Even today, there are testing constraints."
Cindy Zolnierek, CEO of the Texas Nurses Association, said the relatively low case count across Texas — 4,669 confirmed cases as of Thursday — might give residents a false sense of security. That's why her group, along with the Texas Hospital Association, sent Gov. Greg Abbott a letter Tuesday urging him to issue a statewide stay-at-home order like those issued in dozens of other states. Abbott implemented statewide restrictions later that day, though the order included an exception allowing churches to remain open, so long as any in-person gatherings adhere to the state's guidelines instructing residents to avoid close personal contact.
"Social distancing is our best tool in the fight against COVID-19, and the actions we have taken thus far have proven to be effective in limiting the spread of this virus," Abbott said in a statement. "Now it is time to redouble our efforts to reduce further exposure as much as possible and flatten the curve."
Zolnierek said the governor's action was a step in the right direction. Hopefully, she said, it didn't come too late.
"We continue to see exponential increases in the number of cases," she said. "So no, we have not overwhelmed the health care system at this point, but if the curve continues as it has, we will get there. The sooner we can contain this, the better, because you can't catch up."
Houston hospital workers said the pace of new ICU cases has grown rapidly in recent days. Several have shared their observations on social media, while urging residents to stay home. A nurse at one Houston hospital, who asked that he not be named because he feared retaliation, said he and his colleagues were not prepared for the number of new cases that began filling their ICU late last week.
"We're starting to get overwhelmed with COVID cases, and at the same time, we're running low on PPE," the nurse said, referring to personal protective equipment, such as masks, which are in short supply nationally. "People are starting to get scared."
Dr. Bela Patel, executive medical director of critical care for the Memorial Hermann hospital in the Texas Medical Center in Houston, said she and her colleagues are "starting to see that surge" of severely ill COVID-19 patients that previously signaled widespread transmission in other cities, such as New Orleans and Detroit.
Memorial Hermann was treating 107 patients with COVID-19 at its various locations as of Thursday, a spokeswoman said, more than twice as many as a week earlier, though the system — as with all of Houston's major hospitals — still has plenty of open ICU beds and ventilators. Patel said hospital admissions are a late indicator in an outbreak, because once those numbers begin to spike, that means the virus has already spread widely.
"We really need our leading indicator to be asymptomatic positives in the community," she said. "And so I think the most important thing right now is to really ramp up our testing … Unless we really know what's in the community, we can't really prepare, and we can't really predict."
Download the NBC News app for full coverage of the coronavirus outbreak
Carmina Catalan, 28, a nurse who has been caring for COVID-19 patients at Houston Methodist, said she and her co-workers have been watching news reports from New York — where doctors worry they might soon be forced to make difficult decisions about who receives care — and hoping that similar scenes aren't repeated in Texas.
After Methodist's initial COVID-19 ICU filled up last week, the hospital opened another and, administrators said, for now, they have plenty of available beds and equipment to continue expanding.
In the meantime, Catalan said she worries about herself and her co-workers. One of the critically sick patients she's been caring for is not much older than her and had no underlying health problems before being infected with the coronavirus.
The patient is a health care worker, like her.
"I could see myself in that bed," Catalan said. "I could be this person."