A Texas man has been arrested and charged after allegedly trying to plant a bomb on a Confederate statue at a Houston park, authorities said Monday.
Andrew Cecil Schneck, 25, was charged with attempting to maliciously damage or destroy property receiving federal financial assistance, federal prosecutors announced.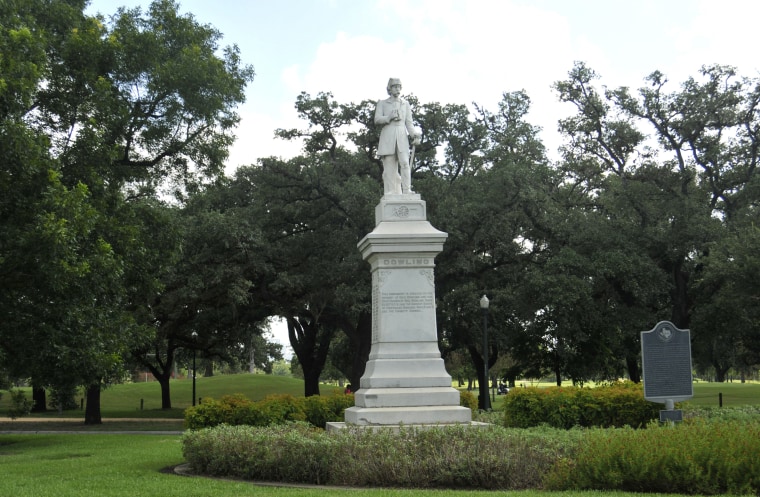 A park ranger doing a routine patrol of the area around Hermann Park on Saturday caught Schneck kneeling in the bushes near the statue of Richard Dowling, a commander in the Confederate army.
The ranger "observed Schneck to be holding two small boxes with various items inside," including "what appeared to be duct tape and wires," a criminal complaint says. Schneck, who majored in chemistry at Austin College, was also found with a bottle containing liquid made up of compounds used as explosives.
When asked by the ranger whether he wanted to harm the Dowling statue, Schneck replied that he did not "like that guy," according to the criminal complaint.
Related: Battle Over Confederate Monuments Renewed After Charlottesville Violence
Schneck's lawyer, Philip Hilder, declined to comment on Monday.
Schneck was charged in 2014 with improperly storing explosive material. He pleaded guilty to the misdemeanor federal charge and was sentenced to five years probation and $159,000 in restitution. Most of the documents in that case were sealed.
His probation, which barred him for having contact with explosives, was ended early last year.
At a news conference Monday, officials praised the park ranger, Tamara Curtis, for her quick thinking.
"Her initial response could have saved lives," said Daron Ogletree, a special agent with the FBI office in Houston.
The arrest comes amid a raging national debate over the removal of Confederate monuments from public places following the white nationalist violence in Charlottesville, Virginia, earlier this month.