It took a single plea for help — "we are starving and need food and water" — to set off a chain of events that led authorities to a disguised compound beneath the secluded scrubland of northern New Mexico.
During a raid Friday morning, Taos County Sheriff's deputies uncovered a squalid scene: Obscured by walls of tires, wooden pallets and other junk was a makeshift trailer belonging to two men, three women and 11 children ranging in age from 1 to 15. They were living off a few potatoes and a box of rice, and surrounded by a cache of guns, including an AR-15 rifle, officials said.
The two men were expected to be in court Tuesday to face 11 counts of child abuse, while the women were arrested Sunday and booked on similar charges as part of a wider investigation. The children were placed in protective custody with the state.
No one was injured when the Taos County Sheriff's Office and a multiagency tactical team executed a search warrant on the property in Amalia, a few miles south of the Colorado border.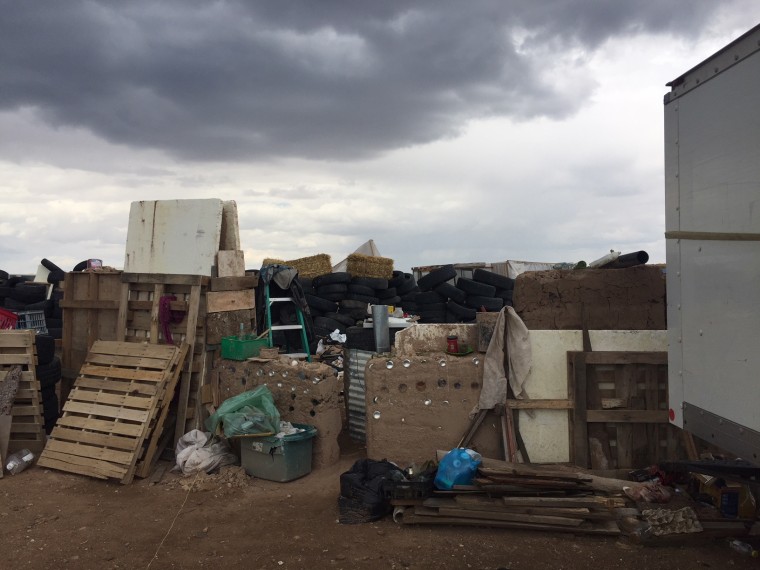 Full details of the case were not immediately released, although authorities began an investigation two months ago in conjunction with the FBI and investigators in Clayton County, Georgia.
Authorities believed one of the compound's occupants was Siraj Wahhaj, 39, wanted in connection with the abduction of his son, Abdul-Ghani. The boy, who turns 4 on Monday, was reported missing by his mother last December from their Georgia home. Wahhaj was the prime suspect.
According to court documents filed Monday, Abdul-Ghani's mother told authorities in Georgia that he suffered severe medical issues, including a form of brain damage, seizures and an inability to walk.
The documents say that Wahhaj "made it known before absconding that he wanted to perform an exorcism on [Abdul-Ghani] because he believes the child is possessed by the devil."
In a 2006 federal court filing obtained by the Associated Press, Wahhaj identified himself as "the son of the famous Muslim Imam Siraj Wahhaj." In the filing, the younger Wahhaj said he was harassed by customs agents at John F. Kennedy International Airport before and after a trip to Morocco, the AP reported.
The father appears to be the Imam at a Brooklyn mosque, Masjid at Taqwa. The mosque did not immediately respond to a request seeking comment.
The elder Wahhaj appears to have posted a missing persons report for his grandson on Facebook earlier this year that said the the boy was likely in the company of his father. "If located, do not approach and immediately contact law enforcement," the report says.
Around Christmas, a camp sprouted up in the Taos County desert. It's unclear how Wahhaj and the others came to reside at that property, but an Alabama police report obtained by the Associated Press says Wahhaj claimed to a state trooper earlier that month that he was headed to New Mexico on a camping trip.
Wahhaj — who was traveling with seven children and an unidentified adult — had been in an accident in Chilton County, southeast of Tuscaloosa, according to the Dec. 13 report.
The trooper noted that there was no camping gear inside Wahhaj's car, but he had three handguns, two rifles, a bag of ammunition and a bulletproof vest, according to the AP.
Jason Badger, who owns the Amalia property, said he and his wife noticed the residence and believed it was encroaching illegally on their land as well, they told NBC affiliate KOB.
The couple said that in February, they had seen Wahhaj and a child that may have been his son. They said after seeing a report about the missing boy, they contacted Taos County deputies.
The FBI began surveillance of the compound, although agents didn't have probable cause to get inside, Taos County Sheriff Jerry Hogrefe said in a news release after the raid.
That changed when the distress message was forwarded to his department by a Georgia detective, who said it came from someone inside of the compound. The note said they were "starving."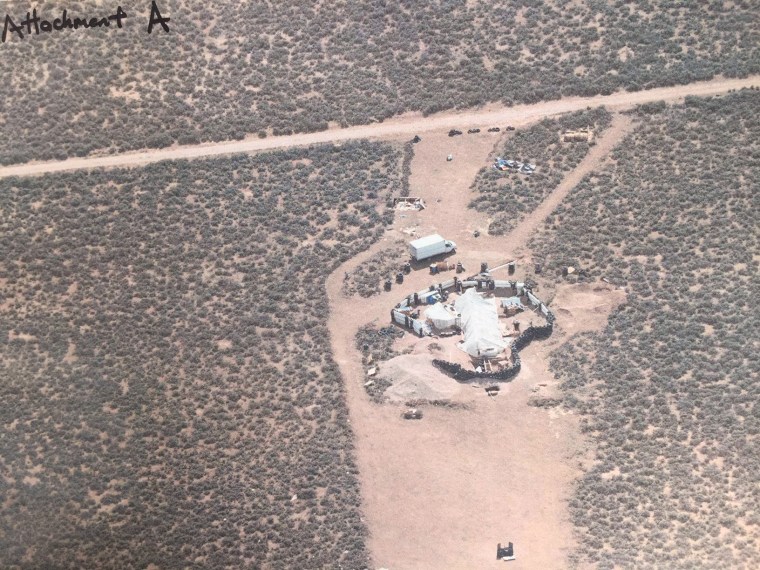 "I absolutely knew that we couldn't wait on another agency to step up and we had to go check this out as soon as possible, so I began working on a search warrant right after I got that intercepted message," Hogrefe said.
A tactical unit was needed because the residents of the site were likely "heavily armed and considered extremist of the Muslim belief," Hogrefe said.
"We also knew from the layout of the compound they would have an advantage if we didn't deploy tactfully and quickly," he added.
The compound included a 150-foot tunnel and a ladder that led out into a neighboring property.
As a result of the raid, authorities arrested Wahhaj and another male, Lucas Morton, 40. Morton was charged with harboring a fugitive and Wahhaj was booked on his no bond warrant for child abduction in Georgia.
His son, however, was not found at the site with the other children and remained missing Monday.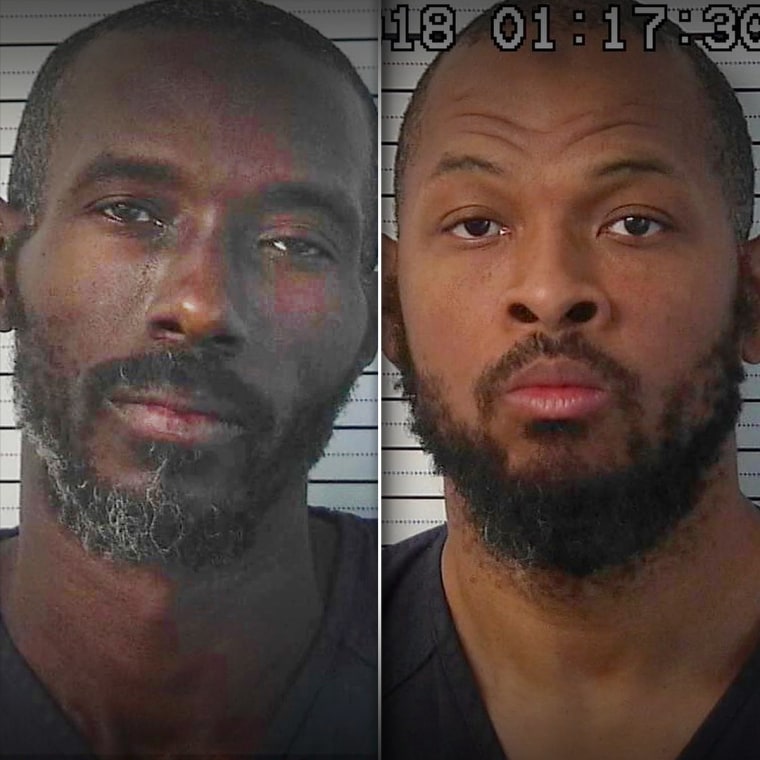 Morton refused to provide information about the child's whereabouts, according to a criminal complaint filed in Magistrate Court in Taos County.
Authorities said they found five loaded 30-round magazines and four loaded pistols, along with ammo. The camper trailer that was used was partially buried into the ground and lacked running water, plumbing and electricity.
Also arrested were three women — Jany Leveille, 35; Hujrah Wahhaj, 38; and Subhannah Wahhaj, 35 — described as the mothers of the 11 children. The women's relationship to the men was not immediately clear.
Hogrefe said Sunday that there was enough evidence to charge the women in connection with the "filthy" conditions that the children were forced to live in.
The sheriff added that the group "looked like third world country refugees with no food or fresh water, no shoes, and basically dirty rags for clothing."
The compound included open trenches and pits, with nails sticking out of wood, and broken glass and bottles littering the ground, according to the arrest warrant.
It may have been days before the children had last eaten, and they were living in dangerous conditions with a leaking propane valve near their trailer, the warrant added. The children also appeared to lack adequate medical attention.
"It was the saddest living conditions and poverty I have seen," Hogrefe said.
After the raid, the Badgers toured the compound Sunday and found bullet casings, feces, a Quran and the escape tunnel.
Tanya Badger said she's most worried about the missing boy, who she said might still be in the area.
"Where is he?" she asked KOB, adding: "Who says he's not here? It's going to haunt me forever if they don't find that baby."
CORRECTION (Aug. 12, 2018, 5:43 p.m. ET): An earlier version of this article misidentified the property that Jason Badger owns. The land where the compound was located is his property, not the land adjacent to it.