The full version of this story was originally published by The Center for Public Integrity, a nonprofit, nonpartisan investigative news organization in Washington, D.C.
In this year's presidential campaign, Hillary Clinton has criticized the flood of so-called "dark money" that has dominated presidential politics since the Supreme Court's Citizens United decision. But is there a gap between the rhetoric and the reality?
A Center for Public Integrity investigation reveals that despite Clinton's statements about campaign finance reform, corporations, unions and dark money nonprofits have already poured millions of dollars into a network of Clinton-boosting political organizations. That's on top of the tens of millions an elite club of Democratic megadonors, including billionaire financiers George Soros and Haim Saban, have contributed to pro-Hillary super PACs.
Click here to read the full Center for Public Integrity report.
Three cash-flush super PACs exist almost exclusively to strengthen Clinton's presidential effort.
Priorities USA Action, for example, has already spent millions helping Clinton secure the Democratic nomination. Ready PAC organizes and collects information from grassroots supporters. Correct the Record serves as a political SWAT unit attacking those who attack Clinton.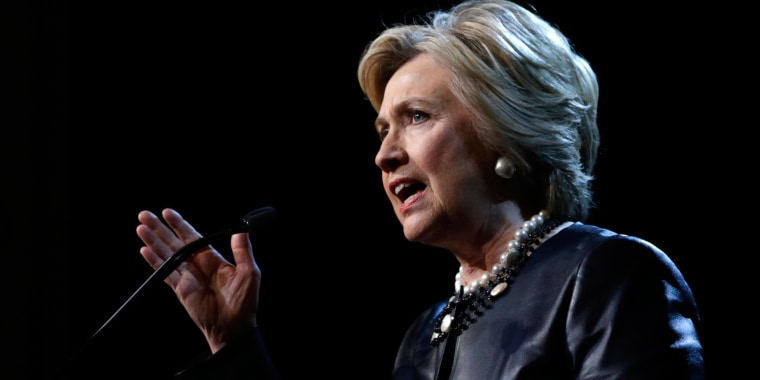 A fourth super PAC, American Bridge 21st Century PAC, aids Democratic candidates in general with opposition research — and was praised by Clinton at its outset.
These four core pro-Clinton super PACs have together raised $86 million, according to a Center for Public Integrity analysis of the most recent filings made with federal regulators. Of this haul, more than $10 million collectively comes from dozens of corporate or nonprofit sources, making tracking the money to a human source challenging.
The 2010 Citizens United v. Federal Election Commission ruling freed corporations, unions and certain nonprofits to raise and spend unlimited amounts of money to advocate for and against political candidates, and on balance, conservatives have embraced Citizens United much more than liberals, many of whom consider poorly regulated political money a poison that weakens democracy.
Click here for a glossary of campaign finance terms
The high court's decision was prompted by a dispute over an anti-Clinton movie that conservative activist organization Citizens United wanted to broadcast during the final weeks of an election.
"Wouldn't you know that Hillary Clinton has become one of the greatest beneficiaries of the Citizens United Supreme Court decision," Citizens United President David Bossie said. "It is an irony that is not lost on me."
On the campaign trail, Clinton has assailed the system born out of this ruling.
In a speech last year, Clinton said, "We have to end the flood of secret, unaccountable money that is distorting our election, corrupting our political process, drowning out the voices and votes of people."
"As president, I'll appoint Supreme Court justices who recognize that Citizens United is bad for America. And if necessary, I'll fight for a constitutional amendment that overturns it," Clinton wrote in a CNN op-ed piece marking the 6th anniversary of the Citizens United decision.
"You're not going to find anybody more committed to aggressive campaign finance reform than me," Clinton said on Feb. 9 during a speech following the New Hampshire primary.
But she's also had to field questions from reporters and her rival Bernie Sanders about her own campaign finances.
At a Democratic debate on Feb. 11, Clinton responded to a question about millions of dollars liberal financiers Soros and Donald Sussman have poured into Priorities USA Action.
"You're referring to a super PAC that we don't coordinate with, that was set up to support President Obama, that has now decided that they want to support me," Clinton said. "They are the ones who should respond to any questions. Let's talk about our campaigns."
When Sanders later pressed her about Priorities USA Action, she shot back: "It's not my PAC."
Technically, Clinton is correct about her relationship with super PACs: Federal law prohibits her, or any presidential candidate, from commanding and controlling super PACs that back them. The Sanders campaign receives modest support from a few super PACs and a "dark money" nonprofit, and he can't legally force them to stop.
Josh Schwerin, Clinton's spokesman, declined to address specific Center for Public Integrity questions about secret and tough-to-track money that super PACs are using to support her candidacy.
But the campaign argues it "cannot afford to unilaterally disarm" and quit the big-money game. That, they say, is because powerful conservative interests, most notably the secretive outfits backed by billionaire brothers David and Charles Koch, plan to support the Republican presidential nominee with hundreds of millions of dollars. Trump, himself a billionaire, is using his own wealth as campaign fuel.
"When she is elected president, Hillary Clinton will make it a priority to restore a government of, by and for the people," Schwerin said.
Not satisfactory, say some prominent liberals. Clinton's supposedly reform-minded campaign, they continue, has instead tolerated if not embraced a Democratic operation similar to what the Koch brothers have wrought.
"It'd be like tobacco companies coming out and saying they wanted to fight against lung cancer," said Dylan Ratigan, the former MSNBC host and author of the New York Times bestseller "Greedy Bastards," who hasn't yet endorsed a presidential candidate. "In a way, the Koch brothers have more credibility than Clinton on election money issues — they're at least upfront about how they want to use money to buy politics."
An online Center for Public Integrity/Ipsos poll of more than 2,000 adults conducted in late February indicates many potential general election voters are likewise concerned about how serious Clinton is about remaking the nation's campaign system — a goal the vast majority support yet would be a monumental challenge under any circumstance.
Half of all poll respondents — and nearly four in 10 self-identified Democrats — said Clinton is relying on super PACs and big money too much. That compares to 18 percent overall who said Clinton is relying on them the "right amount" and 5 percent who said "too little."
And when asked, "If elected president, which of the following would do the most to reform the campaign finance system and make it less reliant on big money?" Clinton trailed both Sanders and Trump among respondents.
A 'Milky Way' of Clinton groups
During the 2016 election cycle, most Republican presidential candidates, current and former, have enjoyed support from super PACs that exist for one reason: to support the candidates' campaign.
The development represents the full flourishing of a trend that began during the 2012 presidential election. While technically separate of the campaigns they back, the super PACs are often run by friends, associates or former staffers of the presidential candidate being supported.
The pro-Clinton groups are intimately linked to each other. Two of them — American Bridge 21st Century PAC and Correct the Record — share office space in downtown Washington, D.C.
Click here for a list of pro-Clinton groups
Federal records show all four regularly move millions of dollars in cash and resources among themselves, meaning an initial, anonymous contribution to one super PAC might additionally flow through any of the rest before it's finally used to help Clinton.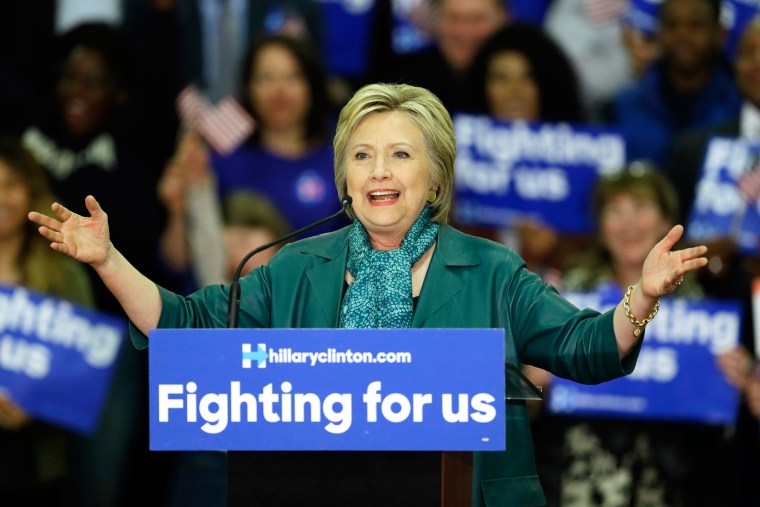 Consider the $1 million Priorities USA Action gave Correct the Record in December. Correct the Record in turn gave American Bridge 21st Century $400,000 later that month. And earlier in 2015, American Bridge 21st Century paid Ready PAC $150,000 for personal information about its legions of supporters.
Priorities USA Action and Correct the Record have even together formed a federal joint fundraising committee called American Priorities 16, a vehicle that allows the two groups to more seamlessly solicit donations and swap resources.
Another thing these groups have in common is David Brock, the Clinton ally who either leads or has advised or assisted them all. Brock is also involved with several nonprofit organizations friendly to Clinton's cause, such as Media Matters for America, which monitors conservative media for bias, and the American Independent Institute, which funds journalism exposing the "nexus of conservative power in Washington."
"She doesn't just have a constellation, she has a galaxy — a Milky Way — of this outside funding," says former Rhode Island Gov. Lincoln Chafee, who ran against Clinton in the Democratic presidential primary and dropped his bid in October.
Leaders of the pro-Clinton super PACs say they serve an essential purpose: efficiently and effectively defending Clinton against Republicans who will use the Citizens United decision against Clinton to the greatest extent possible.
Clinton, they continue, also can't be expected to battle unlimited political money with limited resources — the most a presidential candidate's own campaign may accept from an individual donor during the general election is $2,700.
Brock, for his part, says he's "very proud of the progressive infrastructure" that he's helped build in a bid to aid Clinton.
"Her solutions are robust, and I believe it when she says she'll follow through"
After the Citizens United decision, Brock said, Democrats and liberals had a choice.
They could bury their "collective heads in our ideals and principles and cede the new political reality to the likes of Karl Rove and the Koch Brothers or play by the rules as they are and play to win," Brock said. "We made the decision, the correct and only one in our view, to play by the rules as they are and play to win so that progressives can gain enough political power to move America forward in a number of critical areas including campaign finance reform."
Added Justin Barasky, a Priorities USA Action spokesman: "To think we're not going to fight back against those attacks would be political malpractice. We're not going to allow Republicans to buy an election."
Barasky noted that Priorities USA Action does support Clinton's campaign finance reform platform and itself recently shut down its sister nonprofit, Priorities USA, which had accepted millions of dollars in undisclosed contributions while it was still largely a vehicle for supporting President Barack Obama and his political agenda.
Campaign reform activists underwhelmed
Among the more than 20 campaign finance reform group officials the Center for Public Integrity interviewed about Clinton in February and March, including officials with past ties to both major parties, many offered some measure of understanding for Clinton's situation. Several employed the "she can't unilaterally disarm" talking point the Clinton campaign uses.
In other words: Better that Clinton play and win by the lousy election rules in place today and reform the system later than martyr herself on some altar of idealism.
"Her solutions are robust, and I believe it when she says she'll follow through," said Marge Baker, executive vice president for People for the American Way, which advocates for a constitutional amendment overturning Citizens United.
"We don't expect her to lay down arms. We would like to see her elevate this issue into a centerpiece of her campaign," said Adam Lioz, counsel and senior adviser at Demos.
Other reformers, however, feel stung by what they consider President Barack Obama's underperformance on political transparency and campaign reform matters, have this advice for Clinton: Show us, don't tell us.
They want to see Clinton sign an executive order requiring government contractors to disclose funding they give "dark money" political nonprofits.
They want to see her appoint new commissioners to the ever-gridlocked Federal Election Commission — five of six commissioners continue to serve despite their terms having long ago expired.
And they most certainly want to see her engage Congress legislative proposals, even if they're relatively modest measures such as incentivizing people to make small-dollar political contributions.
"These are somethings we need to see before we can figure out the level of her commitment," said David Donnelly, president and chief executive of Every Voice.
Other observers are much more skeptical.
"There's nothing in her background that suggests this will be a top priority for her," said Trevor Potter, president of the nonpartisan Campaign Legal Center and a former Federal Election Commission chairman who served as general counsel for U.S. Sen. John McCain's 2008 presidential campaign.
"If her candidacy is any reflection of her personal priorities, she's a hypocrite," said Cyrus Patton, chief executive of Mayday.US, which works to elect to office hardcore campaign reformers. "My faith in her commitment to change is slim."
Schwerin, Clinton's spokesman, defended her reform record, noting that as a U.S. senator, she co-sponsored numerous bills aimed at enhancing donation disclosure and increasing public campaign financing.
She also co-sponsored perhaps the highest-profile piece of campaign reform legislation this century: the Bipartisan Campaign Reform Act of 2001 — better known as McCain-Feingold.
"Hillary Clinton has spent her career fighting for campaign finance reform," Schwerin said.
The Center for Public Integrity is a nonprofit, nonpartisan investigative news organization in Washington, D.C.