It's become a tradition as American as apple pie: Competitive eaters gather every Fourth of July on Coney Island to scarf down as many hot dogs as humanly possible.
But how — and why — did this belly-busting spectacle become such a hotly anticipated holiday event?
According to Major League Eating President Richard Shea, the lore of Nathan's Famous Hot Dog Eating Contest — now in its 99th year — began with an enterprising immigrant making good on the American Dream.
Related: Ex-Champ Couldn't 'Ketchup' in Hot Dog Eating Contest
In 1916, Polish immigrant Nathan Handwerker was selling hot dogs in Coney Island when he overheard four other immigrants disputing who was the most patriotic on that Fourth of July, according to Shea's retelling. That's when Handwerker spoke up and gave them a challenge: The title would go to whoever could devour the most franks.
The winner was an Irish immigrant named Jim Mullen who stuffed 13 hot dogs down his gullet in 12 minutes, Shea said. The hype gave Handwerker a boost to his business, and he sold each hot dog for a nickel. It also created a sensation that he continued again the following year, Shea said, and has played out nearly every year since. (The stunt was canceled in 1941 as a protest to the war in Europe.)
Handwerker's hot dogs — dubbed Nathan's Famous — eventually expanded into an iconic restaurant on Coney Island before becoming the fast-food chain it's known as today.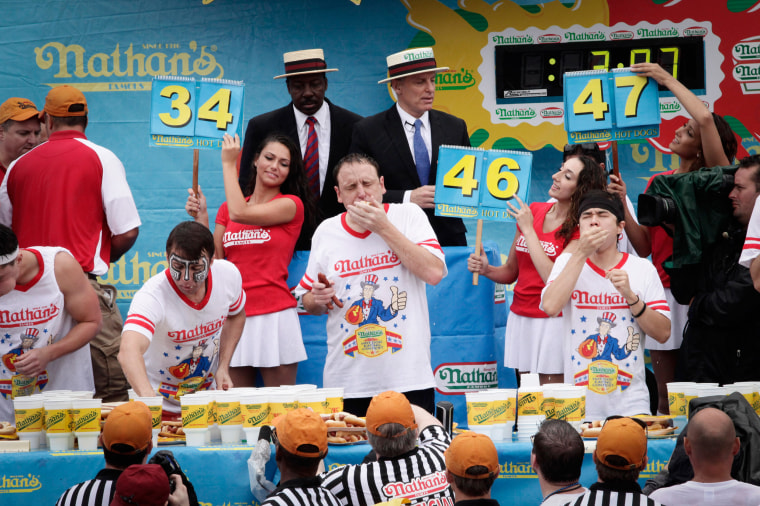 While there's no evidence of the contest's early days, a Nathan's spokesman told The New York Times report in 2010, press agent Mortimer Matz claimed that he helped sell the origin story when he became involved in the competition in the early 1970s.
Throughout the Seventies, the hot dog eating contest was held in an alley near the restaurant. Its popularity led it to be moved to the boardwalk, where an estimated 35,000 people watch the event each year, Shea said.
"We present it with a good amount of ballyhoo and pageantry, and it's an incredibly intense sporting event," Shea said. "These eaters do an amazing feat out there."
Related: Stars, Stripes and Stats: The Fourth of July By the Numbers
In 2004, the event became a staple of the holiday across America when ESPN began televising it live. Shea, whose Major League Eating sponsors the hot dog hoopla, is frank about it all: He can't imagine a Fourth of July without it.
"It's become a fabric of the holiday," Shea said. "In a way, not having it would be like Thanksgiving without the Thanksgiving Day parade."