After two years of struggling to pass any of his community college classes, Jamarria Hall, 19, knows this for certain: His high school did not prepare him.
The four years he spent at Detroit's Osborn High School were "a big waste of time," he said, recalling 11th and 12th grade English classes where students were taught from materials labeled for third or fourth graders, and where long-term substitutes showed movies instead of teaching.
What's less certain, however, is whether Hall's education in Detroit's long-troubled school district was so awful, so insufficient, that it violated his constitutional rights.
That's the question now before a federal appeals court that heard arguments last month in one of two cases that experts say could have sweeping implications for schools across the country.
The cases, now snaking their way through the federal courts, could yield "enormous, almost earth-shattering change in terms of educational funding and educational opportunity," said Derek Black, a law professor at the University of South Carolina whose research has focused on educational rights and constitutional law.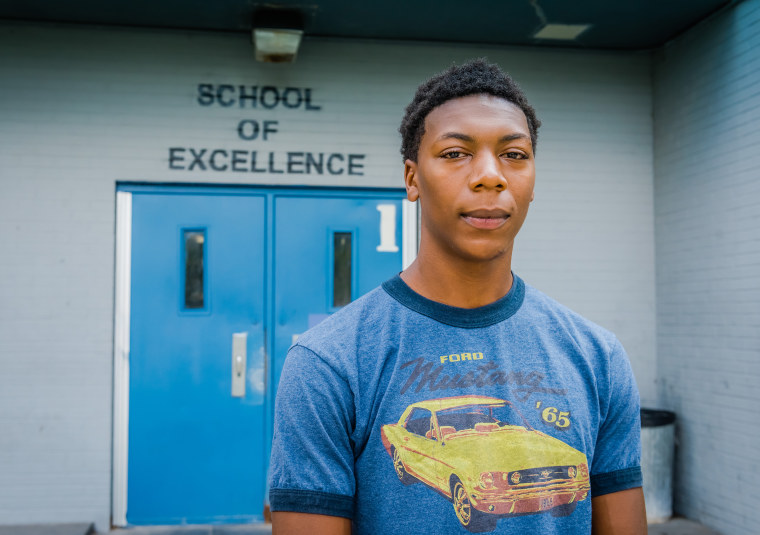 The Detroit case was filed in 2016 on behalf of Hall and other students who attended rodent-infested, crumbling schools that lacked certified teachers and up-to-date textbooks. It argued that appalling conditions, including an eighth grader who taught math to his classmates for a month after his teacher quit, denied students a basic right to literacy.
A similar case was filed on behalf of students in Rhode Island last year, asserting that they were denied a basic civics education.
If either case succeeds and is ultimately upheld by the Supreme Court, Black said, it would establish for the first time that students have a "fundamental right" to an education that meets minimum standards of quality.
"It would lay down a huge marker in terms of how all the states across the nation fund or don't fund their schools," Black said.
And that would give new power to students.
"Every school in the country would be affected," said Michael Rebell, a Teachers College, Columbia University professor who brought the Rhode Island case. "It would mean that students in other urban areas or rural areas that think they're getting a totally inadequate education would have a basis to go to federal court and say, 'Our system isn't teaching basic literacy and we have a right to it.' There could be a lot of litigation."
'It was really heartbreaking'
The case heard Thursday in Cincinnati before a three-judge panel of the 6th Circuit Court of Appeals put the blame for Detroit students' troubles on the state of Michigan. The state had taken control of Detroit's main school district from the locally elected school board for much of the last two decades, while encouraging scores of new charter schools to open and siphon students away.
But many charter schools in the city also face alarming conditions. The suit reflects that by including students from both kinds of schools.
One teacher, Renee Schenkman, said she helped the lawyers in the case document conditions in her charter school, Experiencia Preparatory Academy, which has since closed.
Schenkman, who taught second and third grade, detailed conditions like broken glass on the vacant lot the school used as a playground and a burst pipe in her classroom that was cordoned off in hopes that children wouldn't get too close.
Most of the time she was there, she said, she wasn't given a curriculum.
"I had to Google how to teach phonics," Schenkman said.
The school often lacked money to pay for basic supplies, she added.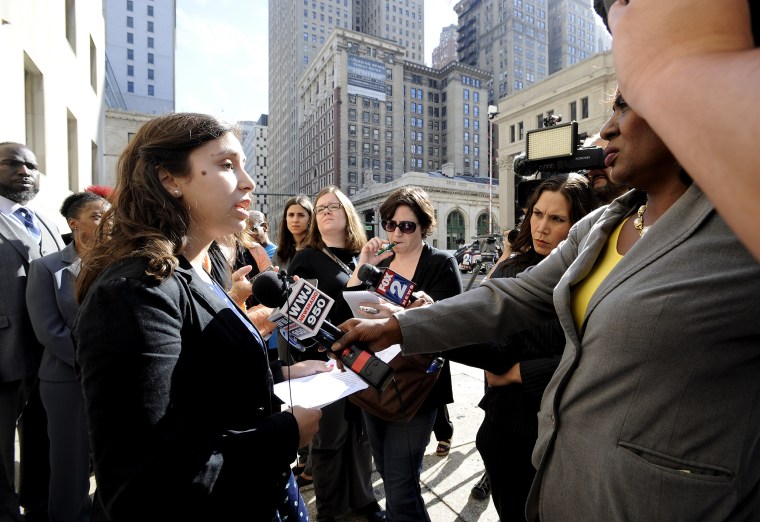 "It's a terrible feeling," she said, choking up as she talked about her students. "I started teaching because I care so much about kids and education, and to feel like I had none of the tools to do that, none of the support to do that, and to be faced with kids who are very eager to be there and to be part of the class, and to see that they're falling so far behind, that was the hardest thing."
As one of the only Spanish speakers on staff, Schenkman was called to translate at many family meetings where parents were told their children were years behind academically.
"It was really heartbreaking," she said. "I just feel like this is not the kids' fault. ... We should be able to provide them with safe facilities where they can learn."
'They're creating a second-class caste system'
In the hourlong arguments of the Detroit case in federal court last week, there was little dispute about the conditions alleged in the lawsuit.
Even the attorney representing the defendants, who include Michigan's governor and members of its elected board of education, acknowledged the schools in Detroit were unacceptable three years ago, when the suit was filed. However, Raymond Howd, the Michigan assistant attorney general, representing the state, argued that "there's a difference between a serious problem" and one that violates students' rights.
That's what makes the students' argument such a difficult one to make legally.
The Detroit case — which was renamed Gary B. et al v. Whitmer, after Gov. Gretchen Whitmer, a Democrat, was elected last year, replacing her predecessor, Rick Snyder, as the top defendant — was already thrown out by a district court judge who found that while the allegations were alarming, that did not mean the conditions in Detroit schools were unconstitutional. The plaintiffs appealed the dismissal to the circuit court.
There is no mention of the word "education" in the Constitution, and the Supreme Court has held in the past that there is no constitutional right to education or to equally funded schools.
The court, in a 5-4 decision in the 1973 San Antonio Independent School District v. Rodriguez case, rejected a complaint from poor students who argued that their rights were being violated because San Antonio's property-tax-based school funding system favored students whose families were more affluent.
But supporters of the Detroit and Rhode Island cases argue that their cases are different because the students in Detroit and Rhode Island aren't just receiving a subpar education — they're receiving an education so inadequate that they can't realistically exercise established constitutional rights, such as the right to vote and to participate in their nation's democracy.
The court in the Rodriguez case acknowledged that students have a right to vote and to free speech and agreed that you need "some quantum of basic education to exercise these important constitutional rights," Rebell said. But the students in the Rodriguez case never claimed that their schools weren't meeting their basic needs.
"They just said they're not getting enough money," Rebell said. "So now we're 46 years later and the plaintiffs in the Detroit case are essentially saying to the federal courts that whatever that quantum of education is that you need to exercise your constitutional rights, it's got to mean basic literacy skills. And all the reasons they set forth in the complaint are saying kids in Detroit are not getting those basic constitutional rights."
Martha Minow, a former dean of Harvard law school and the author of a book about the legacy of the landmark Brown v. Board of Education decision, said the education system in Michigan violates the Constitution because some school districts in the state fail to provide even a minimal education while others, including those in affluent suburbs of Detroit, are providing a much higher quality education.
"Some people are getting an education and other people are not, and that's discrimination," said Minow, who filed an amicus brief on behalf of the Detroit students.
"It might be a different world if we had a state that did not offer education to anybody, but there are people in the suburbs who are getting a very good education, so they're creating a second-class caste system, a group of students who have no chance of having entree to good jobs and to be effective citizens and to be able to govern their lives."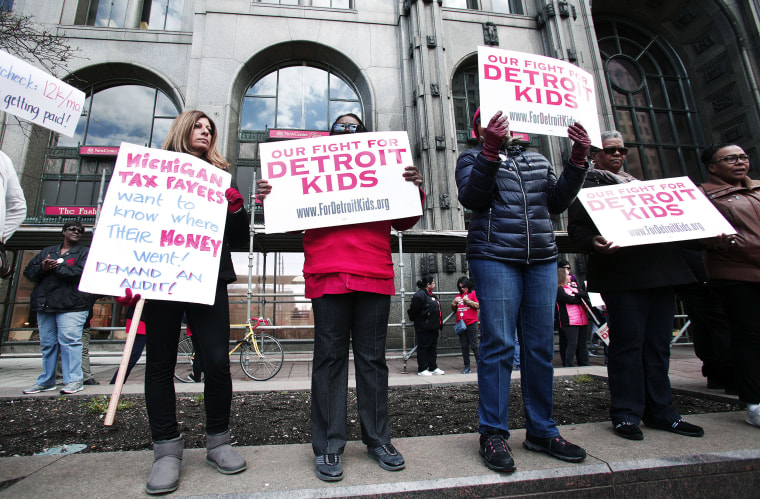 While inequities like these exist in many parts of the United States, some states have addressed such imbalances in the wake of court rulings that established the right to education under state constitutions. Those rulings have forced state legislatures to find more equitable ways to distribute education dollars.
In other states, including Michigan, Rhode Island, Florida and Illinois, courts have rejected claims of a right to education. Those are the states that would see the biggest impact if these federal cases are successful.
'Stigmatized for all time'
It's not clear, however, how likely it is that the Detroit case will succeed. The federal appeals court typically takes several months to issue an opinion. If the circuit court judges decide to reinstate the case, it could go back to the trial court or make its way to the U.S. Supreme Court.
Some advocates acknowledge that the current conservative makeup of the court might not make it favorable to cases like these, but Mark Rosenbaum, one of the attorneys for the Detroit students, is hopeful.
"The Supreme Court has said affirmatively that you cannot compel people to do something and then not deliver on what you said you can deliver on," he said. "You can't put children in school for six or seven hours a day on compulsory education laws and then not deliver an education any more than you can put a patient in a mental hospital and then not provide treatment."
Still, the case is complicated, made more so by the election last year of Whitmer, who argues that the state has already addressed the situation in Detroit schools by returning the main school district to a locally elected school board in 2017, and by spending millions of dollars in 2016 to create a new school district — the Detroit Public Schools Community District — that is free from the crippling debts that nearly bankrupted the predecessor district, the Detroit Public Schools.
The new district now has a well-regarded superintendent who has implemented a number of changes, including a new curriculum. Higher teacher salaries are starting to chip away at the teacher shortage and test scores are inching up.
"There's no longer a continuing constitutional violation," Howd said in court.
The students, however, say the case has little to do with whether the Detroit schools are incrementally better. They say they have already suffered long-term harm.
"You're taking a discrete set of innocent children and saying to them, 'We're not going to provide you with access to the basic tools, books and everything that will allow you to read,'" Carter Glasgow Phillips, the attorney who argued on behalf of the students told the court last week. "We're saying to you: You are now stigmatized for all time. The fact that you went to Osborn High School will stigmatize you for the rest of your life because you never had an opportunity to be in a position to read and that will affect everything that goes on in that human's life henceforth."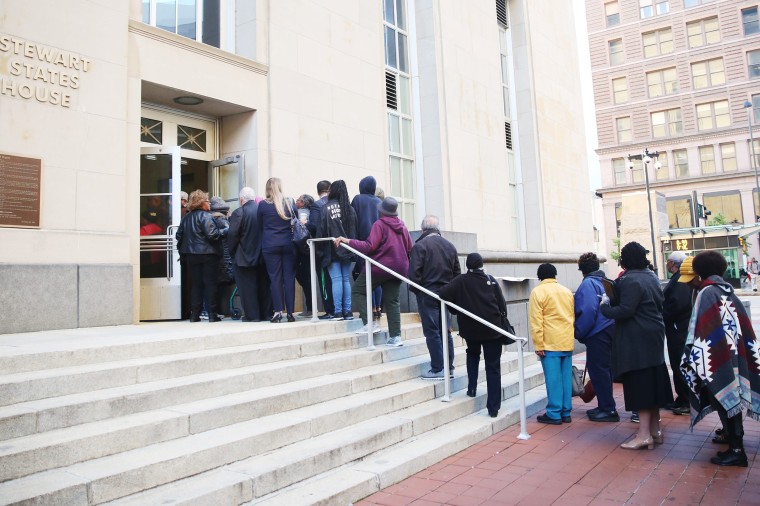 Hall didn't decide to go to Osborn because he thought the school would be great. He'd gotten into Detroit's higher-performing selective high schools, he said, but chose Osborn because his father was the basketball coach there.
"I didn't think the curriculum would be that bad," he said.
But as soon as he walked through the bank of metal detectors at the school door on his first day, he knew something wasn't right.
"I remember walking into the hallway and seeing garbage cans catching drips from the ceiling," he said. "Seeing the lack of books and how the classroom had bars and things on the window and could barely open, and the aroma from I don't know what. It's just a kind of toxic sickness in the air."
Now he's attending a community college in Florida, where he moved after graduating near the top of his class in 2017. But he has already failed two classes as he struggles to keep up.
"It feels like I've lost an opportunity or lost four years of my life," Hall said. "It's really despicable for me to live in America and to have a chance at the American dream and to be able to live in a society where everybody should have the same opportunity and to know that it's not happening for me."
Hall's not alone. Few of his classmates are in college, though some are still trying, he said.
"I keep losing friends every day to jail and death," he said. "It takes a toll on the whole community."
"You're not educated," he added, "and you don't understand why."