President Barack Obama has said Americans "can never fully repay" the debt to fallen soldiers. That may be true, but there's no reason to stop trying.
Memorial Day has its origins in Decoration Day following the Civil War, when Americans were encouraged to adorn the graves of those who died in battle with flowers.
In a presidential proclamation on May 26, 1966, Lyndon B. Johnson declared it a day to "honor the memory of brave men who have borne our colors in war," and in 1971, Memorial Day became a federal holiday.
As Americans take the day to honor the fallen, we should also pause to remember those who died in foreign lands — far from U.S. soil but right at the heart of the holiday.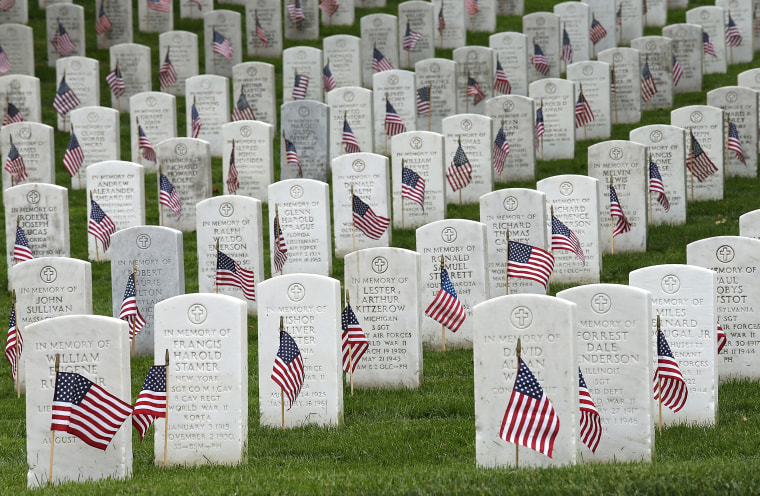 How many U.S. troops are buried in foreign cemeteries?
An exact number is hard to pin down. The American Battle Monuments Commission (ABMC) has tried to keep a tally. They created and maintain 25 American military cemeteries located in 10 foreign countries, including France, Belgium, the United Kingdom, the Philippines, Panama, Italy, Luxembourg, Mexico, Netherlands, and Tunisia.
The number of soldiers buried in those cemeteries is approximately 130,000.
Related: Carrying The Load: A Veteran Reminds Us What Not to Forget on Memorial Day
The ABMC has also created 27 memorials to honor those marked missing in action during World War I, World War II, the Korean War, and the Vietnam War. These are located in the United States along with 16 other countries, including Cuba, Belgium, France, the Philippines, Papua New Guinea, Morocco and South Korea. About 124,000 grave sites at these memorials commemorate those marked missing in action.
The American military no longer buries soldiers abroad. The option to be buried overseas ended during the Korean War. Now, the military tries to bring those who die in service back to U.S. soil.
Who are the most famous soldiers buried abroad?
There are multiple Medal of Honor recipients buried in foreign cemeteries. One of the most famous is Theodore Roosevelt Jr. — the son of President Theodore Roosevelt — who is buried in the Normandy American Cemetery in France. This famous cemetery is located near Colleville-sur-Mer, France, and houses the graves of 9,387 fallen soldiers, most of whom were killed during D-Day landings.
Theodore Roosevelt Jr. was buried there in 1955, after he died of a heart attack. He is best known for being the oldest soldier deployed during the D-Day invasion where he helped lead troops in a successful operation.
At 56, Roosevelt was partly crippled with arthritis and forced to fight in the battle with the aid of a cane. This handicap, however, didn't stop him from playing an important part in the victory at Utah Beach.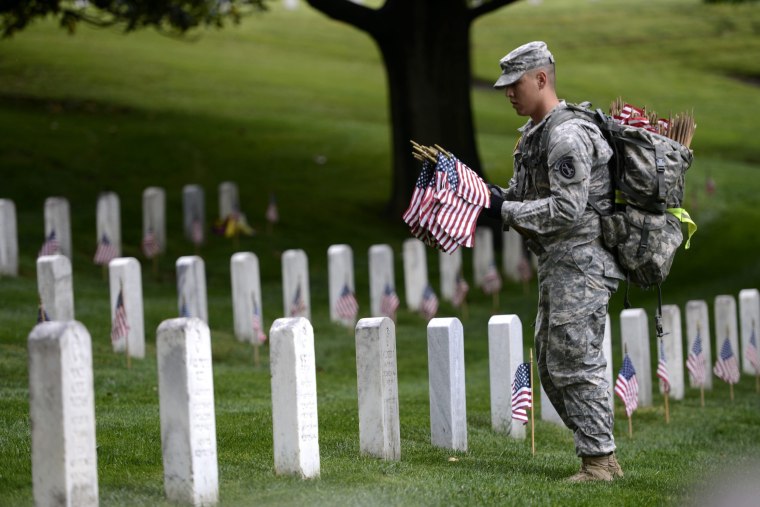 General Lesley J. McNair's grave also resides at the Normandy American Cemetery. McNair was one of the two highest-ranking Americans to be killed in action in World War II and played a crucial role in training Army ground forces in the U.S. before they were deployed into combat.
The Niland brothers are also buried in the Normandy cemetery. Steven Spielberg loosely based his 1998 Academy Award-winning film "Saving Private Ryan" on the Nilands. The four brothers all served valiantly in World War II.
While two brothers ended up surviving the war, for a long time it was believed only one had lived through the fighting. The oldest brother, Edward Niland, was captured and imprisoned in a Japanese POW camp and was presumed dead until after the war ended.
He and his youngest brother, Frederick "Fitz" Niland, both died many years after the war. The other two brothers, Bob and Preston, both died in action during the invasion of Normandy. Bob heroically volunteered to stay behind to try and slow down German advances while his company retreated. Preston died a day after in a battle near Utah Beach.
Who foots the bill?
Congress enacted legislation in 1923 creating the American Battle Monuments Commission to honor the fallen members of American Armed Forces when they served abroad.
The 2017 annual budget for the ABMC is $75,100,000, according to the commission's website.
This money is used for personnel costs, service fees, scheduled maintenance and repairs, supplies, spare parts, replacement equipment and capital improvements.
Related: Two Latinos Among 13 Officers Awarded Medal of Valor by Obama
Memorial Day is an important holiday that acts as a reminder for the American people to honor those who died protecting the United States. The least we can do is remember the brave souls also buried in cemeteries all across the globe.