Ever since her daughter survived a mass shooting two decades ago, Donna Finkelstein has asked friends and acquaintances whether they have a gun in their home and whether they keep it securely locked up. People used to think the question was a political one and rude to ask, she said. But she viewed it as no different from checking whether their pool was gated.
Finkelstein's daughter was 16 when she was hit in the leg by one of 70 rounds that a white supremacist gunman fired into a Southern California Jewish community center in 1999. The incident, which wounded five people, prompted Finkelstein to start a local chapter of the Brady Campaign to Prevent Gun Violence, now called Brady: United to Prevent Gun Violence. She regularly gave presentations about keeping kids safe from guns to parent-teacher associations, churches and synagogues, "anyone that would have me," she said.
"When I started becoming an activist, I realized that we're not going to win the argument of taking guns away," said Finkelstein, 67, a semi-retired school counselor who is also a board member of Women Against Gun Violence. "To me, it was all about prevention."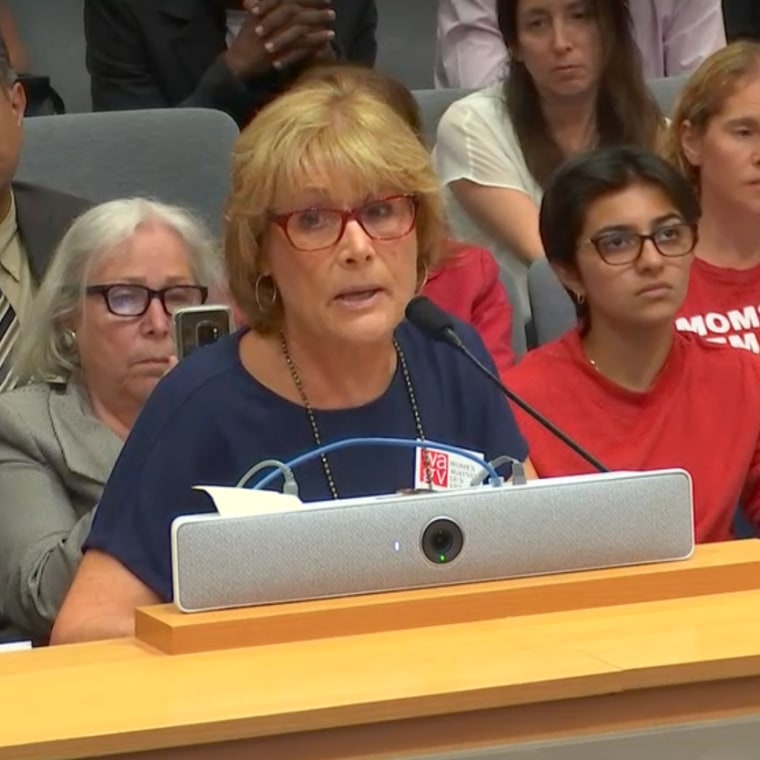 A few years ago, Finkelstein concluded that one of the most efficient ways to teach parents about keeping their guns safely stored would be to have public schools distribute the information. She met with Los Angeles school board members and the district superintendent and spoke before a school safety panel convened by City Attorney Mike Feuer. Last June, the school board unanimously endorsed a resolution asking parents to attest that any firearms they own are safely stored — becoming the largest school district nationally to do so.
Since then — driven by activists like Finkelstein with the groups Women Against Gun Violence and Moms Demand Action — several other school districts have passed similar policies asking parents to sign letters saying they know why it's important to keep guns securely stored. Last Thursday, the Phoenix Union High School District became the latest to enact a policy that mirrors the Los Angeles one, and St. Louis Public Schools will vote on a similar proposal Tuesday. In addition, five school districts in Southern California, as well as Denver Public Schools, have launched secure gun storage awareness campaigns, and the Brady campaign said it's working on one with Marin County, in the San Francisco Bay Area.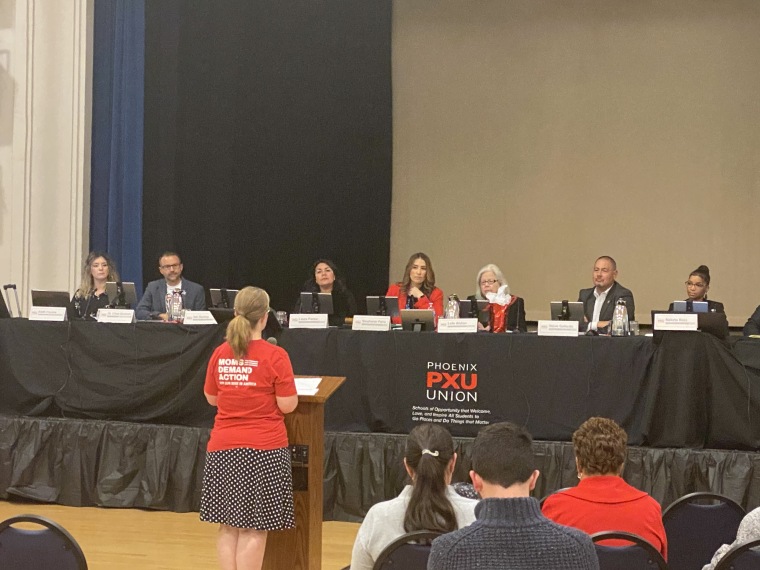 The quick spread of these policies without much resistance has largely gone unnoticed, but experts say it could be one of the most effective approaches to curb all sorts of firearm-related dangers, especially school shootings. Activists argue that the recent school board votes demonstrate the power parents have in their own communities to lobby local politicians who are often overlooked in the national debate about gun control and could inspire more gun safety measures at the city or state level.
"This is a really good example of something a school can do without needing any act of Congress," said Jillian Peterson, a criminal justice professor at Hamline University in St. Paul, Minnesota, and co-founder of The Violence Project, a federally funded research initiative.
'We wouldn't have school shootings'
Over 90 percent of school shooters are students at the campuses they attack, and 80 percent get their weapons from family members, according to the Violence Project's Mass Shooter Database. There are several high-profile examples: The shooter who killed 10 people in a Santa Fe, Texas, high school in 2018 took a shotgun and a pistol that belonged to his father; a teen in Marysville, Washington, used one of his father's handguns to kill four classmates and himself in 2014; the shooter at Sandy Hook Elementary School in Newtown, Connecticut, in 2012 used guns that belonged to his mother to kill 26 people, mostly small children, before killing himself.
"Our data tells us that if people were safely securing their guns, we wouldn't have school shootings — students wouldn't be able to do this," Peterson said.
Research shows secure storage policies can help prevent gun thefts, suicides and accidental shootings — one study found that keeping firearms locked up can reduce shootings in the home by 75 percent. Proposals requiring secure storage at home are also generally popular. A 2019 survey by the Johns Hopkins Center for Gun Policy and Research found most gun owners agree that people who buy a firearm for the first time should have to take a safety course on safe handling and storage of the weapon.
However, a majority of gun owners also admit they do not safely store all of their firearms, surveys show. One survey found in 2018 that about 1 in 3 people who owned guns stored them loaded and unlocked. Another study found 55 percent of gun owners with children under age 18 said they stored all of their firearms safely.
While there isn't much research available on the effectiveness of safe storage awareness campaigns, a 2012 study of one program run by the Brady campaign found parents were much more likely to ask people whether they had guns in the homes that their children visited after receiving the information about securing firearms.
"Every parent can make sure any gun they have in their own home is secured, and every parent can speak to another parent and ask if they have guns, and if so are they stored safely," said Jessica Stamen, a mother of three who was one of the Moms Demand Action volunteers to lobby the Los Angeles Unified School District about secure storage.
How the policies expanded beyond Los Angeles
Under California law, parents can be criminally charged if they keep an unlocked firearm on their property where kids can get hold of it. About two-thirds of the gun storage cases that the Los Angeles city attorney has prosecuted since 2017 came to the office's attention after a student made a threat at school. Still, many parents are not aware they could face charges in those situations, advocates said.
"California has the best gun laws in the nation, but people don't know what the laws are," Finkelstein said.
To change that, the city attorney's school safety panel recommended in 2018 that the Los Angeles Unified School District send a letter to the families of all 700,000 students in the district clearly describing the secure storage law. The letter doesn't ask whether parents have a gun, but it does ask them to sign and return an acknowledgement that they've been told about the law.
There's no punishment if parents don't sign the letter, according to Todd Chamberlain, the school district's police chief; rather, it's meant to motivate them to actually read the document. The first letters went out in September, and Chamberlain said he hasn't heard any complaints.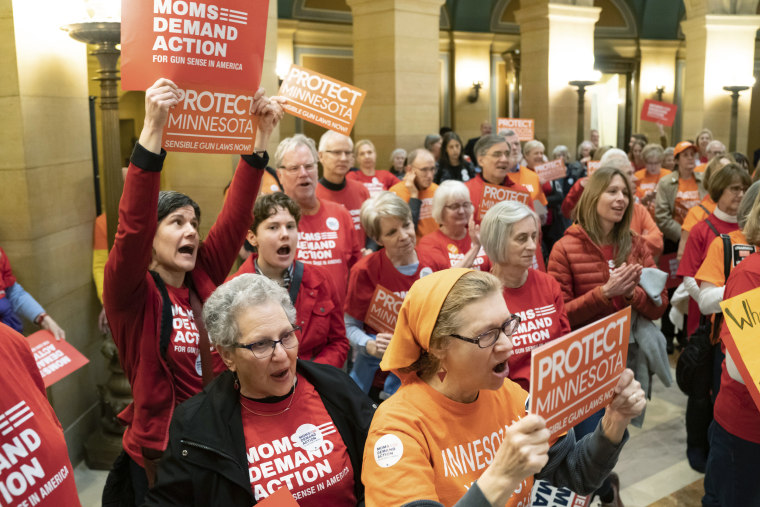 After Los Angeles took action, Finkelstein began lobbying other California districts and helped get similar policies enacted in Glendale and Manhattan Beach. Meanwhile, Moms Demand Action activists began coordinating efforts to lobby school boards in California and beyond.
"I think as the gun safety movement has matured we've started to see the power in working a little more locally," said Abbey Winter, a Moms Demand Action chapter leader in Denver.
Winter, the mother of a preschooler, pitched a resolution similar to the Los Angeles policy to Tay Anderson, a 21-year-old who was elected last year to the Denver Public Schools Board of Education. Anderson then co-hosted a gun violence prevention town hall in January and proposed a resolution to require the district send information to all parents about secure storage of guns — although without asking parents to sign it. The resolution passed unanimously.
"We're not here to push a partisan agenda or to say we must take your guns away," Anderson said. "All we're saying is we want to keep our kids safe."
'We can't wait'
Gun groups are skeptical about the gun safety messaging spread by school districts.
"Anything they put out will be spoon fed to them by gun control fanatics who want to erase the right to keep and bear arms from the Constitution," said Dudley Brown, president of the National Association for Gun Rights.
The National Shooting Sports Foundation, which represents the firearms industry, said it was concerned about what the school districts would do with the signed copies of the letters. The group also noted that it has long given away gun cable locks and had its own safe storage campaign.
The National Rifle Association did not respond to a request for comment on the school district policies. Last year in Texas, the NRA and other pro-gun groups objected to a proposal for a statewide safe storage campaign, arguing that it would promote policies that "disarm citizens in a time of urgency."
Still, proponents of gun control policies hope that secure storage measures can defuse what often become tense disputes with groups like the NRA.
"It's not a pro-gun or anti-gun conversation — it's a pro-safety conversation," said Kyleanne Hunter, a vice president of the Brady campaign. "It turns it into a risk management conversation, not what kind of rights you have."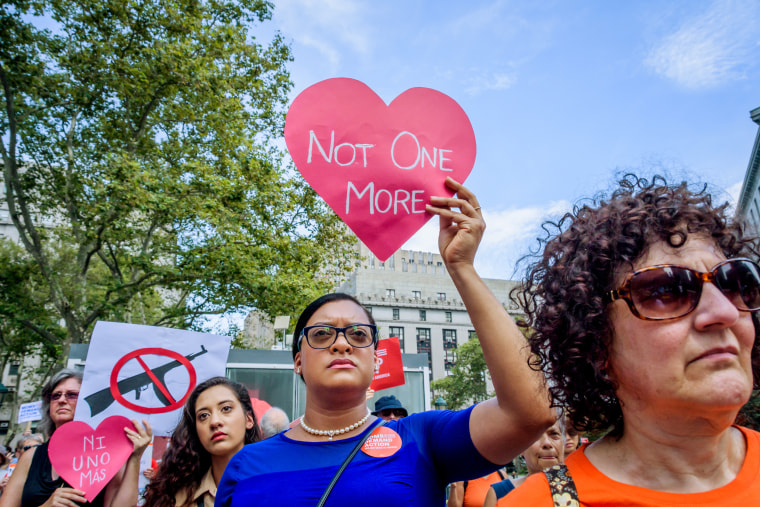 St. Louis could be next. Lewis Reed, president of the St. Louis Board of Aldermen, has been working with Moms Demand Action to issue a letter similar to the version in Los Angeles to all parents and ask them to sign it. The St. Louis Board of Education is scheduled to consider the measure Tuesday, and Reed said the city also plans to distribute free gun locks from firehouses.
Reed said he hopes the measure will prevent the kind of incidents he's seen in St. Louis over the last year, including those of a 4-year-old who shot herself with a gun she found on a couch, a 10-year-old who shot himself in the leg with a gun he found outside and a 3-year-old who shot himself in the head with his father's handgun.
"We can't wait," Reed said. "Things are critical here at the local level because we're closer to the issue and closer to the problem."