As the White House grapples with the fallout from the resignation of National Security Adviser Michael Flynn, another controversy for the new administration has emerged: their pick for Labor Secretary, Andrew Puzder, has withdrawn his name from consideration for the Cabinet post.
Puzder, the CEO of the Hardee's and Carl's Jr. fast food chains, had seen his hearings delayed multiple times because he failed to fill out required financial and ethics forms, and had been under fire for his policy positions (such as opposing a minimum wage increase), his history of sexist statements and for hiring an undocumented immigrant to work as his housekeeper.
Related: Labor Nominee Andy Puzder Hired Undocumented Household Employee
But another aspect of Puzder's history — involving 30-year-old allegations of domestic abuse against his ex-wife — has begun to take center stage, and that scandal has engulfed an unlikely person — talk show icon and media mogul Oprah Winfrey.
Lisa Fierstein, Puzder's wife from 1973 to 1987, appeared on Winfrey's show in March of 1990 in a segment about "High-Class Battered Women." On the show, Fierstein, in disguise as "Ann," describes alleged abuse by Puzder and its impact on her life.
RELATED: Everyone In Donald Trump's Cabinet
"I wound up losing everything, everything," Fierstein told Winfrey. "I have nothing. He has a Porsche and a Mercedes-Benz. He has the home. He has everything. He was an attorney and he knew how to play the system." She also claimed that Puzder told her: "I will see you in the gutter. This will never be over, you will pay for this."
According to Politico, she filed a court petition in 1988 (which was dismissed) alleging that Puzder "assaulted and battered me by striking me violently about the face, chest, back, shoulders and neck, without provocation or cause," and left "bruises and contusions to the chest, back, shoulders and neck" as well as "two ruptured discs and two bulging discs,"
A couple months after filing the petition, Fierstein also sought a protective order against Puzder, alleging he "physically assaulted" her and left her with "permanent personal injuries."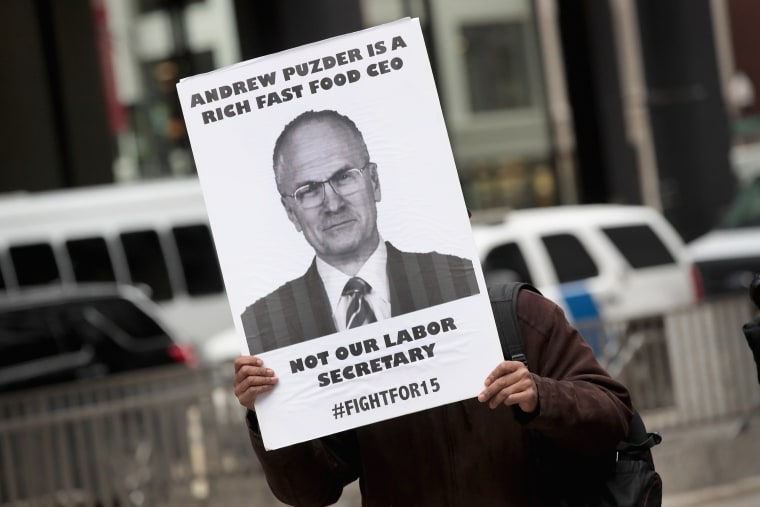 Fierstein has since retracted her allegations, writing in an email to Puzder that she only made them because she was counseled to do so.
She also wrote a statement to the Republican National Committee late last year calling Puzder "one of the finest men I have ever known."
"Many years ago I impulsively filed for divorce and was counseled to file allegations that I regretted and subsequently withdrew over 30 years ago. Andy is a wonderful father, a great person, and was a good husband," she wrote. "He and I have long ago worked out any differences that occurred over 30 years ago and I cannot recall a single incident involving the police."
She also told the Senate Committee on Health, Education, Labor and Pensions (HELP) that she now regrets appearing on Winfrey's show. "Upon reflection, I believe I became a pawn in the debate and believe strongly that my attorney's advice was tainted as a result of his own personal agenda," she wrote.
Reps for Puzder didn't immediately return requests for comment from NBC News, but he denied the allegations in a deposition at the time and told the St. Louis-based Riverfront Times, "There was no physical abuse at any point in time."
However, Dan Sokol, the attorney who represented her during Fierstein period, recently told TIME that her claims were "credible."
Meanwhile, Winfrey — a supporter of both former President Barack Obama and Democratic presidential candidate Hillary Clinton — shared footage from the show (and several other episodes dedicated to the subject of domestic violence) with the HELP committee, which will be deciding whether to advance Puzder's nomination to the rest of the chamber.
Related: Democrats Take Nomination Battles to the Public
"Approximately 20 episodes were made available for the committee members to view in confidence," a Oprah Winfrey Network spokeswoman told the Chicago Tribune in a statement. "OWN did not provide copies or transcript of the episodes and has not provided information about the identities of anyone who appeared in these episodes. Given information of this investigation has been made public by the committee, OWN is making this statement to be clear about what the company provided to congressional investigators."
Although Winfrey herself has not commented publicly on the issue, members of the HELP committee have.
Sen. Patty Murray. D-Wash., told Politico that she has viewed the tape provided by OWN and called it "very disturbing."
"It was important for us to know all of the information about any candidate that comes before us," Murray said. However, the committee's ranking member, Sen. Lamar Alexander (Tenn.) appears to have been unmoved.
"I've arranged for senators on the committee to see that ... I thought that was a reasonable request. No reason not to see it," Alexandertold Politico. "That happened 27 years ago. His former wife has said it was all not true. She has reiterated that in a heartfelt letter to members of the committee and has been willing to talk to members of the committee so I don't think that's an issue."
Four GOP members of the HELP committee, including Sen. Susan Collins of Maine and Sen. Lisa Murkowski of Alaska — who broke with their party to oppose the nomination of Education Secretary Betsy DeVos — had already said they won't commit to backing Pudzner.
Should any one of them vote against Puzder, Majority Leader Mitch McConnell would have had to intercede procedurally to bring his nomination to the floor. For his part, McConnell had stated this month that he "enthusiastically" supported Puzder, despite the recent revelations about him.
Progressives celebrated news of his withdrawal on Wednesday.
"I am glad Mr. Puzder will withdraw his name from consideration to be the next labor secretary," said Sen. Bernie Sanders (I-VT) in a statement. "The simple truth is that given his relationship to employees at the companies he runs, he was not fit to lead a department responsible for defending workers' rights."