Before the shots were fired at his high school, David Hogg was learning about special interest groups in his AP Government class.
Those groups, like the National Rifle Association, were something he'd heard about while watching shows like HBO's "Last Week Tonight with John Oliver" and CBS' "60 Minutes."
In the aftermath of America's worst mass shooting at a high school, Hogg and many of his classmates have put those lessons to work.
In surviving the shooting that killed 17 people at Marjory Stoneman Douglas High School, the students have become vocal advocates for gun reform and against the NRA. Their immediate activism after the carnage in Parkland, Florida, has kept the national conversation focused on gun reform in ways not seen after recent mass shootings, in part by forcefully calling out politicians who they feel haven't done enough to prevent tragedies like this from happening.
"People get sad after this and they don't want to take action, and I totally understand that. I'm not going to let these politicians keep murdering my friends. How can we let these people stay in power if they're just trying to save themselves?" Hogg, 17, said of his decision to speak out after the shooting.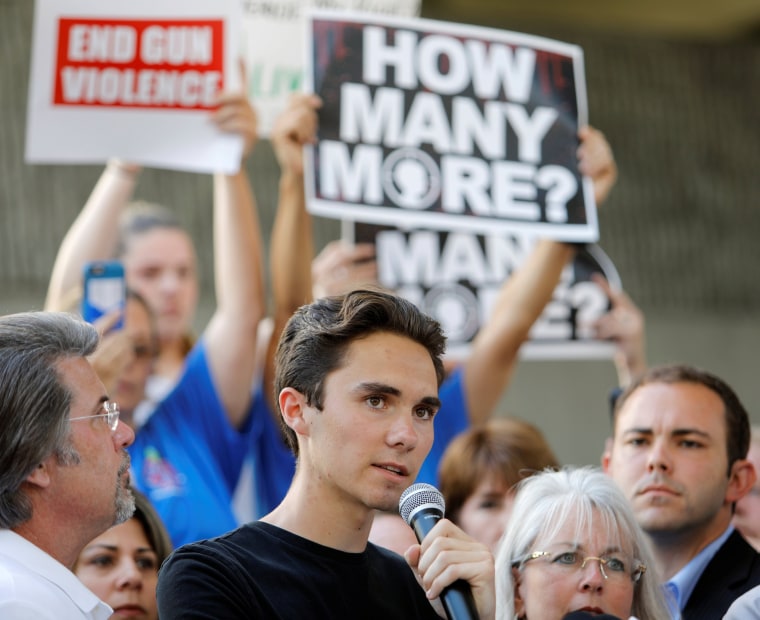 Experts say the teens of Stoneman Douglas are uniquely positioned to become the leading voices in the gun debate. This generation has grown up as native users of social media and have never known a time when there weren't mass shootings at schools.
"This has happened in their community in their school. They're given this window of opportunity to speak out for a generation that is tired of being unable to speak out against gun violence," said Michaela Bethune, the head of campaigns for DoSomething.org, a site that connects young people to real-world activism.
"They're primed and ready to disrupt this narrative."
The students are of the right age and era to articulate exactly how gun violence has affected them, experts said. The first-hand visuals of shots fired inside a classroom or SWAT teams running into schools has given America a startling look at school shootings in real time, Hogg said.
"The fact I can get on Periscope and share what's happened is the reason this has continued for so long," he said. "It's not because of us. It's because people are dying and people are seeing us."
While the number of casualties caught the attention of the nation, Bethune said, it is because of the sustainable action plan the students have developed that the attention has yet to stray.
There was a rally over the weekend. On Tuesday, many started heading up to Florida's capital, Tallahassee, to meet with legislators and hold a "Rally to Support Gun Safety Reform" on Wednesday. They're planning with Women's March Youth EMPOWER to walk-out of school on March 14 and a "March for Our Lives" on March 24 in Washington.
"Everyone grieves in a different way. For us, this is how we're grieving," Sarah Chadwick, 16, a junior, said. "I feel like that goes for a lot of people here."
The desire to organize and speak out is also an effective way for the teens to work through their trauma, according to Dr. Daniel Schechter, director of stress, trauma, and resilience in the Department of Child and Adolescent Psychiatry at New York University Langone Health.
"It is a coping mechanism. Trying to find a solution and actively trying to affect the world — and their close interpersonal world was very damaged — and they're trying to repair that," he said.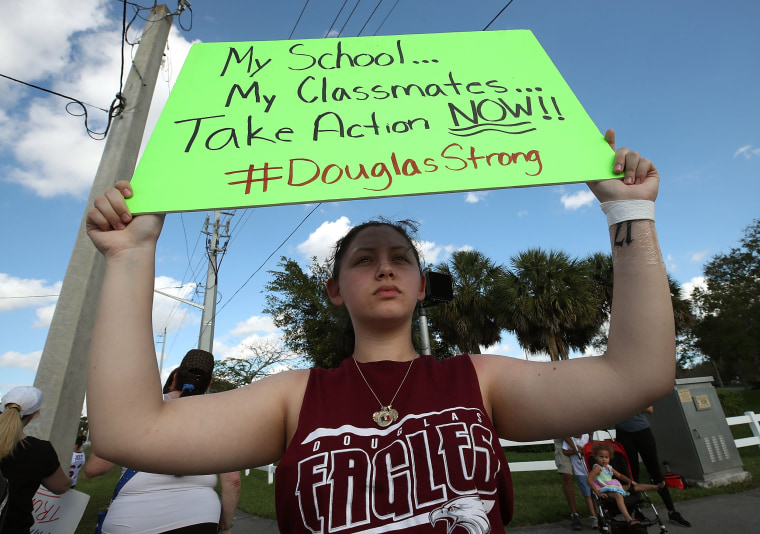 Their age is also a factor since teenagers are more likely to take risks and have less fear of speaking out, Schechter said.
"I think you could see other kinds of sadness and anxieties that come out, but I think overall it's kind of a perfect opportunity for all these adolescents to help us wake up," Schechter said. "I think they will not regret this."
Sofie Whitney, 18, a senior, said: "We are experiencing support that we never could have imagined in a million years. People from all over world backing us up and it's surreal."
Actor George Clooney and his human-rights lawyer wife, Amal, said Tuesday they will donate $500,000 to help pay for the march.
"Amal and I are so inspired by the courage and eloquence of these young men and women from Stoneman Douglas High School," George Clooney said in a statement, adding, "Our family will be there on March 24 to stand side by side with this incredible generation of young people from all over the country."
Oprah Winfrey praised the move and said she would also donate $500,000. Film legend Steven Spielberg also joined in with a $500,000 donation, Spielberg and his wife Kate Capshaw said.
Chadwick said she was surprised by the reception, so far.
"We're high school students. I'm a junior, and I'm 16 years old, and people are taking me seriously. People are telling us they want to see us run for president. It's heartwarming to see us get this kind of support," she said. "We're teenagers putting this together. We're teens and it shows you the impact young people can have."
The students' response to the tragedy inspired some poorly-thought-out responses from an aide of a Florida state lawmaker. State Rep. Shawn Harrison said he placed his aide on leave after the aide, Benjamin Kelly, in an email to a reporter from the Tampa Bay Times falsely claimed some of the students were "actors," the newspaper reported.
Harrison later said the Kelly, his district secretary, was fired.
"I am appalled at and strongly denounce his comments about the Parkland students. I am again sorry for any pain this has caused the grieving families of this tragedy," Harrison tweeted.
CORRECTION (Feb. 20, 2018, 5:15 p.m. ET): An earlier version of this article misspelled the last name of the director of stress, trauma, and resilience in the department of child and adolescent psychiatry at New York University Langone. He is Daniel Schechter, not Schecter.