Sister Judy Byron doesn't have a degree in finance and, having taken a vow of poverty, doesn't have much personal use for the stock market.
And yet the Seattle nun is a leader of Wall Street rebels.
Byron, a member of the Adrian Dominican Sisters, helps faith-based activist investors push large, publicly traded companies to consider their social impact. She researches corporations, develops strategies to persuade them to make changes and recruits like-minded investors to join her. Then she uses that leverage to write to the company or file a shareholder resolution.
"When I say that I've always been interested in social justice, it isn't just to know about it and be aware of it, but to bring about change and bring about justice," Byron said. "We're looking to change the system."
Their target this year has been America's gun makers, with some unexpected results.
Driven by outrage over the Feb. 14 massacre at a Marjory Stoneman Douglas High School in Parkland, Florida, and backed by some of the country's largest institutional investors, Byron and a small band of shareholders have forced two firearm manufacturers to produce reports detailing how their guns are used in violent crimes and what the companies are doing to develop safer weapons. The manufacturers did not want to do this, and urged their shareholders to reject the proposals.
But both times, first with Sturm Ruger in May and on Tuesday with American Outdoor Brands, a majority sided with the activists.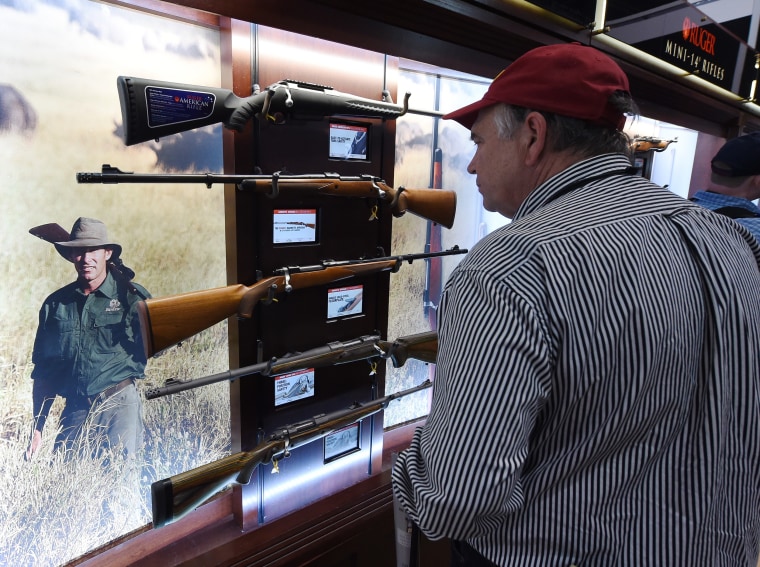 Those surprising victories may turn the financial market into a new front in the battle over solutions to gun violence.
"Her organization has hit on issues that are relevant not only culturally and socially but also relevant to shareholders," said Courteney Keatinge, director of environmental, social and governance research at Glass Lewis, a proxy adviser that recommended clients vote for the activists' proposals. That includes an eye for vulnerabilities to "reputational risk" — changes in the way a company is perceived that can cause its value to suffer. "It's pretty novel and pretty impressive," Keatinge said.
The votes have also made Byron a luminary among her fellow crusaders, who describe her as a quiet leader: methodical and persistent in her activism but also restrained and compassionate when it comes to dealing with the executives whose minds she hopes to change.
"She'll walk out of a meeting and say to me, 'I don't think the CEO looked very good today, how do you think she's doing?'" said Margaret Weber, the corporate responsibility director for the Congregation of St. Basil, a Toronto-based order of Catholic priests, who has known Byron for 20 years and has watched her negotiate with corporate executives.
Weber added: "She's not very complicated. She's just genuine. Strong and solid."
A CALLING TO ACTIVISM
Byron admits she's no stock market guru. Raised in a small lumber town on the Washington coast, she became a nun after graduating high school in 1960, then taught and served as a principal at Catholic schools. She says that as a student and an educator she felt compelled to find tangible ways to improve people's lives.
"My religion wasn't just about God and me; my religion called me to be concerned about others, and to work for the common good," Byron said.
That led her, in 1998, to the Interfaith Center on Corporate Responsibility, an organization of institutional investors that was formed in the early 1970s to end economic support of the apartheid-based regime in South Africa and has since embraced an array of social and environmental causes. Byron also became director of the Northwest Coalition for Responsible Investment, made up of religious communities looking for profitable, and influential, ways to manage their retirement funds and other assets. She learned on the job, with help from members of her coalition who had more experience in financial markets: "socially responsible" asset managers, nonprofits, labor unions.
"You really can't do this work on your own," Byron said. Through the Interfaith Center on Corporate Responsibility, "we have any number of people I can call or email for guidance and have an answer in a few minutes. Our strength is in our partnerships."
'WE NEED TO DO SOMETHING'
Byron said she believes their successes this year with firearm companies represent a first step in a process to persuade companies to take a more active role in reducing violence.
"We have our toe in the door, but this is going to be a long journey," Byron said.
The effort began two years ago, when Byron floated the idea in a meeting of the Adrian Dominican Sisters' portfolio advisory board, a group of nuns and lay people who set criteria for the congregation's investment strategies.
"The phenomenon of mass shootings, children dying, people dying because of gun violence, she wasn't just doing this because of an ideology, but because she was feeling the pain," Weber, who was at the meeting, recalled. "Judy took the initiative by saying, 'We need to do something.'"
Byron persuaded the Adrian Dominicans to buy gun stocks, and organized other members of the Interfaith Center on Corporate Responsibility to join her, pooling their holdings in three companies: Dick's Sporting Goods, a retailer, and two manufacturers, Sturm Ruger and American Outdoor Brands, which owns the Smith & Wesson brand. Byron and her fellow activists then wrote to the companies with requests to meet their executives in person.
Dick's was the only to respond, saying it was exploring changes to its firearm policies.
THE PARKLAND EFFECT
Then came the Feb. 14 shooting in Parkland. The public outcry and student activism sparked a new wave of calls for gun control ─ and new pressure on gun retailers and gun makers. Suddenly, Byron and her fellow activists had big institutional investors on their side, including BlackRock, which owned large chunks of shares and endorsed the proposals.
That gave them the votes to pass the measures at Sturm Ruger and American Outdoor Brands. In both cases, the companies' chief executives were defiant, saying the activists couldn't force them to change their operations. In fact, the companies aren't required to follow the resolutions. But analysts expect them to comply rather than risk shareholders' anger.
Byron delivered a brief statement to American Outdoor Brands during Tuesday's online meeting, saying that the company's weapons were used in the Parkland attack and prior mass shootings. She appealed to the company's responsibility not only to produce profitable returns for investors but also "to seek to prevent or mitigate human rights impacts that are directly, or indirectly, linked to their products."
Sturm Ruger and American Outdoor Brands did not respond to requests for comment on Byron and the activists. But after Tuesday's vote, American Outdoor Brands CEO James Debney said the process had become hijacked by a "political agenda."
Such a characterization of Byron isn't accurate, said Patty Bowman, the executive director at the Intercommunity Peace and Justice Center in Seattle, a social-justice nonprofit that includes Byron's Northwest Coalition for Responsible Investment.
"The American Outdoor Brands people said this is partisan and political. But she's not that way. She's reasoned and responsible and committed," Bowman said. "It's long, slow work, this shareholder activism work. It takes a lot of determination and persistence."
'WE'RE IN THIS FOR THE LONG HAUL'
Next week, Byron will join members of the Interfaith Center on Corporate Responsibility for a biannual meeting to develop strategy and be honored by the organization for her career of service. They'll also discuss how to follow up on the success at Sturm Ruger and American Outdoor Brands.
Byron knows that Sturm Ruger and American Outdoor Brands are producing their reports begrudgingly. Her team, therefore, will need to keep pressing for change.
"We have to decide what our next step is," Byron said. "Because we're in this for the long haul too."