Subway on Tuesday appeared to distance itself from longtime spokesman Jared Fogle after police and federal agents raided his house as part of a child pornography investigation involving the former head of his nonprofit foundation.
It was a stunning turn for the sandwich chain and its top pitchman. Fogle has been synonymous with the brand for more than 15 years.
Fogle was a 425-pound undergraduate at Indiana University when he started snacking on Subway sandwiches as an alternative to greasy fast food. He credits the Subway-heavy diet with helping him lose a whopping 245 pounds, according to Subway.
A reporter for the campus newspaper took notice. An article about Fogle landed on the front page of the Indiana Daily Student. Men's Health caught wind, too. The magazine featured Fogle in a November 1999 article called "Stupid Diets That Work."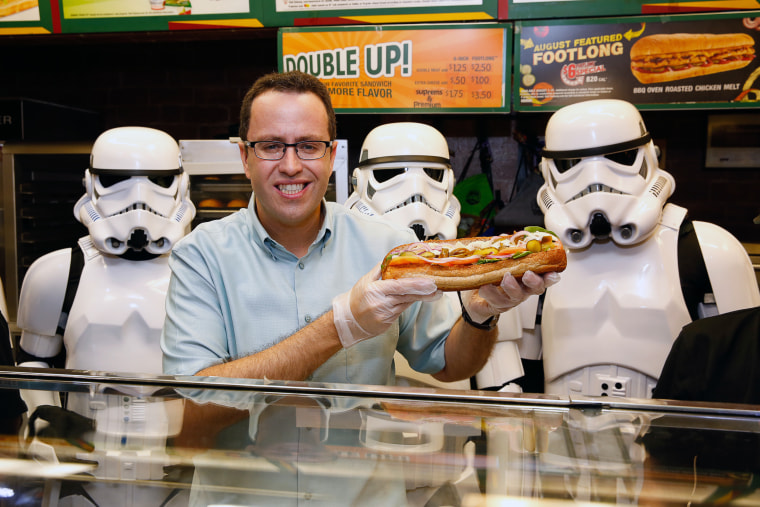 "Meet James," the story began, using a pseudonym for Fogle, "a 20-year-old college student at Indiana University who had a John Candy-esque weight problem — and by John Candy-esque, we mean that his parents feared he wouldn't live to see his 35th birthday."
Fogle's "stupid diet"? Subway sandwiches. The popular chain contacted Fogle and asked him to appear in a 30-second commercial. The first spot aired on Jan. 1, 2000. It came with a disclaimer: "The Subway diet, combined with a lot of walking, worked for Jared. We're not saying this is for everyone. You should check with your doctor before starting any diet program. But it worked for Jared."
Fogle, his "fat pants" and his stunning before-and-after weight loss picture became common staples of American television in the early 2000s.
Fogle became a celebrity. He carried the Olympic torch, wrote a book, lobbied in Washington, D.C., and met President George W. Bush, according to Subway's website.
He launched the Jared Foundation in 2006, with the goal of raising money to fight childhood obesity, according to the nonprofit's website.
In his most recent Subway commercial, detailing "Jared's journey," Fogle says he has two children.
For much Tuesday, Fogle's house in suburban Indianapolis was surrounded by police cars and officers. Agents hauled electronic equipment, including a computer, to an evidence truck parked in the driveway.
At one point, Fogle, 37, stepped from his home and entered the truck. He later got into a car with his lawyer and was driven away.
The lawyer, Ron Elberger, released a statement saying Fogle had not been held, arrested or charged with any crime. "Jared has been cooperating, and continues to cooperate, with law enforcement in their investigation of unspecified charges and looks forward to its conclusion," Elberger said.