WHITE PLAINS, N.Y. — There was a pool of blood, a look of panic on her husband's face — and then everything went black.
Alia McCants was back at New York's Mount Sinai Hospital, where nine days earlier, she had given birth to healthy twins. She and her husband had brought the babies home to their apartment in Harlem, and everything seemed all right — until complications from her cesarean section caused her to hemorrhage.
She rushed to the emergency room, where her vision went dim.
"My husband said, 'You have to stay here, you have to stay here.' And then I thought: I'm going to die," she said.
Each year in the United States, about 700 women die as a result of pregnancy or delivery issues — while 50,000 experience severe complications, according to the Centers for Disease Control and Prevention. Black women are three to four times more likely than white women to die from pregnancy-related causes nationwide; in New York City, they are 12 times more likely to die. Postpartum hemorrhaging, or heavy blood loss, is one of the leading preventable causes.
McCants, who is black, did not know the grim statistics in December 2014, when her twins were born. Her birth experience was generally positive, and she credited the hospital staff with later saving her life when she needed emergency surgery to stop the hemorrhaging.
But she has since wondered if there was anything her doctors could have done to avoid such a near-death experience in the first place — if they might have been more open to her concerns about her care if she were white.
She recalled that her obstetrician was dismissive of her desire to avoid a C-section. While cesareans are common when delivering twins, McCants, who had a complication-free pregnancy, had hoped for a natural birth.
Then, McCants said a social worker who stopped by her hospital room seemed "visibly surprised" to meet a black couple who were both working professionals — McCants is a director at a graduate school and her husband, Christopher, who now works in software, was a manager at a TV network at the time.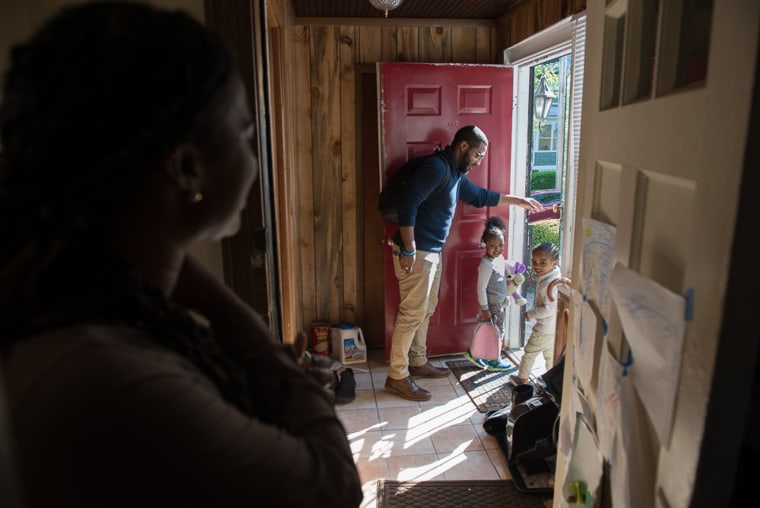 And most crucially, while McCants was still only semi-lucid after delivering her twins, a doctor was short with her while explaining warning signs of hemorrhaging, a known risk of C-sections. "Was it like, 'We just need to get her out of here — another black woman having babies'?" McCants said. With little information from the doctor, she didn't immediately recognize how much danger she was in the following week when the bleeding started.
"At the time, I was so grateful to the doctors for saving my life. But afterward, I thought, was it preventable?" said McCants, 34, who has since moved to White Plains, N.Y., with her family. "I go back and look at all those functional interactions where the doctors lacked empathy, and I wonder if it was because I was black. Or how much of it was because I was black."
Mount Sinai could not comment on McCants' case due to patient privacy laws but said that the hospital "is committed to providing the highest standard of care for all of our patients and integral to that is a zero tolerance for racism and bias."
The racial disparity in U.S. maternal mortality rates is one of the severest in all of women's health. Researchers don't have a clear explanation for why.
"There seems to be something specific about the African-American experience here in the United States that seems to just have a toxic effect on the health of African-Americans," said Swapna Reddy, who teaches a class on health disparity at Arizona State University. "It seems to be this double whammy, the intersectionality of being both African-American and also being a woman."
The issue, Reddy continued, "is literally skin-deep."
There are some concrete contributors identified by researchers: Certain health conditions that affect pregnancy outcomes are more prevalent in black women, such as obesity and hypertension. And black women are more likely to lack access to preventative care, highly rated hospitals and safe housing during pregnancy.
But the problem is not limited to class: Having higher income and more education offers no protection for black women. That has led some to theorize that the disparity is at least partly caused by institutional racism in our society and health care system, conscious or unconscious. Over time, research shows, the stress of that racism has a physical effect on black women that shows up on a cellular level.
With implicit bias, it's tasteless, odorless, to everybody except the victim.
There is urgency to solve the crisis. America ranks the worst out of all developed nations on maternal mortality, a rate based on deaths of women while giving birth or within a year after.
With the statistics particularly dire for black women, those in medicine are taking an introspective look for a solution. One approach that is gaining steam in hospitals and medical schools is training providers on implicit bias — the deeply ingrained stereotypes that everyone has.
From the Mayo Clinic to Kaiser Permanente to Vanderbilt University Medical Center, leaders in medicine are increasingly urging doctors to recognize their own bias so they can combat it.
'MICROAGGRESSIONS' THAT ADD UP
Physicians have a long way to go to overcome stereotypes, and not just when it comes to childbirth. Studies have shown that black patients are often prescribed less pain medication than white patients who present the same complaints. And black patients with signs of heart problems get referrals for advanced cardiovascular procedures less often than white patients with the same symptoms.
Discrepancy in treatment has made headlines before. A Texas woman spoke out after her surgical team made racist remarks about her on a secretly recorded videotape while she was under anesthesia in 2015. And a white doctor in Tennessee publicly apologized to a black patient last year after referring to her by a racial slur during her appointment.
Those patients are not alone: Thirty-two percent of black women feel they've been discriminated against in physicians' offices.
For Jaymie Rivera-Clemente of Austin, Texas, who is black and Latina, the slights she experienced while pregnant were subtle.
There was the way the all-white staff at her OB-GYN's office greeted patients.
"If you're late to your appointment as a black person or a Hispanic person, they're like, 'Well, you've missed it,' or 'We'll see if we can push you back.' And then a white lady comes in and she says she had trouble with traffic, and they're like, 'We'll squeeze you in,'" said Rivera-Clemente, 37, a mother of three.
And then there were pointed questions from her doctor.
"Do all your kids have the same father?" Rivera-Clemente said she was asked repeatedly. (They do.)
While she was never certain, Rivera-Clemente said she often suspected the staff viewed her differently than white patients.
"These are microaggressions that people don't even realize they're putting you under," she said.
She thought about this more after three traumatic birth experiences. Though her life was not in danger, she felt poor communication from doctors and nurses put her and her babies under unnecessary stress.
While in labor 17 years ago with her first child, a daughter, the baby started crowning while Rivera-Clemente was using the restroom at the hospital, Austin Diagnostic Clinic. Rivera-Clemente screamed for help, but she said minutes ticked by before anyone came. By the time a nurse finally checked in, Rivera-Clemente was barely able to make it back to the bed to give birth.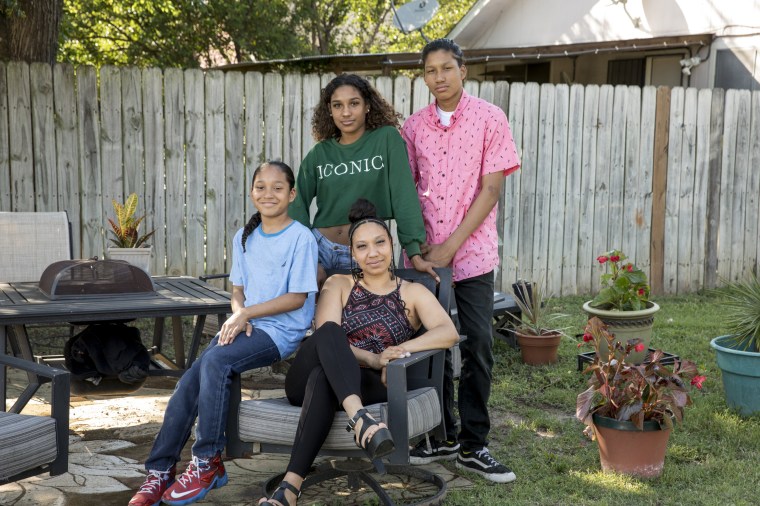 St. David's HealthCare, which acquired Austin Diagnostic Clinic, said it couldn't comment on Rivera-Clemente's experience but said the hospital is committed to "providing exceptional care to every patient every day." All of the hospital's employees receive diversity training, and the hospital recently added more training for the nursing staff, it said.
Dr. Raymond Cox, a former OB-GYN who is now the medical and clinical director at the Hilton Head, South Carolina, branch of Volunteers in Medicine, a free clinic network, said that throughout his career, he has witnessed patients treated differently based on race.
"Doctors tend to spend less time and tend to assume that the black or Latino patient isn't going to understand what we're talking about, and as a consequence, have a tendency to make decisions for that patient," said Cox, who is black.
"With implicit bias, it's tasteless, odorless, to everybody except the victim," he added. "It is related to institutional racism, and that's something that's very difficult to parse out."
'I HAVE EVERY BIAS IN THE BOOK'
In the past several years, implicit bias training has gained popularity in a variety of industries as a way of confronting prejudices. Police departments have used it in the wake of high-profile shootings of unarmed black men. Facebook has trained all of its employees in it, and at the end of this month, Starbucks is closing some 8,000 stores for an afternoon of employee implicit-bias training.
But it's a newer idea in medicine, where such training is just beginning to catch on.
Bias training typically starts with taking the Harvard Implicit Association Test, which measures automatic associations between categories of people and value judgments through a series of multiple-choice questions. (Take the test here.) The test measures not just biases on race, but also religion and ethnicity.
The results can be stunning — particularly for those who think they are unbiased.
"The Implicit Association Tests are humbling. I have every bias in the book," said Dr. Molly Carnes, director of the Center for Women's Health Research at the University of Wisconsin School of Medicine and Public Health and an internal medicine doctor.
Carnes has developed workshops for the university's faculty that increase awareness about bias by teaching participants how to recognize it. They also get specific strategies, like putting themselves in the shoes of others, and practicing seeing people as individuals rather than as part of a group.
The Mayo medical schools in Arizona and Rochester, Minn., recently started offering training for their students. All first-years entering in the fall will read "Blindspot: Hidden Biases of Good People," a book that examines perceptions of social groups written by the two psychology professors who co-created the Implicit Association Test.
Then at the start of school, students will take the test, said Dr. Sharonne Hayes, a cardiologist and the medical director of the Office of Diversity and Inclusion at the Mayo Clinic in Minnesota. Hayes has led an institution-wide effort to train all 63,000 Mayo Clinic employees in implicit bias.
"There's really no evidence that you can get rid of implicit bias," Hayes said. "So what our approach has been is to use some of the evidence-based things that can help us as health care providers not be hijacked by those implicit biases."
This includes having providers follow checklists for each patient so they don't accidentally skip over something, and reminding providers that it's important to take care of themselves — getting more sleep and eating better may make doctors less vulnerable to falling victim to their own stereotypes, Hayes said.
Mount Sinai, the New York City hospital where McCants delivered, has also implemented implicit bias training.
But implicit bias training is not without controversy. While the Implicit Association Test is the most widely used way of measuring ingrained prejudice, critics say its methodology — testing how quickly a user associates certain words with certain groups — may not be reliable.
Those touting it acknowledge this. Carnes said raising awareness of biases can backfire by normalizing them, and while the training can help, it must be done properly.
"Saying it will improve maternal-fetal outcomes is a stretch," she said. "It all depends on how you do it."
AN UPHILL BATTLE
The risks black women face in childbirth came into the spotlight last year when tennis pro Serena Williams nearly died after giving birth to her daughter. Williams told Vogue magazine that a day after her emergency C-section, she felt short of breath. Given her history of blood clots, she knew something was wrong. But she struggled to convince doctors, and when they finally checked her, it turned out she had several clots in her lungs. Her insistence likely saved her life.
Advocates fear that the disregard Williams' doctors initially showed is playing out in hospital rooms across the country — and even more so for women who are not wealthy and famous.
"How many other women has that happened to that we don't know about where they're telling their providers that there's something wrong, you need to help me, and yet no help is offered?" asked Elizabeth Dawes Gay, the steering committee chair of the Black Mamas Matter Alliance, a network of partners across the United States that is raising awareness about black maternal health.
That toll is beyond anything that an individual has control over.
Black women face an uphill battle before even getting pregnant. In 1992, Arline Geronimus, a professor in health behavior and education at the University of Michigan School of Public Health, coined the term "weathering" to describe how the stress of gender and racial discrimination wears down the body over a lifetime.
"That toll is beyond anything that an individual has control over," Geronimus said. "It's not something as simple as smoking, or poor diet, or get more exercise."
As evidence, Geronimus points to her 2010 study, which found that telomeres — chromosomal markers of aging — of middle-age black women were on average seven and a half years older than those of white women. In other words, Geronimus said, the chronic stress of being a black woman in America has a physical effect.
Implicit bias training is an important part of a larger strategy in recognizing bias in health care, Geronimus said. "But on its own, it will not change weathering."
THE DOULA DIFFERENCE
In 2015, the American College of Obstetricians and Gynecologists wrote a series of recommendations for combating racial and ethnic disparities, which included recruiting racial minorities to become OB-GYNs. (Just 11 percent are black.)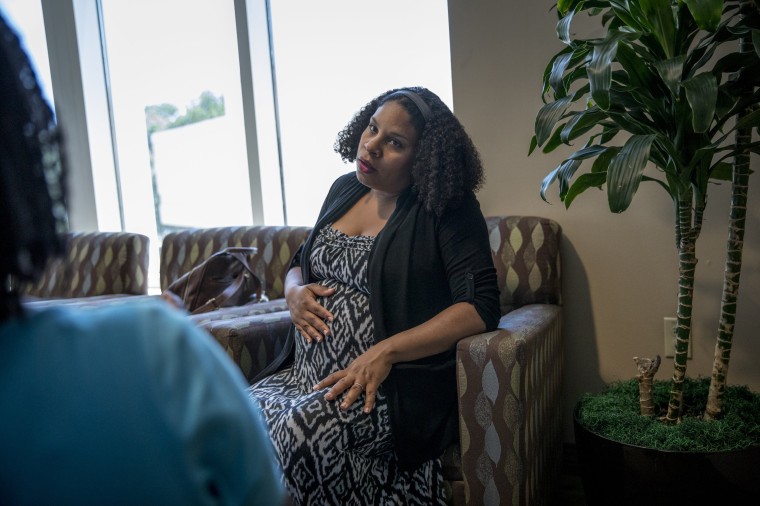 Since then, the organization has suggested standardizing care across states — so all health care providers know exactly what to do if a pregnant woman is hemorrhaging or has hypertension.
Last year, the group also released a statement in support of using doulas — trained birth assistants — during pregnancy and childbirth. Research indicates such support can improve outcomes for women in labor.
Amid concerns that traditional medicine isn't working quickly enough to narrow the disparity, a new movement is training black doulas specifically to serve black women.
Darline Turner is a black physician assistant whose experience with two high-risk pregnancies prompted her to recently create the Healing Hands Community Doula Project, an Austin-based nonprofit that will pair pregnant women of color with black doulas through the first year of their infant's life.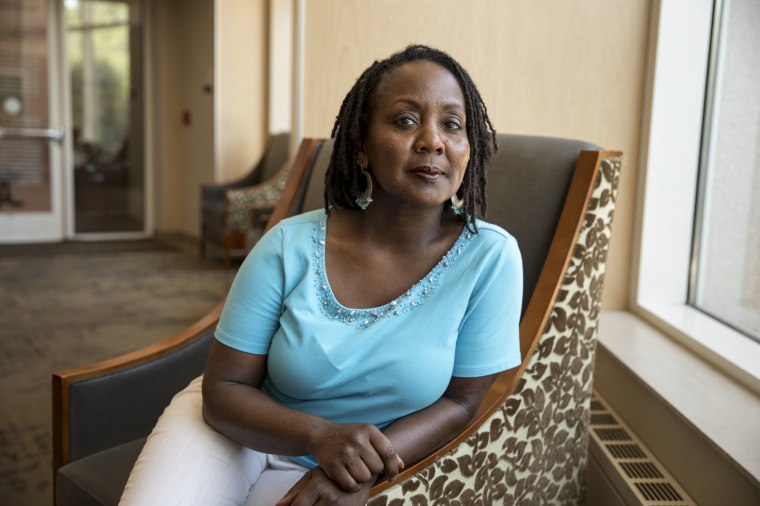 "There was maternal mortality in our grandmothers' and mothers' day, but not the way we're seeing it now," Turner said. "There was hemorrhage back in their day, but there weren't tools to stop it. The fact that we have the tools to stop it and it's still the No. 1 reason why women are dying [during childbirth] in the United States in this day and age is preposterous."
Rivera-Clemente, the Austin mother of three whose OB appointments left her wondering whether she was viewed differently because of her race, is training to be a doula through Healing Hands. Her goal is to make sure other women don't feel the way she did when she was pregnant.
"I feel like everything is about race," she said. "You always feel kind of like a burden."
In White Plains, McCants, the mother who nearly died from a postpartum hemorrhage, has joined MomsRising's Maternal Justice Program, a network of women working to end disparities in maternal health.
Aria and Carter, McCants' twins, are now energetic 3-year-olds who love soccer, dancing and impromptu picnics with their parents. On a sunny morning earlier this week, they sat at their kitchen table in pajamas and Paw Patrol slippers and squeezed too much honey into their oatmeal, as McCants chuckled and softly chided them.
For the twins, it's nothing more than a typical breakfast. For McCants, it's one of many moments that she fears could have been taken from her.
"Bias is in the air," she said. "I didn't realize that this was a systemic problem until after it happened to me."