If long security screening lines at the airport have you down, you and your fellow travelers have only yourselves to blame for not "turning a place of 'no' into a place of 'yes'" by enrolling in the Transportation Security Administration's PreCheck program.
A Virginia marketing company used that phrase to describe the challenge it faced in 2014, when it launched what eventually became a $1.53 million marketing campaign intended to help popularize the TSA's expedited airport security screening program.
The "Be There" ad campaign was part of a big bet by TSA that it could increase signups for PreCheck and therefor speed more passengers through security checkpoints. Acceptance into PreCheck, after being pre-vetted as a low-risk traveler in an in-person office visit, lets passengers keep shoes, belts and jackets on and leave computers and approved liquids in their carry-on bags as they quickly pass through checkpoints. More PreCheck fliers also would mean fewer people in the regular security lines, so everyone would get to their gates more quickly.
Related: Chicago Airport's Nightmare TSA Lines Could Play Out Nationally This Summer
But just two years later, the inability to persuade large numbers of fliers to shell out $85 for five years of convenience is now cited as a major contributor to the monster security lines that have plagued travelers in recent weeks at many U.S. airports, causing hundreds — if not thousands — to miss their flights.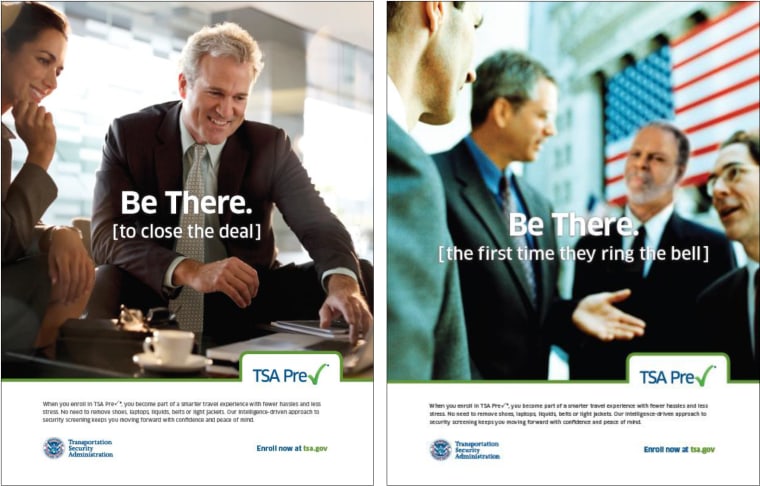 TSA Administrator Peter Neffenger testified before Congress last week that the agency has stepped up advertising for PreCheck and increased the number of locations where travelers can sign up for the program, which now stands at 370.
"You need to continually advertise something for people to be aware of it. In my opinion failure to do so over the past few years consistently has reduced awareness," he told members of the House Oversight Committee, adding that the agency also is working with major U.S. airlines, travel organizations and major corporations to promote the program.
Related: TSA to Frustrated Travelers: Please Pardon Our Progress This Summer
But Jeff Price, owner of the airport consulting firm Leading Edge Strategies and an aviation professor at Metropolitan State University of Denver, said the agency was guilty of "poor planning" and failed to recognize that signups wouldn't be sufficient to overcome staffing shortages as travel volumes increased.
"The TSA ... really bet the farm on PreCheck," he said. "That wasn't really a wise bet."
The TSA didn't make public any forecast of how it expected the PreCheck program to grow when it unveiled it in October 2011. But John Heimlich, vice president and chief economist for the trade group Airlines for America, said industry insiders have been told that the program remains "significantly under enrolled" compared to the agency's expectations.
Neffenger testified last week that the agency now expects it to reach 25 million passengers by 2019, up from its current level of 2.7 million as of this week.
Related: Congress Rips TSA for Long Lines, Abuse, 'Smurfing' Bonus Practices
A review of federal contracts by NBC News found that the TSA signed a $273,661 deal in August 2014 with Sage Communications, a McLean, Virginia, marketing firm, to "support TSA PreCheck marketing and branding requirements." That deal, which preceded Neffenger's confirmation to the top TSA job in June 2015, was followed by two more contracts with the company in 2015, worth a combined $1.25 million.
The second of those, a $252,000 contract inked in August 2015 — two months after Neffenger took over — was billed as a "modification to increase media spend for the TSA PreCheck campaign."
A TSA spokesman did not respond to a question from NBC News as to whether the spending increase signaled that the agency was concerned that PreCheck enrollments were lagging, stating only that the number of enrolled fliers has increased from 1.4 million at that time to its current level of 2.7 million.
In a case study of the PreCheck campaign on its website intended to attract prospective clients, Sage Communications said it began by pinpointing "opportunities to identify TSA Precheck with a select set of rational and emotional appeals at the intersection of convenience and security."
"Our research also revealed that travelers view security screening as an interruption to their travel experience," it said. "Our creative challenge therefore would be to make screening both relevant and enabling to their entire travel experience ... turning a place of 'no' into a place of 'yes."'
As it eventually emerged, the campaign, which included print, radio and online ads, described PreCheck as an "intelligence-driven approach to security screening" and said that by joining "you become part of a smarter travel experience with fewer hassles and less stress."
Elaine Fogel, a marketing professional who has previously written about the TSA's public messaging and who reviewed the ads at NBC News' request, said the latter phrase relied on a tried-and-true marketing technique that attempts to "make people feel part of something special or exclusive."
While declining to criticize the campaign, she said by email that she found it curious "that the campaign refrains from using the words 'faster' or 'quicker,' which may have been the most important benefit for travelers," though she speculated that the omission could have been at the request of the client.
It's not known what metrics the TSA set for the campaign. David Gorodetski, Sage's co-founder, COO and executive creative director, declined to share the targets or discuss the campaign in detail other than to say it has been "very successful."
"This is an ongoing campaign to increase enrollment to TSA PreCheck and our conversion rate, our enrollment rate, everything is successful within target," Gorodetski told NBC News. "Whatever information you get from the side is factually incorrect."
The TSA's critics say that failure to aggressively push PreCheck was only part of the problem. They say the agency also failed to plan for a sharp 4 percent increase in air travel to record highs this year, according to an airline industry projection released this week, and tried to get by with far fewer baggage screeners than required.
Neffenger acknowledged in his testimony last week that the TSA only anticipated a 2 percent increase in passenger volumes this year and has a shortage of trained front-line employees, which the TSA says is the result of both a series of budget cuts since 2013 and high turnover among the rank-and-file.
Those comments had many airline industry insiders shaking their heads.
"This is not a news flash," Heimlich, the Airlines for America economist, said of the fact that more people are flying as the busy summer travel season approaches. "… Apparently the only one surprised by this is the TSA."
But Heimlich said the TSA added to the problem by doing "a lousy job of marketing the PreCheck program," contending that many air travelers still aren't familiar with the benefits of enrollment.
"If they're not going to market the heck out of it and make sure people are aware of it and have enough facilities where people can enroll, then you should staff accordingly," he said. "But the worst combination is what's happening: They under enrolled, over projected enrollment and then didn't have the screening resources to accommodate all the people who weren't in PreCheck."
Price believes the inconvenience of the signup procedure, which requires travelers to fill out a form and then visit an enrollment center, is the biggest impediment to getting more fliers to sign up.
"It's hard to find these places, so it's inconvenient," he said. "A vacation traveler who flies once a year is not going to do that. You're really focusing on the business traveler."
While the efficacy of the ad campaign remains open to debate, recent news reports on the long security lines at airports have spurred new interest in PreCheck, said Price. And with many predicting that the waits may grow even longer during the busy summer travel period – despite efforts by the TSA and airlines to eliminate the bottlenecks -- that interest will only grow.
"Maybe they're trying to make those enrollment projections come true," he quipped.
In any case, said Heimlich, the Airlines for America economist, PreCheck may benefit from word of mouth as more people join the program.
"I can speak from experience, because I'm a member, my wife's a member, my 4-year-old's a member," he said. "It's one of the best things I've ever done is to sign up for that program."