When President-elect Donald Trump moves into the White House, he'll be the most conflict-of-interest-prone president in modern history, thanks to the sprawling empire he's built over the last several decades. He controls more than 500 companies across many industries.
"The sheer scale and private nature of his business suggest it would be an unprecedented and potentially thorny situation for a president," said Ari Melber, MSNBC's chief legal correspondent.
While on the campaign trail, Trump said that if he were elected to the nation's highest office, he would hand the reins of his businesses to his children and not "discuss it with them." And Trump declared he would "absolutely get out in some form" if there were sanctions placed on countries where the Trump Organization operates.
Related: With Empty Rooms and Bookings Plummeting, Trump's Brand is Taking a Beating
When Mitt Romney was running for the presidency in 2012, he vowed to place his massive fortune in a blind trust, were he elected. But it's different for Trump, because there's nothing "blind" about the vast business empire he has built; he's seen it all — one reason why Hillary Clinton's campaign called on Trump to go even further than Romney's plan, and divest from the entire Trump Organization.
So what are the most pressing questions on how President Trump will handle his massive holdings? We asked legal experts to weigh in.
Do presidents have a legal obligation to sell or step away from their business interests?
No, explained Melber, citing the Ethics in Government Act of 1978.
"There are laws compelling disclosure of personal assets, but no law requires presidents to sell or avoid interacting with their business interests on the job." He notes that this is a special exception for the president. "There are federal laws and regulations restricting how other government officials handle private business, outside employment and conflicts of interest. Congress deliberately exempted the president from such restrictions.
"The bottom line is presidents can do whatever they want with their business interests. They simply must meet disclosure requirements and avoid abusing government power for private gain," said Melber.
Why are presidents exempt?
"The rationale is if there is an elected official in such a high position, everything could be looked at as a conflict of interest," said Kenneth Gross, a partner at Skadden, Arps, Slate, Meagher & Flom, who has advised several wealthy presidential candidates on ethics rules.
Unlike members of Congress, he added, the "president is considered to be above having to be concerned about those conflicts. He would not be expected to be acting in dereliction." But because Trump's entanglements with businesses both domestic and abroad are so complex, those rules could change with the Trump presidency, surmised Gross. "I think there would be some serious reconsideration," he said.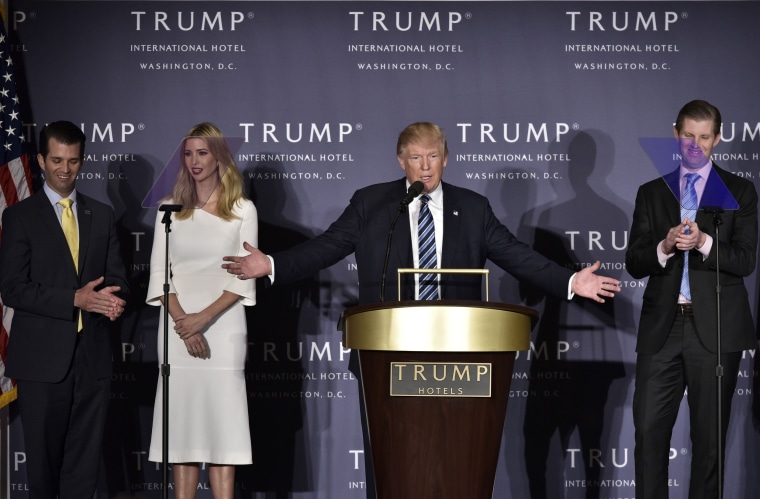 Is there any issue if he hands the reins of his businesses to his children?
Not legally. But it could appear awfully shady in the minds of Americans, said Gary Hufbauer, a senior fellow at the Peterson Institute for International Economics.
"It's hard to see how you keep this wall between you and your children ….It's hard to imagine that Trump wouldn't know what was going on with these properties, with how they are performing, if money is coming in or not, and decisions on buying new properties. There's not the same degree of ignorance you would have with a blind trust."
Are there other legal or ethical issues?
While Trump wouldn't have any legal obligation to sell or step away from his business interests under the Ethics in Government Act, Richard Painter, who served as chief ethics lawyer for President George W. Bush, said Trump could face legal issues under the Emoluments clause in the Constitution, which dates back to 1787. It has since been interpreted by the Department of Justice as banning government officials from accepting any kind of gift from a foreign entity.
Painter gave the example of corporations putting the Trump name on a building owned by a foreign company. "That could be considered as a gift," he said. "If you have a transaction between a Trump entity and a company owned by a foreign government — that could be grounds for impeachment."
There are really two key legal obligations that impact a president's business interests, explains Melber: A federal law that compels the president to report assets and business activities over the previous year, and a set of federal laws that already prohibits government officials from abusing their office for private gain, or using government resources for bribery or extortion.
"It is notable that some of the hypotheticals regarding a president with sprawling business interests, such as Donald Trump, basically envision a scenario where the president would misuse government power to directly enrich his own businesses. That is already illegal. Any blatant abuse of government power or resources can be pursued by federal prosecutors, completely separate from the wide latitude Congress afforded presidents to maintain business holdings," said Melber.
"The sheer scale and private nature of his business, however, suggest it would be an unprecedented and potentially thorny situation for a president."
Is Trump's business empire really so unprecedented?
In terms of stock holdings, several former presidents, including George W. Bush, Bill Clinton, George H.W. Bush, and Ronald Reagan, voluntarily used blind trusts, noted Melber. President Obama, meanwhile, did not use a blind trust, arguing his holdings were so limited it wasn't necessary.
Trump's situation is rather unique, though the closest analogy in recent American history is Michael Bloomberg, who maintained private ownership of a large company while serving as New York City mayor. "Bloomberg formally delegated management to other employees, and coordinated with New York City regulators on the arrangement, but also publicly exercised control over major decisions such as acquisitions and hiring," said Melber.